Third person POV, alternating between the hero and heroine, has got to be the most common POV set in romancelandia. However… my personal favorite to read is first-person POV. I just get into it more! Speaking in technical terms, of course.
That's the way I wrote my book, Giving It Up, which coincidentally is out today. I swear I didn't switch places to get this slot–it just happened, but damned if I'm not going to take advantage of it. My book, it is out!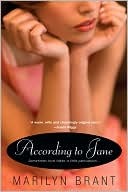 Ahem. First person POV. Some of my favorite books are written in first-person: The Travis series by Lisa Kleypas, Dirty by Megan Hart, The Sweet Gum Tree by Katherine Allred. Would I have liked these in third-person? Probably… but not quite as much.
The first person POV just allows me to fall deeper into the experience. To live it, rather than hear about it. I once heard a writer say that it was "cheating" but to me, anything that makes reading more powerful and enjoyable is a good thing.
This format also yields some interesting results, some things that wouldn't work nearly as well in 3rd person.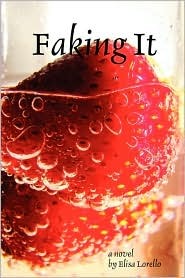 One example of this is According to Jane by Marilyn Brant. It's technically a romance, though it doesn't always feel like one. Rather it's a women's fiction/romance hybrid with some sex thrown in; exactly my kind of book! It's set to the theme of Jane Austen's Pride and Prejudice in a couple of different ways, both the plot… and the fact the heroine's internal voice is Jane Austen. Magical realism, anyone? Or is she just a wee bit crazy? I DON'T KNOW, but I loved it anyway.
Another example of first-person romance is Elisa Lorello's Faking It about a (female) college professor who falls for the local male escort and then also another professor and you know what? It's also a women's fiction/romance hybrid with sex thrown in, CLEARLY WE HAVE A THEME PEOPLE.
I wouldn't actually call my book that. More like it's an erotic romance with women's fiction thrown in, but that's okay. Go forth and check it out!
Allie prowls the club for a man who will use her hard and then ditch her. Hey, it's not rape if she wants it. Instead she finds Colin, who looks tough but treats her tenderly, despite her protests. He tempts her, but kindness and a few mindblowing orgasms aren't enough to put her back together again. Allie has no hope for a real relationship. Two years ago her best friend betrayed her in the worst possible way – she'd be stupid to trust a man again. Besides, she has her daughter to think of, the only good thing to have come from that dark night.
But when her rapist returns, threatening her sanity and custody of her daughter, Allie turns to Colin. Under his protection and patient touch, Allie begins to heal and learns to hope. Colin's no saint, though, and his criminal past draws danger of its own. Allie must fight to protect her child and the man she loves, hoping her newfound power will be enough to save them all.
"A ballsy departure from romantic conventions. At once gritty and tender, stark and hopeful." —Cara McKenna, author of Willing Victim
"Giving It Up is an erotic, compelling story that takes us to the shadowy, lonely places but doesn't leave us there. Amber Lin shows us that romance isn't just for the rich and shiny. Love can find its way even into the dark corners of the most damaged hearts." —Tiffany Reisz, author of The Siren