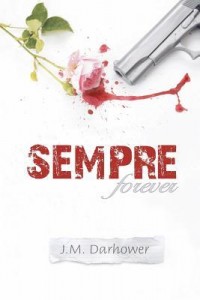 I started reading this book the other day. I didn't really know much about it except that the cover had a gun, blood and a flower on the cover. Apparently that's all it takes for me.
Turns out this is YA. Good thing I didn't know that because there's very little chance I would have read it. It's kind of awesome. So unique and immersive, about these teens trapped in the mafia underworld.
I'm reading and stumble across this:
"Even though Beatrice married someone else and died young, Dante loved her his entire life. The love was a part of him, because to him, Beatrice was the ideal. He barely knew her, had only met her twice, but yet he truly claimed to love her. Can anyone tell me why?"

No one spoke up. Carmine sighed exasperatedly. This lesson was becoming frustrating to sit through. "Because he really loved the person she made him. It has just as much to do with how he felt as it did with who he was."
And because I like to pretend I know everything, I was like psshhhhh, yeah. But then I thought about it and I was like huh. NOW I understand The Great Gastby, Heathcliff, Odysseus and even fucking Atlas Shrugged and basically every single old-ish book that has a love story wherein the hero and heroine barely speak to each other but are madly in love.
Because, while I'm not sure whether we're calling these "in the romance genre" or not, the love story is important and sometimes central. Yet the interactions between the hero and heroine are at a minimum. How the hell is that love? Related: What the hell is love?
When I was in middle school, the song How Do I Live by Leann Rimes came out. So I'm hanging out with my best friend at the time. Her idol was Captain Janeway from Voyager and she once dressed as her for Halloween. Seriously.
So How Do I Live comes on the radio and she's like, "Ugh! How stupid! What kind of dumb girl can't live without a guy?"
I was like, "psshhhhh, I know, right?"
But secretly I was like oh-my-god-I'm-so-stupid. Because I'd liked the song and thought it was a sweet sentiment and not really literal anyway but hey, I wanted to be a smart girl. And independent and not desperately reliant on men for my happiness. RIGHT??? *cries*
The idea stuck with me, the question of how much you had to give up to be in love. Whether it would be worth it. Carefully weighing things with logic and career and feminism. It manifests in big and small ways, like if I get to write fiction for small amounts of money or write code for lots of it. Like whether I can do things like workshops and conferences when my hubs has to take care of the kiddo.
Awhile back I went to one such weekend workshop by James Scott Bell. He said that every novel is about death. Impending death, and the protagonists goal is to not die. There are three types: physical death, professional death, and psychological death. I think emotional death would be a better descriptor.
A romance novel, by this definition, is all about emotional death. The hero and heroine are trying not to die. And that's what Leann Rimes was talking about, I assume. And now I understand why a cover with a gun, blood and a flower is so compelling. It's more than shock value, it's exposing the guts of the book right on the first page.
I know for sure I like books where sacrifice is a major theme and I feel like that's a counterpoint to some of the posts I read about feminism in novels. Because, okay, a lot fictional women have had to sacrifice stuff so maybe that gets annoying, but I've had to sacrifice stuff in my marriage, so what's up with that? Am I doing it wrong? Related: This is the only way I know how to do it.
I'm still wondering, how much do I have to give up to be in love? Or like Dante and his Beatrice who he loved from afar, do we gain something instead? I know sacrifice sounds like a loss, and it is, but it's an optional one when we do it for love, I wonder if it's also like a trade. Like if something was sacrificed for love, then it's proof something was gained after all.