I never read as just a reader. No matter how good a book is, no matter how engaging it is, the writer part of me is always alert and attentive, taking it apart, learning how it's put together, admiring a turn of phrase, a twist of plot, some particular artistry to the characterization. In fact, I think the books I love most are the ones that are not just great stories but also lessons in how to tell a great story.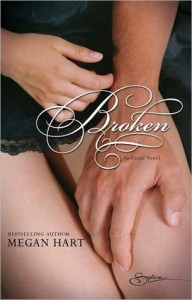 Megan Hart's Broken was one of those books. I read it because I knew Hart a little bit from Twitter and I knew she was one of erotica's best writers. I tend to be mercenary about reading—I want to read the people I know, I want to read a little bit of everything, I want to make sure I understand the world (and markets) I'm writing in.
I expected to like Broken a lot, but beyond that I didn't know what to expect.
It blew me away. After I finished, I spent a long time sitting up in bed, trying to make sense of what I'd experienced. I felt like I'd been taken apart and put back together, not just emotionally by the story, but as a writer.
For those who haven't read it, Broken is Sadie's story. Every month, Sadie meets a man she barely knows, Joe, on a park bench and lets him tell her the story of his latest sexual conquest. Sadie relates each story in detail to the reader, putting herself into the story as its heroine—as the object of Joe's conquest. The stories are sexy, sordid, sad, sometimes pathetic—stories that are as much about Joe's inability to connect and stay connected as they are about his (incomparable) sexual prowess.
The stories are Sadie's way of escaping her real life. She's married to Adam, her first lover and the love of her life. Adam broke his spine skiing shortly after they were married and has been paralyzed from the neck down since. He is resigned, often bitter, and unable to love Sadie as completely or as physically as she needs him to. That she wants more from him than he can conceivably give is a source of endless guilt for her.
In her Amazon review of Hart's book, Lauren Dane writes:
Whatever Broken is about, I can tell you what it's not about – Broken is not about infidelity. I want to make that clear up front. Sadie loves Adam, her husband. But Adam has withdrawn himself emotionally after an accident has left him a quadriplegic. She's lost him in many ways even though he's there physically. Her entire being centers around his care and schedule – it isn't that she hates him or wishes he didn't exist, it isn't that she wants to sleep with Joe behind Adam's back. … [But] for that one brief time every month, she's unfettered from all that responsibility and context and she gets to be a woman.
I know why Dane wrote that Broken isn't about infidelity. If there's one thing romance readers loathe, it's infidelity. No one who deliberately reads book after book about monogamous relationships with happy endings can abide infidelity—it's the antithesis of romance.
But I have to respectfully disagree with Dane. Broken is about infidelity. It's about all the ways you can feel like you're cheating when you're not and all the ways you can be cheating even when you feel like you're not. And that's part of what makes Broken such an amazing book: It takes one of romance's most beloved soft constraints and messes all the way to hell and back with it. It makes the reader have to live with and sit with and struggle with infidelity, and it still delivers one of the most satisfying endings I've ever experienced.
That is why I would like to declare Broken utterly wonktastical. For me, the best possible wonk is a romance that doesn't break any genre rules, it just wrestles with them and pushes boundaries and asks its readers to move to a different level of understanding.
Spoilers ahead!!
Unsurprisingly, given its title, Broken also bears another trademark trait of wonk: Its characters are damaged almost to the point of being unhealable. Certainly that's true of Adam, for whom there is very little hope of redemption. But both Sadie and Joe are badly wounded, barely functioning—for large portions of the book it seems unlikely they will have anything to give each other. And yet Hart makes you believe they still do, and that's the really satisfying part of an HEA: when love takes two people who are truly broken and manages to redeem them convincingly, so you walk away certain that no matter how bad things may have been in the past, they're going to be okay from now on.
Strictly speaking, Broken is probably erotic romance, not erotica, even though it's published by Spice. Ultimately, it's love, not sex, that redeems Sadie and Joe. But it would have been far more difficult for Hart to sell the book as erotic romance because Broken messes so utterly with that no-infidelity soft constraint. Erotica makes Broken possible. It makes Joe and Sadie's story possible. So it got me thinking about the role erotica plays for romance writers and why erotica and erotic romance are so crazily close to each other (they have sex sometimes, when they're lonely). Some of my very favorite romance writers write very romantic erotica. And I think they do it not only because they like to write about no-holds-barred, no euphemism sex, but also because writing erotica lets them write romance without wrestling so constantly with the genre constraints. There are many fewer—if any—real genre constraints in erotica. Turn the reader on, take the character on a sexual journey, force her to contend with something in herself that can only be fixed or cured or elevated or remade by sex. But otherwise? Feel free to mess with the reader's head in a whole variety of ways, and by all means? Surprise the reader.
For God's sake, do not surprise a romance reader. We are mean and bite when surprised.
Lately I've heard more than a few people say that erotica is a good way of breaking into the romance market. That's in part because erotica lets you ease yourself into the rules that constrain romance writers. You can prove yourself as a writer first and prove yourself as a genre adherent second. You can write stories that are sexy and redemptive and then worry later about whether they have accessible heroines and sufficient alpha heroes with good earning potential, or back stories that are just a little bit, but not too, dark.
As a result, erotica is a delight to write. And, when it's done the way Megan Hart did it in Broken, it's a delight to read. Not just because it's a totally brilliant story. But because it's also a whole lesson in how to write about love, redeeming love, happily-after-after (or at least happily-for-now) love, as it should be written. At the very edges of what we know, at the very edges of what we've experienced ourselves, at the very edges of what we can bear to experience. Because that's how we learn—to write, yes, but mostly, to live in the world.