So I am having this epiphany about escapism and wonkomance — about what I most want to read, and what I most want to write — and it's all Erin Satie and Courtney Milan's fault. Blame them for all these paragraphs I'm about to vomit at you, okay?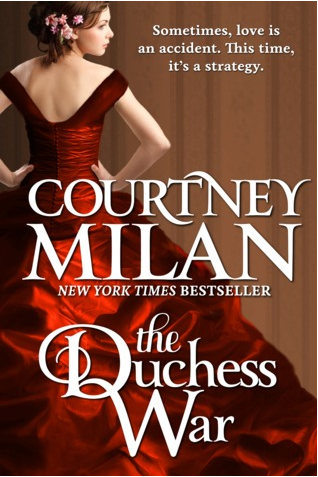 I don't know quite where to begin, so I guess I'll begin here: I loved Courtney Milan's most recent novel, The Duchess War, which I read last weekend. Loved it absolutely, without reservation, with my whole heart.
But some people haven't. Some people have found it uninteresting, or unromantic, or just . . . not quite up to par.
Which is fine. I'm not about to go around telling people they're wrong for feeling that way. I feel that way about books all the time. Taste is subjective. But it did start me thinking about what I want from historical romance, versus what other people want, and that led me down a twisty path that goes something like this . . .
I noticed that many of the same people who didn't enjoy The Duchess War as much as I did absolutely loved Tessa Dare's Spindle Cove books. I did not. And I hate saying that — I really do — because Tessa Dare is a very talented writer, and she also seems like a nice person. I enjoyed her debut. I think the Spindle Cove books are excellent, in fact. (I read two of them.) They're just not what I want in a historical romance novel.
So what is that? And what is it about the version of the past presented in the Spindle Cove books that galls me, even as I'm enjoying Dare's characters and love scenes and dialogue and craft?
It has to do with escapism. Spindle Cove is itself an escape: a town where unusual women can safely be unusual. In Spindle Cove (which outsiders sometimes jokingly call "Spinster Cove") these women can live free from opprobrium or consequence among a sisterhood of likeminded others. Spindle Cove is an upper-class radical white Englishwoman's utopia, tucked away in a picturesque seaside location and populated by hunky soldiers conveniently garrisoned in the vicinity.
I think my inability to enjoy the books comes down to the fact that this is not a version of the past that I recognize.
When I read Courtney Milan's The Duchess War, by contrast, I had countless moments of recognition. Ah, yes. This dilemma. This constraint. This feeling of pressure, of powerlessness. This is the Victorian era that I studied, in all its suffocating subtleties. This is the airless, difficult, wide-open, ever-changing, complicated past that I gave myself over to for five years of grad school. This is the past I want to read about.
The Duchess War is preoccupied with the constraints of Victorian life — constraints of expectation, of possibility, of class and gender, of power; constraints on hope; constraints of survival — and Milan gives us a romance that does not overcome them so much as it promises the possibility of mutual understanding, mutual transformation, and mutual transcendence within them.
The story goes something like this (spoilers, ahoy!):
Minnie spent her childhood trailing her feckless minor aristocrat father around the Continent. He disguised her as a boy because he wanted to bring her along with him. He taught her to play chess because it was the only thing he was good at. He turned her into a parlor trick, then a chess champion, and then he betrayed her in the worst way at the worst possible time. When she was twelve years old, Minnie's father went to prison, and she was attacked by an angry mob that threw rocks at her. Rescued by her great-aunt (actually her great-aunt and her aunt's in-the-closet lesbian lover), she was taken away to Leicester and given a new name and a new life.
Minnie has spent twelve years learning to be invisible. She is not allowed to speak her old name aloud. This, her aunts have taught her, is what it means to be a woman. You make yourself small. You follow the rules, and if you do it right and you're lucky, they stop throwing stones at you.
Enter the duke. His father was an evil bastard; he wants to be better. He's a duke, so he ought to be able to make sure his workers are treated well and put his father's sins to rights. It's more difficult than he'd anticipated, but it's still not all that difficult. Everything is easy for a duke. The power sits uncomfortably on his shoulders. He wields it as best he can. He's kind. He wants to put the world into better order.
When he meets Minnie, her guard is down, and she forgets to be invisible. He sees her. He wants to help her. She tries to blackmail him, and he tries to woo her. She's smarter than him, and he knows it. He likes that about her — that she's a strategist, that she's so much more than she appears. But she doesn't want him to see, and she doesn't want him to know. They keep grappling with each other, and Minnie keeps trying not to hope. Hope brings rocks with it.
She won't meet his eyes most of the time. He keeps asking her to look up.
Minnie is hoping to marry. The man she intends to engage herself to doesn't like or respect her, but he wants a quiet, malleable wife, and she appears to be a quiet, malleable woman. Minnie thinks she'll be safe with him — that she won't have to worry about keeping herself or her aunts alive, that she'll be able to keep her secret, scandalous past under wraps and achieve an endpoint to the terror that's followed her around for twelve years. But the problem is that she's met the duke, see. And she's begun to hope. She's begun to look up. When the suitor proposes, his proposal is so casually cruel that she can no longer ignore the truth: with this man she's hoped to marry, she will never be safe. There is no such thing as safety for a woman in her circumstances.
Here is Minnie, speaking to her Aunt Eliza, coming to understand how trapped she is:
"List the things you are," Eliza said, "and ask yourself what man would want them."

I want you. But Clermont didn't know her, either.

"Your choices are yours," Eliza intoned. "We won't steal them from you."

No. They never stole her choices. They only pointed out — kindly, sweetly, implacably — that she had few to begin with. Minnie's hands shook. The only thing they had done wrong was to allow her to believe that she had one choice, instead of zero.

Minnie didn't see any way forward. She couldn't see a future at all. She felt chokingly blind.
When Minnie gives up the terrible suitor and begins to believe she might have a future with Clermont, her terror reaches a fever pitch. She flings a fork at the wall and indulges in a rare outburst, telling her aunts how angry she is with them for giving her this choiceless life. And she thinks of Clermont, because she can't stop herself.
You could have had this, the memory taunted, if only you were someone else.

You could have had him if you were yourself. But you aren't. You aren't.

Eliza crossed the distance to her and set her hand on her shoulder. "You should never have known," she repeated.
It is a beautifully subtle moment, because Eliza doesn't come right and say that what Minnie should never have known is hope. She should never have known what it was like to be a boy for twelve years. What it was like, with her father, to feel as though she could achieve anything, win any chess game, dazzle any new acquaintance. She should never have known that feeling of infinite possibility, because it isn't hers. She is a poor woman with a scandalous past, and invisibility — freedom from harm — is the best she ought to hope for. She ought never look up.
(The theme of constraints on women is not a new one for Courtney Milan. I noticed it particularly in What Happened at Midnight, a novella about a woman who flees a scandal caused by her father only to inadvertently put herself in the power of a man whose evil is subtle and nonviolent, but inescapable. He doesn't even have to try hard to overmaster her. It's takes almost no effort at all.)
The Duke of Clermont (his name is Robert) does not understand Minnie's situation, of course. How could he? She hasn't told him about her childhood, and more to the point, he's a duke. He has never known love — his father was an evil sonofabitch who forced his mother to choose between her sanity and her son — but he is so steeped in privilege that he can't imagine himself into Minnie's shoes. Much of the romance in the middle of the book involves his attempts to do so. In one of my favorite moments in Robert's progress toward understanding, he tells her, "I know you're worried. I know I can be thoughtless. But I don't stay thoughtless, Miss Pursling." And indeed, he doesn't — much to Minnie's dismay. She's eventually forced to accept that she can't prevent herself from falling in love with him. He won't stop trying, and she can't stop hoping.
And so The Duchess War is soaked in questions of power and its exercise, as well as how it's intertwined with class and individual will. Minnie and Robert are twinned characters, halves of a whole: a hero who has more power than he wants and plenty of confidence in his capability but no experience of being loved, no family; a heroine who has no power, no hope, and a terror of public life, but who has known love and knows how to love. Minnie has quashed her true self, her aspiration, in order to survive. She is entirely inward-focused, whereas Robert is all outward — all searching for approval, seeking love, trying to right wrongs. She fears her connection to him because he can destroy her, and he can do it almost by accident.
It is, in this sense, a romance of learning to understand. Of learning to hope. Of two people figuring out how to support each other, how not to disappoint each other, even as they figure out how to get better at living within the constraints life has handed them.
And I loved it. I believed it.
I don't mean to suggest with this comparison that Milan's romance — which features the unlikely pairing of a duke with a scandal-ridden, not-all-that-attractive almost-spinster — is not escapist, nor am I trying to suggest that there were no liberal-minded Englishwomen like the ones who populate Dare's Spindle Cove. The past contained any number of women who did radical, unconventional things.
But it is to say that when I read historical romance, I don't want it to be utopian in the Spindle Cove sort of way. I want it to be transcendent, but I need that transcendence be anchored in the real. I want characters who suffer under the constraints of their social class, their gender, their time.
To borrow the terms of Erin Satie's amazing post on Escapism(s) (which, if you haven't read it yet, you must), I want "Escape into a Better World," but not "Escape from Burdens." The burdens are a large part of the point, for me. The characters can be ordinary or extraordinary — they can be politically radical dukes and former cross-dressing chess champions — but I only want to see them benefit from their unconventionality if they also have to suffer the consequences of being extraordinary. I want to see them grapple with life. Because there are, and always have been, constraints that we can't escape. And it is in seeing how one might find a way, through love, through mutual understanding, to live with those constraints — to bear them more easily or make them not matter — that I am buoyed up by the power of the romance and left satisfied, in the end.
And — here is my personal epiphany — that's not just what I want to read in historical romance. It's what I want to read, period. And it's what I want to write. It is the only version of escapism that works for me.