After interviewing Alexis Hall about his novel Glitterland, I asked if he'd be interested in guest posting here from time to time, and he agreed. I'm excited to present his first post — an outpouring of love for The Vampire Diaries, complete with a typology of love triangles and a last-minute plot twist!
———
Let me begin with a confession: I love The Vampire Diaries. I genuinely, passionately, my favourite thing on TV, maybe in the universe, love it. I tried to enjoy it in a cool, ironic way but from the moment bad boy vampire Damon rocked up in season one and actually murdered an innocent schoolgirl, I was like "hell to the yeah, this show has balls." I can't actually remember anything that's ever happened in it ever, but that's largely because so much happens. It's the sort of show that leaves you sitting on the sofa, exhausted with incident and the dawning realisation that you're still on episode four. I should probably mention here that I've not read the books, which I know this makes me kind of philistine, particular since, as I understand it, fans of the novels consider think the TV series of a travesty. So with my travesty hat on, I'm going to rave about how awesome the show is.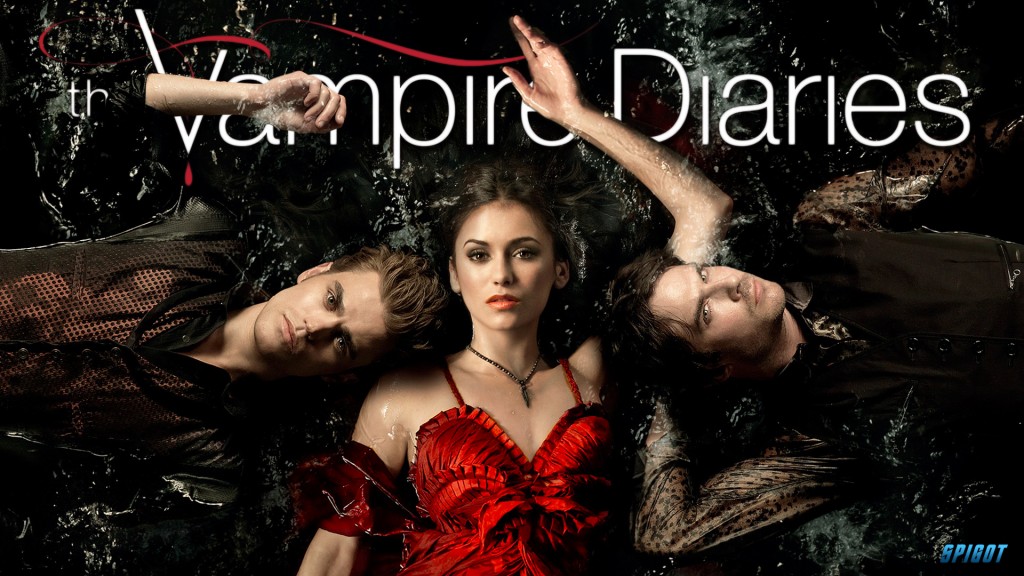 The centrepiece of The Vampire Diaries is something that seems, on the surface, to be Ye Olde Standard Teenage Love Triangle, consisting of our kind, noble heroine, Elena, and the two hot vampire brothers who want to bang her. There's Stefan, the good one, who initially kept a diary but I think they stopped that when they realised it made him come across like a fourteen year old girl. Like most morally upright vampires, his hobbies include feeling bad and looking sad. Then there's his brother, Damon, who is a sociopathic, mass-murdering, sexually promiscuous party boy with all the good lines. He also has literally one facial expression but he's played by Ian Somerhalder so who's counting.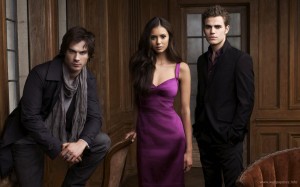 Usually, I have no patience for love triangles. It's kind of like watching someone standing in a cake shop, faffing endlessly over strawberry gateau or chocolate tart. In short, a lot of angst and woe over a non-problem with a very simple solution: honey, they're both great, just pick one.
And I will confess that, by the end of season three, I was starting to lose patience with TVD. The love triangle was all dithery and the plot had gone more than usually tendriltastic. There was something with original vampires, and a white ash stake, and hybrids, and doppelgangers and, oh lord, I really have no idea. But the season ended, as is traditional for The Vampire Diaries, with somebody trying to do something for which it was somehow necessary to eat, kill or ritually sacrifice Elena and, yeah, she died.
But, y'know, only technically.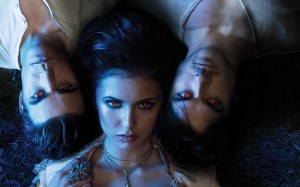 So, spoiler, season four has kicked off with Elena being a vampire and my enthusiasm for the show is back in full force. Including, shockingly, my commitment to this bloody love triangle because, for the first time, I truly realised just how superlatively messed up and awesome it is. How fascinating its dynamics and how well-articulated its central conceit. The plot details are hazy to me but at the end of season three, there was one of those implausible "can only save one person" scenarios and Elena tells Stefan to save her best friend, Uninspiringly Human Matt. And Stefan does, so Elena snuffs it and then becomes a vampire, which is not something she ever wanted. The first episode of season four is largely taken up with people angsting about this. Including Stefan, who's all like "oh no, how can you love me, I totally let you die, that's not a good trait in a partner." To which Elena replies that she loves him because he's always respected her choices.
And I was like: omg, that's amazing. He does respect her choices. He has respected her choices solidly for sixty six hours of television. That's more choices than I've respected in my entire life.
One of the problems I tend to find in long-running TV shows is that relationships get established and then taken for granted.  In the first few seasons of Buffy, for example, Buffy and Willow used to hang out together, and talk to each other all the damn time.  But by season five they're people who vaguely know each other and happen to have intersecting plot arcs, and yet the show still insists they're deep, personal friends, and it's, frankly, annoying. Friends don't let friends go evil.  Anyway, The Vampire Diaries sort of suffered from a similar problem in that Stefan and Elena fall for each other in about the first three episodes of season one and from then on its all so focused on "oh no, somebody is trying to kill Elena again" and "oh no, I've reverted to my previous amoral, serial-killing self" and "oh no, maybe she should be with Damon actually" that it's remarkably easy to forget that these are two people in love who are basically just trying to be together.
But season four reminded me. And reminded me hard. There's a really sweet scene with Stefan and Elena sitting on a rooftop as the sun sets and they're just having a conversation.  And you remember: these are two genuinely decent, moral people who are separately a little bit sad, a little bit grieving, but find happiness in each other.
And also: he respects her choices.
Later that episode Damon storms in to deploy his one facial expression. And he ends up having a passionate conversation with Elena where he basically tells her that he would have saved her life, whatever else was at stake, because he's just that damn selfish. Because he loves her enough to be selfish for her. Because he loves her so much he would put her safety above everything in the universe Including her own wishes.
And that was when I just about exploded. You see, the love triangle in The Vampire Diaries isn't simply a question of what cake Elena should eat, it's an exploration of the entire nature of cake itself. Because, actually, both Stefan and Damon are right here. Stefan's love is right because love can't exist without respect. Because love must sometimes be selfless, and heedless of pain. Stefan lets Elena die because he loves her more than he fears the pain of losing her. But Damon cannot bear to lose her. Because love must also sometimes be selfish, and sometimes be greedy. And, let's face it, there's something profoundly powerful about the idea of a love that defies morality and rejects kindness.
And, for me, this works as a love triangle (or a love shape of some kind) because there isn't actually an answer. In some ways, there isn't even a question. At the risk of sounding of overly categorical I'd say there are basically two types of love triangle in fiction, which you might call operational and symbolic. Operational love triangles are just literally about which guy the heroine winds up with (Twilight or True Blood being the obvious examples). But in a symbolic love triangle, the guys represent larger questions facing the heroine, either about her life or the sort of person she wants to be. It's not really a romance by any stretch of the imagination but the classic example is The Phantom of Opera where poor Christine is essentially forced to choose between giving up a career or giving up any semblance of selfhood (or, y'know, bonking someone who isn't composed of death from head to foot). The Vampire Diaries strikes me as particularly interesting, firstly because I read it as symbolic rather operational, and secondly because it's actually almost reflecting on itself. It's not about which hot guy Elena should be with, it's about how you choose to love, and what that choice means.
So we've kind of left the cake metaphor behind since the opposing attitudes to love and loving represented by Stefan and Damon have differences than run far deeper than strawberry versus chocolate.
I think the other difference between D/E/S and most love triangles I've seen in in this kind of show, is that Damon has a relevance which goes beyond introducing artificial uncertainty into Elena and Stefan's relationship. In fact, for a story built around a central love triangle The Vampire Diaries spends remarkably little time asking you to seriously consider the possibility that Elena could actually be with Damon.  Instead, he acts as a counterpoint and juxtaposition to Stefan, and the choices he makes in his relationship with Elena, and the comparison doesn't always come out in Stefan's favour. I mean, Elena literally died because she was with Stefan, rather than Damon.  This doesn't undermine the validity of Elena and Stefan's love, but I think what's unusual about the arc is that reinforces this relationship by challenging it. Damon isn't a straw man alternative, like Jacob in Twilight, and he's not another stop on the merry-go-round like Eric in True Blood, he's specifically someone Elena could have chosen to be with and didn't, and so his role in the series is to explore the consequences of that choice.
In a sense, Elena's story is as much about not being with Damon as it is about being with Stefan. And I think that's, I dunno, pretty cool?
Disclaimer: okay, so anybody who watches The Vampire Diaries is probably thinking something along the lines of "oh you poor man, you are about to get your parade rained on quite hard." So, yeah, turns out, spoiler, Elena gets together with Damon in season four, completely undermining my whole article. But, you know something, I don't care. One of the things I find kind of fascinating about long-running TV is the way there's an extent to which it exists only fluidly and is saying basically whatever you think it's saying at the time that you're watching it. So wherever The Vampire Diaries is going, and whatever it thinks it is saying, I would still like to celebrate the one brief shining moment when I thought there was an interesting love triangle on TV.  Thank you.