I'm trying not to hate my body.
It is very, very hard.
I have spent as much of my life as I can remember hating my body, or liking my body but only conditionally.
I will like you, body, if you weigh the right number of pounds.

I will like you, body, if you run the correct number of miles this week.

If you run the right number of miles today without stopping to walk.

If you do one hundred and eight consecutive days of yoga and give me no trouble, body, I will love you.

If you eat only good food and no bad food.

But if you don't, I hate you.
My body can't win. It grew a human being — a perfect, amazing, beloved human being — and I still hated it. It propelled me up and down mountains. It's taken me to glorious places, let me feel amazing, taught me so much. And yet I can't remember a day of my life when I didn't at least mildly dislike my body.
My body doesn't care. This was pointed out to me yesterday — my body has zero fucks for whether I love it or not. It is ridiculously healthy and strong whether I love it or not. My heart beats and beats and beats and beats whether I feel tenderly toward it or not. My hair grows in gray regardless of how I feel about gray hair. My chin doubles when I smile regardless of whether I approve of doubled chins.
My body is my body, and it is doing a great job of being alive and being my body, and it doesn't give a flying fuck whether I hate it.
I do, though. I want to stop hating my body, because hating my body hurts, and it makes it hard to receive love, and it makes it hard to be happy, and it makes it hard.
Self-hate makes daily life hard. Hate always makes things hard.
This is what hate does.
So I was running this morning — my first run this season because even though the weather has been good I haven't been running, I've been walking instead. And the sun was positioned in a way that my shadow was in front of me for most of the run, and my shadow looked like this.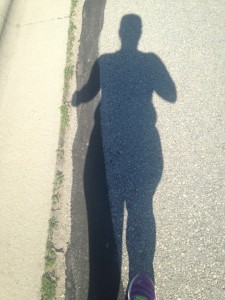 I looked at my shadow, and I thought about a conversation I've been having about hatred with someone who loves me. I thought about everything she's told me about my body, and I tried to love my shadow. This exact shadow. This body, which doesn't have any fucks to give about whether some fat it has conveniently stored around its waistline makes a smooth or bumpy line with the running pants I put on it.
I've spent a lot of my adult life trying to read the right things and speak the right ways and think about bodies in the best, healthiest possible way. I read the entire contents of Kate Harding's old website, Shapely Prose — which is wonderful, actually. I read them and internalized as much as I could. I've bought books and looked at blogs and tried to think radically and reframe and ultimately, I guess, I have been waiting for all this reading and research to effect a change in my head that would make it possible for me to love my body, but it hasn't happened, because the only way to love my body is to love it. Just — love it. Love it because it's me. Love it because I'm alive. Love it because it's amazing, actually, and because I choose to.
This is hard. It's so hard.
I wrote a novel last year about a heroine who doesn't love her body. Her name is May. She's six feet tall, and she's not rail thin, and she doesn't like herself very much. The novel, Truly, is going to be released in August, and ARCs are available right now, but a lot of people read the novel on Wattpad as a serial last fall.
People kept asking me on Wattpad — asking in the comments, asking in private messages —
How fat is May?

I don't understand, is she fat? Is she skinny but just thinks she's fat?

She makes herself sound like a cow, but I can't tell. Is she? It's really bothering me.
It really bothered me, too. It bothered me because these questions meant that readers couldn't decide how to feel about May until they knew just exactly how fat she was or wasn't.
What did it mean, how she felt about herself? They couldn't know until they knew how fat she was. Only knowing how fat she was would tell them if she deserved or didn't deserve to feel bad about herself, and only knowing if she deserved it would tell them if they, the readers, should like her or not like her.
Of course, romance novel heroines are almost always thin. They are thin, they are beautiful, and we make sure the reader knows that they are thin and beautiful. We make sure the reader admires the fall of their hair and the perfection of their features, their high and round breasts, their flat stomachs, their perky asses.
We do this because it is easy. If the heroine is thin and beautiful, we don't have to worry about whether she deserves love. She does. Obviously she does, because she is thin, and she is beautiful.
It is easy, and it is sexist. This message, repeated in 99.9% of romance novels, is hateful toward women who aren't thin and beautiful — and to women who have complicated feelings about their bodies even if they are thin and beautiful. Which is to say, it is hateful toward most of us.
We do this because if the heroine is thin and beautiful, she has no reason to hate herself.
We do this because if the heroine is thin and beautiful, it is easy to understand why the hero would be attracted to her.
We do this because we hate our bodies, and we don't know how to stop.
Although, also, we aren't supposed to talk about it. Or we're only supposed to talk about it in particular, socially sanctioned ways. We're supposed to talk about how we've recently figured out that iced tea is a fantastic appetite suppressant. Or how we've started doing Zumba class, and it's so much fun, it hardly feels like exercise at all! Or we talk about how we run five times a week because it feels good and settles our heads, and that's true, it does, it does, but we don't talk about how if we don't run five times a week, we hate ourselves.
Every year before the RT and RWA conventions, the romance community on Twitter spends weeks and weeks talking about clothes and shoes and bodies and alcohol. Usually, this conversation isn't overtly hateful, but the subtext of this conversation is always hard for me to take.
I don't know if I am thin enough to be liked.

I'm afraid I don't have the right clothes or the correct shoes to make a good impression on people I care deeply about making a good impression on.

I don't think I'm right.

I wish I were right.

I'm going to try so, so hard to make myself right for you guys before this conference.
Hardly anyone is saying what I wish everyone were saying.
You are already right.

Whatever you wear is fine.

We just want to see YOU.

We already like you.

It doesn't matter. It doesn't matter. It doesn't fucking matter, not even a little bit, not at all.

Wear the dress you like. Wear the shirt you like. Wear whatever you like, but feel good. Feel love. Feed yourself. JESUS, feed yourself.
That's what I want to say, all the time, every year, every time I see these conversations about conferences and clothes and weight, every time someone is worrying about how many calories are in their yogurt, every time, and sometimes I do, and I get praised for having a great self-image, but really it's just easier for me to love everyone else than it is for me to love myself.
It's hard for me to love myself.
It's hard for all the women I've ever known and some of the men, too, and I think it must actually be hard for everyone no matter how they look, how fat they are or how thin, how healthy they are or how sick, how dark their skin is or how light, how curly or straight their hair is, how good or bad their eyesight, how broad or narrow their hips, how round or flat their ass. No matter what, it's hard.
Also, love doesn't make it easy. Love feels good, and love is good, and love helps, but being loved by someone else doesn't solve this problem, not all on its own. Love solves very little on its own. We have to work to solve our own problems. We have to love ourselves.
It's hard
But it's hard NOT to love myself, too. I have thirty-six years' experience hating my body, and it is actually hard — it's painful. It creates pain. It creates anxiety. It creates judgment. Hate is poisonous.
And so I'm trying this other hard thing, today. I'm trying to look at my shadow when I'm run and to be happy that I'm alive, and I'm running, I'm fucking running, and my body is healthy and happy to be moving, and the sun feels good on my skin, and the sky is blue, and my mind is sound.
I'm trying to feel all of that and let it be love.
I'm trying to love my body the way I love everyone else's bodies, the way I love humanity, the way I love life and the world.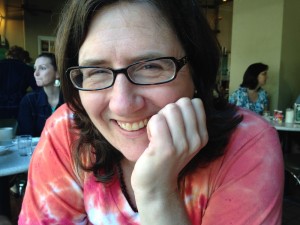 I'm trying to look at this picture of my face and not think it's the wrong smile, the wrong angle, the wrong version of my face, the one I don't like. I'm trying to remember, instead, that this is the face people see when I smile. People who love me. People who love to see me smile. This is my face. There's nothing wrong with my face.
I'm trying to look at my face and love it back.
It's hard. It's so hard.
But it's not harder than hate.
I'm hoping, over time, if I keep trying, it will become easy.