Hello everyone! Please allow me to welcome Tamsen Parker back to Wonkomance, with a guest post about how we bury bits of truth in our novels.
__________
I want to talk about pearl necklaces. No, not those kinds of pearl necklaces, you filth mongers. Here, I'll wait while you get the snickering out of your systems. We good? Cool.
So. People ask writers all the time where we get our ideas. And from what I've gleaned from my writer friends, the answer is everywhere. We can't STOP getting ideas. Ideas for characters and plot lines assault us constantly. In the grocery store, dropping off our kids at school, in yoga class, and god help the writer who travels a lot. Planes, trains, automobiles and especially public transit are rife with plot bunnies.  Ideas are everywhere, all the time.
How do we decide which ones to nurture and which ones to shoo away? It's the ones that won't let go, or (somewhat less romantically) the ones that show up at a convenient time, that get written—I need two thousand words for a holiday blog hop story? On my fight to the RT conference in May, an attractive man almost fell asleep on me. What if… And go! See? Easy peasy.
But if ideas are the easy part, the execution is the hard part. Let's say the idea is the thread of your story. You're going to need to put something on it to make it interesting, otherwise it's just a string. And that's where the pearls come in.
Some people advise to write what you know. And some people are like, Screw that, I want to write about dragons! Which, awesome, dude. I like dragons. But there's a mishmash of both that seems to work best for me. You can research settings, medical conditions and characters' jobs, among other things. And you should. But I've found that the moments in my writing that seem to hit people the hardest are those where I've taken a grain of truth from my own life and spun a scene or a character trait around it.  Those are the pieces that make eyes water, stomachs flip and hearts pound. That's when the reader sees the character as human, because they are.
If I've done my job, by the time I'm threading the pearl on the string it's so coated in layers of story, language and craft that no one will notice it's deeply personal. Which is how it should be; I write fiction, not memoirs.  What the reader gets is the naked truth of raw emotion polished to a high gloss, a character made of words becoming flesh and blood.
It works because everyone has those tiny pieces of intensity: the things that have made us feel the most, have impacted us down to our core. We all know sand, we all know grit. The trick is to take that pain, those niggling little heartbreaks and insecurities, and turn them into something beautiful. Like a pearl necklace. Like a love story.
Writers, do you write mostly from real life or is complete and utter fantasy more your forte? Or do you weave them both together? What's your go-to technique for imbuing your characters with believable, intense emotions? And readers, to what extent do you speculate how much of your favorite stories are directly from the author's own character and experiences?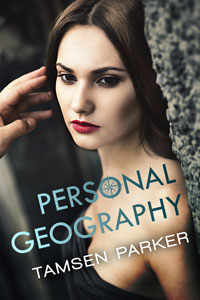 Tamsen Parker is a stay-at-home mom by day, erotic romance writer by naptime. She lives with her family outside of Boston, where she tweets too much, sleeps too little and is always in the middle of a book. Aside from good food, sweet Rieslings and gin cocktails, she has a fondness for monograms and subway maps. She should really start drinking coffee. You can attempt to seek out the grains of truth in her debut novel, Personal Geography.