Please welcome the wonderful, wonktastical Penelope Merrin, who is visiting today to favor us with a guest post about musician/artist Kate Bush!
———
"Normal" is not a word most people would use to describe singer/songwriter Kate Bush. Over the course of her long career, she's released songs about taboo topics, gleefully shrieked and brayed her melodies, and bucked the conventional studio album-and-tours career model. She is far from mainstream, but she's enjoyed more than thirty years of success as a musician on her home soil in the UK, as well as internationally.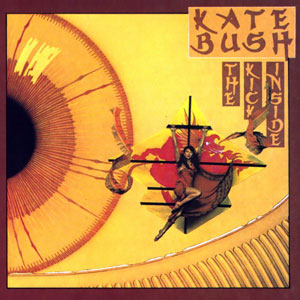 Bush was discovered by Pink Floyd's David Gilmour when she was just fifteen years old. Four years later, she released her first album, "The Kick Inside." It included songs she had penned when she was in her early teens. The album teemed with love songs, including the single "Wuthering Heights" about doomed Heathcliff and the ghost of his lover, Cathy. The title track of the album was inspired by "Lizie Wan," an old folk song about incest. In Kate's take on the story, the singer decides to take her own life rather than shame her brother by bearing his child. "This kicking here inside makes me leave you behind / No more under the quilt to keep you warm."
Every album in the thirty-plus years since then has featured at least one wonktacular romance. With incest out of the way, it was time to move on to pedophilia in 1980's "Never for Ever." Bush claimed the film The Innocents as the inspiration for her song "The Infant Kiss." In the movie, a governess falls in love with the ghost of a man possessing the child in her care. "His little hand is on my heart. / He's got me where it hurts me." The songwriter was fascinated by the push/pull of the bizarre relationship in the film and endured lots of grilling from the press when they confronted her about the subject matter.
A few other notable wonk-o-mantic songs include:
"Houdini" (1982), about the famous magician's wife and her attempts to contact him from beyond the grave. According to legend, when he kissed his wife before performing escapist feats, she passed him the key to his shackles. "With a kiss, I pass the key / And feel your tongue teasing and receiving. / With your spit still on my lips / You hit the water."
"Song of Solomon" (1993), a recitation of verses from the sensual book of the Bible, with a chorus that forthrightly says "Don't want your bullshit / Just want your sexuality."
"Mrs Bartolozzi" (2005), a sexually charged song about household chores and the washing machine. "I watched them going round and round / My blouse wrapping itself around your trousers / Oh, the waves are going out / My skirt floating up around my waist / As I wade into the surf / … little fish swim between my legs."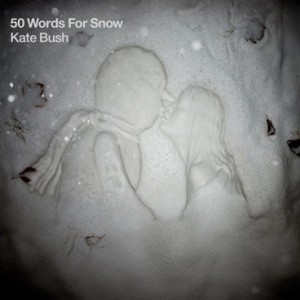 "Misty" (2011), a song about sex with a snowman. "So cold next to me / I can feel him melting in my hand / … His crooked mouth, it's full of dead leaves." She talks about kissing his "ice cream lips" during their "one and only tryst" before he dissolves.
Kate Bush is inspiring to me not only because of the subject matter of her songs, but also because of the career path she has forged for herself. When she first came on the music scene at age nineteen, the press wanted to label her as a sex symbol. But rather than following this easy path, she stayed true to her unusual artistic vision. Her music videos are bizarre and otherworldly, featuring highly stylized, often erratic-looking dancing and wide-eyed, doll-like expressions that reflect her background in theatre, dance and mime.
Bush chose what worked for her as far as promotion. Because of her theatre background, she worked herself to exhaustion costuming and choreographing her first tour in the late 1970s. Afterward, she vowed never to do it again — and she hasn't. She has only appeared live once on American television (Saturday Night Live in 1978). Instead of touring to promote her albums, she dedicates herself to the signature unusual music video she enjoys crafting.
She has also released albums at her own pace. After 1993's "The Red Shoes," Bush did not release another album until 2005's "Aerial." In the quest to remain viable and in the public eye, most artists would blanch at the thought of taking a twelve-year hiatus between releases. Speculation ran wild during this time period — was she washed up, finished with the music business? Would she ever put out a new album after the birth of her son in 1998? No matter her reason for the break, she came out on the other side still producing brilliant music, 2005's "Aerial" and 2011's "50 Words for Snow."
As a writer, it's so easy to get wrapped up in the "right way" to do things. I completely appreciate all the excellent advice I receive on revising, editing, plotting, self-promotion, and all the other things writers do. But I think it's easy to lose sight of the forest, focusing on all the trees. Tori Amos, another unusual artist, put it this way: "I know I'm an acquired taste—I'm anchovies. And not everybody wants those hairy little things. If I was potato chips, I could go more places." Listening to Kate Bush bray like a donkey at the end of "Get Out of My House," watching her hump a cello in the video for "Babooshka," I see an artist madly in love with her work, completely dedicated to expressing her wildly creative vision no matter how strange it may seem to others. I appreciate having an artist with a bold career path to look up to, as well as a library of songs to use as inspiration for my own off-kilter stories.
———
Penelope Merrin (@penelopemerrin) is the author of Playing Along, the story of a cosplay hookup between a waitress and a man dressed as her favorite 1970s TV character. There may or may not be stick-on sideburns involved. When she's not writing, Penelope enjoys spending time with her husband and dogs, playing video games and walking on the beach late at night having deep conversations with people.