I've been thinking a lot about hero archetypes. I just wrapped revisions on a book starring an abrasive, larger-than-life showman; I've got two works-in-progress, one featuring a broody, damaged loner and the other a big, lovable, hapless clod; I'm editing a literary fiction manuscript for my agent whose anti-hero is very nearly a sociopath. My last release featured a warm, seductive recluse, and the one on deck (Making Him Sweat, one of Meg's Blazes) has what Ruthie Knox and I decided could be called a "balpha"—an alpha / beta hybrid. A Golden-Retriever heart beating inside a deceptively Rottweiler-looking body—that's Mercer.
Hero types go far beyond alpha and beta. I suspect some readers who fell in love with Willing Victim wish I'd just write nothing but Flynns, but when the chocolate sampler's this packed with variety, I want to taste them all. I sometimes try to pinpoint a hero's nature by musing on what animal he'd be—a social one, an opportunist? Trusting, protective, adaptable, cuddly, cunning? Here are but a few species of hero I've pinpointed in my musings.
(Please note, the distinction "of North America" doesn't apply to any of this—it only served to make the title sound more Petersonian.)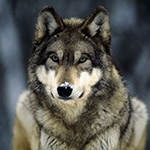 The alpha wolf. Of course, we must start here. I feel "alpha" has become shorthand for any huge, domineering hero stomping across the hills of Romancelandia, but I believe there are subtleties we've lost. It may feel lonely at the top, but an alpha wolf is not a loner. He's also a leader, not a bully. He should be the physical stand-out in a group, ruthless and smart, but fundamentally distrustful, even of his brothers—after all, no one stays the alpha forever, and plenty of today's followers are biding their time, awaiting their leader's inevitable decline. Alphas should run to the rhythm of a ticking clock, always aware their primacy is fleeting; always straining, scanning for the hot breath of treachery on their necks. I like an alpha hero with deep, internal anxiety. If he refuses to show weakness, it's because his very life—and identity—depends on it.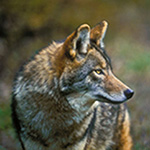 The coyote. Now, let's get nuanced. I think Delaney Crawford from Edie Harris's excellent historical romance Wild Burn (out next week from Samhain—read it) is a coyote hero. He's more raggedy than a wolf, more banged up, less respected and trusted, making his path along the edges of society. His pack is more loose, and its pecking order is tenuous. Coyotes often break from the group, preferring to operate in pairs, which I suspect would be Delaney's preference. He's the type to tolerate authority and societal law for the sake of employment, but happiest when it's just him and his woman. Strider from The Fellowship of the Ring is a coyote when the story opens. Jon Snow begins Martin's A Song of Ice and Fire books as a coyote. Fringe dwellers.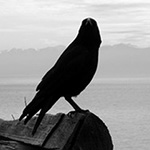 The crow. I'm writing a quasi-crow hero now (for Penguin, semironically), and I'd say Ian Kilpatrick from Skin Game is one…if you can call Ian a hero. Dark, obviously. Secretive, bright, opportunistic, curious, antagonistic, unsettling, unafraid to dig through the trash and carrion and exploit the seedier sides of life and death. A coveter, perhaps. A crow hero doesn't exude an overt, self-conscious sexuality—his beauty's likely something the heroine comes to discover once she's peeked behind the ominous outer shell. I think the broody, damaged loner in my current WIP lies somewhere between crow and owl—resourceful and bright, but eager to go undetected, to move through the world unknown, a singularity.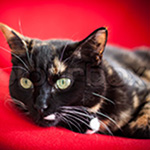 The cat. Like a crow hero, but more languid. More sensual, and aware and in control of his sexual charisma. Not as conniving as a crow, perhaps more alluring than brilliant. He's calculating, and can use his sexuality to get what he wants—why scavenge or thieve when seducing is so much more fun? He may be a fine stalker—Gabriel from my Shivaree books is a cat hero—targeting a lover, toying, feasting, licking his fingers clean. A cat will spring into action if the prize is worthy, but otherwise he'd prefer to loll around in lazy luxury. Or he may simply be a louche, elegant companion, content to prowl in a known realm—Didier Pedra is no doubt a cat hero. An indoor cat, whereas Gabriel's a stray.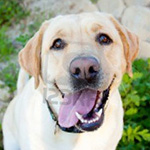 The yellow lab. To a completely different breed of hero, now. Loyal, loving, guileless, physical. A galoot. I'm writing one now for Blaze, and "beta" is too broad a term. I've written betas before—in Romancelandia it simply boils down to a reliable, hardworking hero, likely standing less than six-and-a-half feet tall, who does not "grit" or "bite out" throaty demands to his spunky and recalcitrant heroine. But the yellow lab hero is a step beyond, exhibiting a cheerful, nearly oblivious worldview, just happy to be around people, excited by the simple things—delicious food and physical affection and familiar faces. He gives people the benefit of the doubt, not snapping unless an occasion truly warrants it. He may be clumsy and excitable and a bit dopey from time to time, but you won't find a more accessible heart. I believe he may be the type Charlotte Stein coined the term Big Dumb Tons o' Fun to describe. Cross a yellow lab hero with a crow and you'll get Jayne Cobb from Firefly—an opportunistic dolt.
Let's do one more—I could go on and on, but this post is getting long.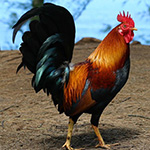 The rooster. This is the one that got me thinking about the animals-as-hero-types taxonomy in the first place. I just handed in the manuscript for Taking Him Down, the second of my MMA-themed Blazes, and I thought, "If Mercer [from the first book] is a so-called balpha, then Rich is obviously the alpha-alpha." He's huge, and loud, and advertises as fearless. And yet…he's not an alpha wolf. A provider, but not a leader. He keeps men at arm's length, not willing to feel he relies on others or owes them anything, only truly as ease with the women in his life. If he had his way, it'd just be him strutting around, looking flashy, surrounded by adoring females. And if another male came crowing, he'd happily beat him bloody.
So those are my six. Has anyone else recently read (or written) a romance featuring a hybrid of these basic types? A rooster-cat? A lab-wolf mutt? Or a different species entirely—shark, vulture, Great Dane, weasel, cobra, chameleon? I actually find this exercise very helpful for fleshing out the nature of a new hero. Know your beast—what he needs to thrive, how he fights and what for, what threatens him and what soothes him.
I've been trying for days to pinpoint what sort of animal Ivan is, from Charlotte Stein's Deep Desires…but I'm only halfway through, and he's one of those fascinating heroes you have to dig deep to get at. Oh, here's a dull claw! Probably a dog. No wait, it's not a claw, it's the tip of a horn. He must be a steer. No wait—dig dig dig—maybe it's a rhino! Hang on—dig dig dig—it's not a horn, it's the business end of a tusk! Elephant or triceratops? Who in the fuck is this guy?!
Maybe Ivan's a cuttlefish, a contrarily stealthy exhibitionist. Whatever he is, I'll happily keep digging until I find out. It's so much more fun than thumping a hero with the alpha stamp and calling him known.