So a couple of weeks ago I clambered up the maintenance stairwell and onto the roof of Wonkomance Tower, the eighty-six-story skyscraper that houses the many departments comprising Wonkomance's North American headquarters. It was a dark and stormy night, but braving the gusts and the dive-bombing hawks, I battled my way to the Wonk Signal and fired that bad boy up, illuminating the gunmetal thunderheads with our heraldic symbol of a blogger in distress—the starkly dramatic silhouette of a half-eaten Jammie Dodger.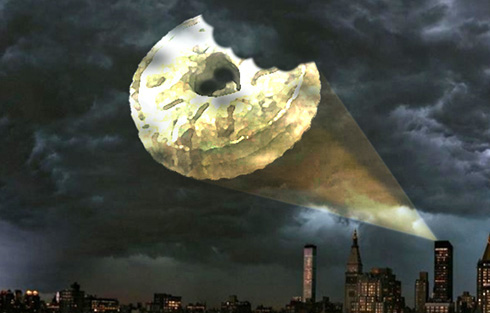 That, or I sent an email to the group that said this:
"I want to put together a wonkopost about first books—or rather, first manuscripts. I remember reading about Janet Evanovich's in her writing memoir, and it was hilarious. To quote her bio, 'The first story was about the pornographic adventures of a fairy who lived in a second rate fairy forest in Pennsylvania.' The takeaway was, the first book teaches you how to write. It'll suck. That's fine, it's supposed to."
The Sisterhood of Wonk immediately rose to the challenge, sending me snapshots of their ugly-ass babies. And so I present to you, admiring readers, aspiring authors, assorted practitioners of schadenfreude, this collection of romance blurbs for books that never saw the light of day. And with good reason.
When soliciting embarrassing stories, it's only fair that the curator go first, so…
Cara: "My first romance manuscript was a survival story—no shock there. I love wilderness / isolation plots. It stemmed from the premise that the heroine was addicted to sleeping pills, and fell asleep in a canoe while on vacation and was carried like, 200 miles downriver (through whitewater rapids, though she miraculously only scraped her thigh) so she could be rescued by the survivalist hero. Who was inexplicably British, even though the book was set in Canada. The sleeping-pill canoe mishap was only misfortune number one, and after each misfortune—Ambien withdrawal, stitches, leeches, cougar attack, mudslide, poison oak, lightning storm, a violent dietary bowel crisis, rattlesnake bite, a monumentally ham-fisted subplot in which the heroine's jilted ex tries to murder her with rat poison so he can inherit her late father's company, a Big Misunderstanding, unprotected sex, visa issues—there ensued a fresh, shrill tantrum, often defused when the hero (for wang reasons, I guess) was driven to tongue-kiss the heroine out of sheer lusty exasperation. This book seriously had it all—including the folksiest big-bosomed grandmotherish archetype ever crowbarred into a romance! And with a minimum of five florid adverbs per paragraph."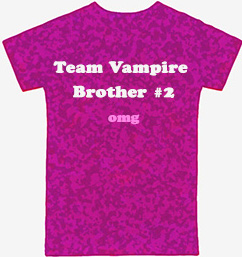 Charlotte: "I don't even know if I could find my first attempt at a novel. I wrote it at age thirteen, and I could probably make you all guess what it was about and you'd get it right. Two vampire brothers fall in love with the same girl, and one of them is EVOL. And he has bracelets that keep him alive and in the end the heroine RIPS THEM OFF AIIIEEE! And then she lives eternally with her moody vampire love in a cave in a cliff face for no apparent reason. I imagine quotes from it would read, 'And then all of a sudden he bit her omg.'"
Is it just me, or would this one actually hit the Times list and spawn an empire of adaptations and Team Vampire Brother #2 merch?
Shelley: "I have an abandoned YA fantasy novel. Before I realized I wanted to write romance. And basically, it is full of the dirtiest subtexts that ever dirtied. There's a seven-page kissing scene. With a guy who is—SHOCKER—a guitarist. There's a scene that veers super, super close to the main character having sex with her (female) best friend. There's magic embroidery, a character who is being kept purposefully addicted to opium, and pack llamas."
Serena: "Through my teens…I was writing these epic 150-page love scenes and inventing ever-weirder scenarios to justify my smutty behavior. I remember an early one about a deaf hero and a blind heroine living in prehistoric times, exiled from their respective tribes for their disabilities (though I'm sure they were referred to as 'curses' or something in those non-PC times). They were forced to spell words into each others' hands in their own invented language (I must have just read Helen Keller) and grope each others' faces a lot. In those days, I never finished anything. I just wrote sex scene after sex scene with absolutely no character or plot development. None."
Mary Ann: "I've written a lot of manuscripts—my first novel I wrote when I was eight and featured humanoid elephants that exhibited behavior so concerning to my third grade teacher, she talked to the school about it. I wrote horror and romance novels as a teenager, and I did get an MFA, but wrote poetry manuscripts, mainly, at that time. My first romance manuscript featured a large-scale textile artist heroine, who was actually very cool, I really loved her, and a virgin classics professor. There were a few problems. First, I detailed my classics professor's work so lovingly, it was nearly a dissertation. Second, he met a letterpress biker at a party at the very end of the book and had such crazy explosive chemistry with her, this biker who was not the heroine, that I wrote the last chapter with a heavy heart and promptly shoved the book into the recesses of my hard drive. The HEA is that I am bringing back the prof and his biker in a book planned for next year. Of course, Jesus, the poor textile artist. I stole her boyfriend, gave him to another woman, and she's still living in a studio apartment trying to get commissions."
Del: "I recall that it was set in Scotland, and the American heroine had traveled there to an old castle (Manor house? Anyway, it was on the moors. Yes, the moors. Shut up) to research…something. Some set of correspondence between two famous writers, I think? The house's current resident, the ancestor of one of the writers, wouldn't sell the letters to whatever college museum the heroine was working for, and I was writing this before the era of everyone having scanners. So in order to do her research she had to travel there to read the letters in person.
"When she arrived, the recluse hero (who was secretly a billionaire entrepreneur, but he'd just gone through some unspecified trauma I don't think I ever got around to figuring out, so he was being a recluse for awhile at the family estate while his emotional wounds healed), turned out to be…well, Heathcliff / Rochester / Darcy, only extra-dour because he was Scottish. You know, that sorta dude. There was a lot of brooding. There was a lot of feisty-heroine righteous indignation. There may have been an utterly gratuitous scene with a killer thunderstorm, the lights out in the house, and a frantic hallway kiss that both of them were for some reason incensed about after the fact (as if anyone couldn't have seen it coming). And although that sort of scene can be fantastic, the one I'm remembering was almost certainly not fantastic.
"The heroine didn't recognize him as a billionaire playboy because of course, being an academic, she was hopelessly out of touch with popular culture; he found this charming about her, naturally. At some point in all this mess, there was also the suggestion that the house was haunted, and the stronger implication that it wasn't really haunted but somebody was trying to gaslight them both, for reasons I can't remotely recall. And then maybe something about some sort of clue or hallucinogenic compound, found in a set of old dolls, that then explains some legend and/or mystery surrounding the famous letters? Or I may just be projecting some A.S. Byatt onto the memory in an effort to block it all out with something better."
Ruthie: "My first manuscript wasn't publishable, but more in boring ways rather than such cracktastically awful ones. I wrote a couple poems in high school and then no fiction at all until 2010, when I sat down and penned Rebound, a Hawaii-vacation romance with a hot tour guide and, somewhat inexplicably, basketball. (The basketball bits are quite good.) There's instalust, some unconvincing 'Nah, I shouldn't,' protesting, a serious fail-kiss on the first attempt (what is it with my undying love for the fail-kiss?), sad shower crying, a limbo contest? I think?, a whole lot of sex, and then an unconvincing last-minute hail-Mary thing where I think the hero had a secret kid, and the heroine somehow repaired his relationship with his secret kid by being…awesome? Someone to look up to? I actually have no idea. I rewrote it from scratch and dropped the kid, but it's still got what is essentially the conflict equivalent of cheese sauce and a heroine who is me at age twenty-one. With a hot tour guide! Because tour guides."
There you go, then—vampire brothers, face-groping, leech mishaps followed by wang-reasoned Frenching, unfaithful he-virgin ballroom dancing professors, bi-curious magic embroidery, inexplicable basketball, hallucinogenic doll tinctures. We showed you ours. Now, fellow writers, show us yours.