It should surprise no one that some of us here at Wonkomance fangurl the ladies of Romance Sociology, Joanna Gregson and Jen Lois. I mean, really…it doesn't get much more deliciously meta than sociology professors who study the culture of romance authors. For today's post I asked them to talk about some of the positives they've seen in their research [and their response immediately made me recall John Scalzi's reaction to attending the 2013 RT convention, so I'll just link that here for anyone who's interested].
Take it away, Joanna and Jen!
---
"BEING NICE" AND THE FEMININE CULTURE OF ROMANCE AUTHORS
For the past three years we've been conducting sociological research on the romance-writing community. Our work has taken us to romance writers' conferences, writing groups, and author and reader events. We've also interviewed over 50 authors, agents, editors, and reviewers.
At the first RWA conference we attended, we were struck by how different it felt from other professional associations we've encountered. Virtually every person we've spoken to about the romance community has expressed a similar observation—that there is something distinctly different about this group. We attribute that difference to the predominant influence of women in the subculture. Social research of single-sex social groupings shows they tend to take on and magnify the stereotypical characteristics of that gender. Thus, men's prisons are hypermasculine, while sororities are hyperfeminine. The same can be said of occupational groups dominated by one sex, and it's certainly true of the romance community.
The driving force in the romance-writer subculture is the emphasis on "being nice." Though Sarah Wendell and Candy Tan deftly explain the downside of this directive in their book Beyond Heaving Bosoms, we've been most interested in the source of this subcultural code. As sociologists, we examine how the code arises from female gender socialization—the messages girls and women receive from the larger culture. Girls are taught first and foremost to "be nice": to the new kid in class, to adults and authority figures, to people in general. As part of that code, girls and women are also encouraged to cultivate a sense of self through relationships; they're rewarded for playing well with others, expected to seek compromise over conflict, and bear the onus of managing social relationships. Boys, in contrast, tend to be taught that a sense of self comes from setting themselves apart from others—from standing out in the crowd on the merit of their accomplishments. Although many people receive both of these messages, research has shown that they are weighted differently for women and men. Therefore, it's no surprise that the romance-writing subculture, a subculture dominated by women, would reflect an emphasis on being nice as the means to developing relationships.
We've observed several ways in which these codes are infused into the culture. First, being nice is equated with professional behavior. Two agents on a panel at a regional conference provided examples of this in their response to the question "What do you look for in an author?":
Agent 1: "The work comes first. Then not having a negative platform, like flaming on Goodreads, taking part in a Twitter argument, or commenting back on Amazon."
Agent 2: "No matter what medium, professionalism at all times… Nothing can happen in mudslinging except getting dirty."
A second aspect of being nice is being inclusive. For example, writers often reassure newcomers that they should never feel intimidated to approach "famous" authors (who are often described as "totally accessible"), and that this community is special because no one ever feels excluded. One writer expressed this on a listserv in anticipation of an upcoming regional conference:
"The conference is small enough that NO ONE ever feels left out unless it's their choice to fly solo. You'll be pleasantly surprised how many new friends you'll make in just the first few hours."
Finally, we believe the be-nice ethos in RWA can be seen in the incredible support writers find here. In fact, one of the characteristics most people offer when we ask them to describe RWA is "supportive." Support takes the form of mentoring, of cheering, of being there for the trials and tribulations of the career. It means taking time from one's own work to read someone else's, offering advice to a newcomer, and doing other things that emphasize the human relationships at play. As one author told us:
"There are not a lot of environments where women who have been successful will routinely come back and keep helping women be more successful. So even though there's a very big competition there's also an incredible amount of support and generosity that is just staggering."
With over 10,000 members, RWA is one of the most successful professional writers' organizations. As we analyze the be-nice culture among romance writers, we see sociological significance in the fact that it is an outgrowth of a female-dominated community. Just as significant, we think, is how the culture seems to help writers compensate for the difficult experiences in this industry: the constant rejection built into a writing career and the stress of constantly defending the romance genre against the negative perceptions of uninformed outsiders. The be-nice culture has its downside, to be sure, but it also functions in a tremendously positive capacity by providing the community cohesion that romance writers need to meet the challenges of the career.
Because we're still collecting data, we'd love to hear from you if you have thoughts about this topic. We're especially interested in hearing from people who can compare their experiences in the romance-writing world with other professional communities, including male-dominated writing groups.
---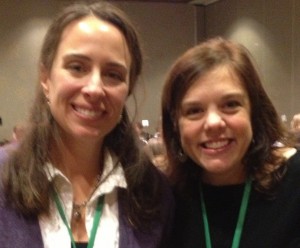 Professors Joanna Gregson (Pacific Lutheran University) and Jen Lois (Western Washington University) have been studying the romance author culture since 2010. In 2011, they received an Academic Research Grant from the Romance Writers of America. You can follow their research on facebook (Romance Sociology) and Twitter (@RomanceSoc).