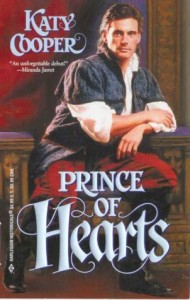 I'm on the brink of a cross-country move, so I'm thrilled to welcome my friend and fellow New England Chapter RWA member Katy Cooper as our guest-poster today. Katy is author of the Harlequin Historicals Prince of Hearts and Lord Sebastian's Wife, both recently re-released as e-books. When Katy isn't writing fantasy and historical romance, she's reading everything she can get her little paws on. She's on Twitter as Katy_C and she blogs as one of the Moody Muses (www.moodymuses.com).
Please join the conversation below by telling us how you felt about consent, or non-consent, in these three books—or others that stand out in your mind.
When I was asked to write a guest post for Wonkomance, I was hugely flattered…and hugely intimidated. The posts here are smart and come at romance from a fresh direction. As I considered what I was going to write about, I kept coming up with very mainstream ideas, nothing wonky.
And then, for some reason, the issue of consent eased into my mind, trailing three very different stories, with different approaches to consent and its lack.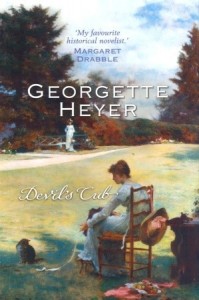 The first is Georgette Heyer's Devil's Cub, first published in the UK in 1932. When the heroine, Mary, tries to prevent her sister's ruin at the hands of the young, volatile Marquis of Vidal, she ends up being kidnapped and carried off to France as a substitute. As far as Vidal is concerned, one sister is as good as another, whether or not Mary agrees. When he makes his intentions clear, Mary reveals a pistol she'd discovered in the coach that carried her to Dover. Vidal doesn't believe she'll use it, but when he makes his move, she shoots him. (And that's just the beginning of their adventures in pre-Revolutionary France.)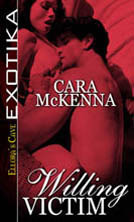 The second is from Wonkomance's very own Cara McKenna, Willing Victim. If you don't already know, Willing Victim is a short erotic romance, telling the story of Laurel and Flynn, who have a compatible interest in acting out rape fantasies. Laurel is always in control of what happens to her; her powerlessness is pretence, one that she and Flynn find arousing. She even holds the ends of the duct tape that "binds" her wrists; all she has to do to be free is to let go.
The last one is Patricia Gaffney's To Have and To Hold, the middle volume of her Wycklerly trilogy of historical romances. A little drunk, very bored, Sebastian Verlaine is presiding over a magistrate's court when Rachel Wade is brought before him and his fellow magistrates. Rachel has just been released from prison, where she served 10 years for the murder of her husband. Unable to find work, she's been brought before the court for vagrancy. Something about Rachel catches Sebastian's eye, even though she's too thin, her hair too short, and he realizes that if he gives her a job, he'll save her from jail…and she'll be at his mercy. She will have to do whatever he wants, and both of them know how much 'everything' encompasses.
One of the interesting things about this book is that Sebastian is not a pseudo-rake. He's truly dissolute; he truly forces Rachel to have sex with him. There's no getting around that. But here's the thing: I'm not sure anyone else could have broken Rachel out of the mental and emotional prison she was in when they met. I'm not sure she would ever have agreed to sex without Sebastian's compulsion, because her initial experiences were horrific.
The other side of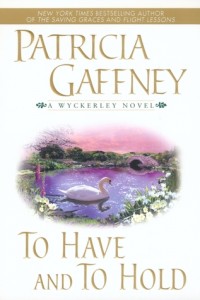 this story is that the way Sebastian treats Rachel forces him to face himself, to truly see who he is and who he's becoming. His experience with her brings him to a fork in the road, and makes it clear to him where each path leads. If he chooses dissolution, it won't be unknowingly.
To Have and To Hold is somewhat controversial. There are readers who dislike the idea of Sebastian as the hero of a romance because of the way he abuses his power over Rachel. I can see their point, but two things make me react differently. One is that Sebastian pays for what he's done, truly pays for it, and it's always struck me that he will grow to be a very good man because he's looked into the pit and he knows how easy it is to be a bad one, and how horrible. The other is that when Rachel consents to marry him, it's consent freely given. She can say no. They both know it.
The thread that binds all three stories is consent, but it's more than that. Consent is not binary, yes/no. In these stories, it's complex and personal, and it can shift and change as the relationship between people changes. It's easy to say it should be written in one way, but if I insist on that, I rob myself of the chance to explore its subtle, perplexing layers. I don't always like the way people in these stories behave, but watching them gives me a chance to grow a little in my appreciation for the variety of human experience.