Hi all! This is Amber Lin, belatedly.
I realized this morning that I hadn't gotten my post in but I've been so swamped with release related tasks that I couldn't even… well, excuses, excuses.
Anyway, last Thursday, Serena had a great interview with author Claire Kent about her prostitute hero book, Escorted. Well, it's free on Amazon today, so if you were on the fence about it or had a book budget, you can go read it now!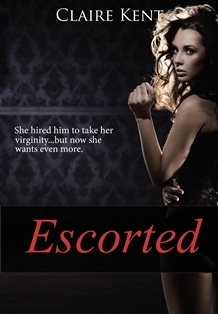 She hired him to take her virginity…but now she wants even more.
Lori might be a popular romance writer, but she's never been anything but a flop with sex and love in her personal life. Still a virgin at twenty-six and increasingly frustrated by her inexperience, she decides to take matters into her own hands. She hires a talented, sexy male escort to take care of her inconvenient virginity.
She assumes one time with Ander will be enough, but she never dreams how much pleasure he can make her feel. Once isn't nearly enough. Twice isn't enough either. Soon, she becomes one of his regular clients.
Lori knows that nothing would be as foolish as falling in love with her paid escort, but she's never been wise with her heart. And, despite his professionalism, he doesn't seem entirely immune either.
It's free on Amazon here but be sure to double check the price before you buy because these things can switch back.
There! I've been useful today! *tremulous smile*