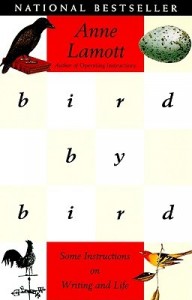 Last week I re-read Anne Lamott's Bird by Bird. The last time I'd read it was ten years ago, when I was struggling to write and submit literary short stories and getting loads of enthusiastic rejection letters. It wasn't an era I look back on with great fondness, but I remember that book being one of the lights of my writing life. So I was planning on the experience of re-reading it being a lot like coming home.
In many ways, it was.
Anne Lamott still writes better than anyone I know about what it feels like to envy other writers, even writers we love and admire. About the voices—the radio station KFKD—that drown out our creativity. About the power of the subconscious— "the cellar where the little boy sits who creates the characters, and … hands them up to you through the cellar door. He might as well be cutting out paper dolls. He's peaceful; he's just playing."
She writes brilliantly about how publication doesn't make you happier, quoting the coach in the movie Cool Runnings, which follows the first Jamaican bobsled team: "If you're not enough before the gold medal, you won't be enough with it."
And her section on giving, on giving yourself completely to every project you set before you, is completely true and also makes me cry every time, because of the story she tells to illustrate what true giving looks like. If you haven't read it or don't remember it, now is a good time for a refresher.
I also loves the way she writes about the joy writing brings to lives:
Maybe what you've written will help others, will be a small part of the solution. You don't even have to know how or in what way, but if you are writing the clearest, truest words you can find and doing the best you can to understand and communicate, this will shine on paper like it own little lighthouse. Lighthouses don't go running all over an island looking for boats to save; they just stand there, shining.
And:
It's like singing on a boat during a terrible storm at sea. You can't stop the raging storm, but singing can change the hearts and spirits of the people who are together on that ship.
But I was struck this time by the ways in which Bird by Bird is aimed at literary writers, struck by Lamott's scorn for what she calls "formula fiction." "When you get serious," Lamott writes, "you will be dealing with the one thing you've been avoiding all along—your wounds. This is very painful. It stops a lot of people early on who didn't get into this for the pain. They got into it for the money and fame. So they either quit, or they resort to a type of writing that is sort of like candy making."
I didn't get into it for the pain. And I don't think you have to get into it for the pain in order to shine like a lighthouse. Granted, writing is not easy work. It's some of the hardest work there is. And publishing—well, publishing, as Lamott so very wisely notes, may make you crazy in larger proportion than it makes you happy. So there are moments when it hurts, when it's hard, when it makes no sense, when it feels—as my mom's good friend said to her about her writing career—"like balloon rides and hammer blows."
But I don't think that if you're not into pain that means you have to resort to a type of writing that is "sort of like candy making." Or maybe another way to put this is that I don't believe that making candy for people is lesser than mining and exposing the deepest crevasses of our pain.
Lamott's words about singing as the storm rages, how it can change the hearts and spirits of the people who are together on that ship, reminded me of an iconic image—the musicians playing on the deck of the Titanic. They played ragtime tunes, and at the end, possibly "Nearer, My God, to Thee," and "Autumn,"—witness accounts vary. Ragtime and hymns. Music that was probably scorned by academics and the intellectual elite of that era as, respectively, entertainment or opiate. Not art. But those people on the Titanic's deck were not looking to be educated or edified or improved. They were looking to be distracted, to be uplifted, to be reminded that there is light wherever you shine it, at the darkest moments.
I can't help thinking that even if the Titanic is sinking, which it almost assuredly is, always, today, somewhere, I would like to be one of the musicians who played on the deck. That seems like good, solid work, not work to be ashamed of, not the sort of thing that ought to be equated with quitting. Entertainment, the bringing of joy into lives—these are not pursuits that should be underestimated. I would like to tell the truth, be a lighthouse, and make candy. And so I shall, with no shame, bird by bird.