Amber: A while back I beta read a story for Kary Rader, the kind of story that sticks with you. So when I saw she'd published it and it was getting rave reviews, I asked her to stop by Wonkomance and tell us about it. Because she really embraced the wonk here, oh yes.
Kary: Fellow resident rule breaker here, so thank you Wonk-o-mancers for having me. I have a question for you today:
Is it okay to write a story with a 17-yr-old heroine and a 25-yr-old hero?
What if he was her mentor…?
What if she was a virgin and he a wealthy business owner… and she was terminally-ill, looking for a sexual experience before she died…
What if he was also dying and a genius who started college at age 14, a little geeky and under socialized…
What if she was mature for her age because of what she'd endured through her illness…
What if… they were meant for each other?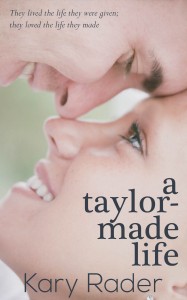 That's the crux of my newest release, A Taylor-Made Life.
Five years ago while I was pregnant with my youngest child, my husband was diagnosed with Stage IV melanoma cancer. It was a difficult and emotional time in our lives. He's now well and cancer free, but in October 2011 when a friend's daughter was diagnosed with cancer, all those emotions came flooding back. A Taylor-Made Life is the result of those emotions.
But aside from a story dealing with the emotional and life-changing effects of cancer, I also knew I wanted to push the limits of conformity. I wanted to ask a question that started with "Is it ever okay…?" Not surprisingly, many publishers and agents had plenty of problems with it. Despite rave reviews, contest wins and a general appreciation for the story, I heard the words "unmarketable" "unsalable" over and over again. My favorite rejection letter from a NY publisher is quoted as this: "Although I think this work is well-written, engaging, and compelling, I'm afraid it's not quite the right fit for our line." I thought to myself, "Huh? They don't publish well-written, engaging and compelling? Odd, that."
And with that letter the proverbial straw broke the camel's back. I gave up the ghost and self-published in July with gratifying results. The story has already reached many, and I've received email from people as far away as Nigeria telling me how it's touched them. Letters with person stories of loss and renewed hope are finding their way to my inbox.
So, I think I'll keep writing, and I think I'll keep asking my questions. Thanks again for having me on and allowing me to share!
They lived the life they were given; they loved the life they made.

Cheerleader Taylor Smith doesn't want to die a virgin. Unfortunately, if the terminally-ill leukemia patient doesn't find a lover or a stem-cell match within months, her fear will become reality. When her cancer mentor is revealed to be a hottie entrepreneur from California, it seems fate might finally be on her side.

Tech-geek Gavin Taylor has everything he ever wanted, except someone to grieve for him when he's gone. With his melanoma cancer beyond the help of his riches, he agrees to participate in a cancer patient mentoring program where he's matched with a dying teen from Texas. Despite his immediate attraction, the Silicon Valley whiz intends only to provide friendship and happy memories to the beautiful, young woman who is determined to win his love.
When it's discovered that his frozen sperm and her harvested eggs could lead to a cure, Taylor's mother offers to be a surrogate. And Gavin must decide if he can risk the heart he has never given and a child he'll never know to a girl he just met.
Find a Taylor-Made Life on:
Amazon Barnes & Noble Goodreads
Amber: Thanks, Kary! Also, to everyone else, if you picked up of the Mary Ann branded tissue packs at RWA, you'll probably need it to read this book :)