In the Foundations of Wonk posts, I'm exploring the YA books I read as a child that influenced my views of relationships, romance, and gender, and continue to influence my writing today. My last post, about On Fortune's Wheel by Cynthia Voigt, can be found here.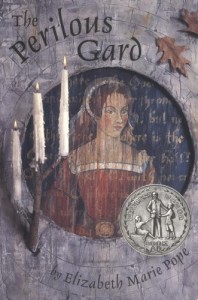 Kate is not a pretty girl.
Kate has a face "like a stone wall." She's interested in ideas, not only because she is intelligent, but as a kind of defensive coping mechanism, because she lacks any semblance of beauty or grace. Kate is also a lady-in-waiting to the Lady Elizabeth, a woman who will one day be queen.
When Kate's beautiful, graceful, charming sister Alicia writes Queen Mary a letter deploring the conditions under which the Lady Elizabeth lives, Kate is unfairly blamed and banished to live in a castle in the north, a place with the ominous name of The Perilous Gard.
Christopher, the younger brother of the lord of the manor, has banished himself to live in the hermit's hut on the property as a self-punishment for an act over which he feels enormous guilt. Kate is intrigued by Christopher, and by rumours of a mysterious group of people who live "under the hill" on the manor land, people the villagers call the Fairy Folk. Soon Kate finds Christopher, and herself, captive in a land without sunlight, and with nothing but her will and her wits to save them both.
The Perilous Gard is a retelling of the Ballad of Tam Lin, which Anna Cowan wrote about in this post.
The first time I read The Perilous Gard, I was also not a pretty girl. I was in fifth grade, eleven years old, interested in boys who were not yet interested in me. "A face like a stone wall" felt like an accurate description of myself, as did the idea of a girl with few social skills and many defense mechanisms. The idea of becoming the hero of my own story, and winning over a reluctant but handsome young man due to my intelligence and daring, was incredibly appealing.
The fifth or sixth time I read The Perilous Gard, I was a teenager, and I began to notice the complexities of female power in the novel. Alicia, Kate's sister, has traditional feminine power in her beauty and innocence. But the setting of the novel is a book full of women with other sorts of power: Queen Mary, Lady Elizabeth, the Lady in the Green who is the Queen of the Fair Folk, Kate herself. Each of these women has a complicated relationship with society and with each other.
My most recent reading of The Perilous Gard, probably for the thirtieth or fortieth time, came after the death of my father-in-law and my husband's subsequent depression. I had always known that Kate rescues Christopher at the end of the book, but this time I saw all the ways in which Kate rescues Christopher emotionally, when he's described as living, yet already dead. When they are both captive beneath the hill, Christopher as a prisoner to be sacrificed on All Hallow's Eve, Kate as a lady-in-waiting to the Queen of the Fair Folk, Kate comes to Christopher's cell each night and talks to him, planning for the future, shoulder-to-shoulder in the dark, as a way to make him believe that his life is worth living, that his guilt doesn't have to define him. She pushes and plans and drags him back into the emotional light.
The interaction between Kate and Christopher in that dungeon is the most accurate portrayal of marriage I've ever read. Shoulder to shoulder, in the dark, reaching out to comfort and plan, finding a reason to keep going in the sound of each others' voices– powerful commentary for a children's book.
A good book lasts through multiple readings; some of the most powerful books we read over and over again, finding something new in them each time. I have spent over twenty years reading The Perilous Gard. It has shaped my views of relationships and how a marriage should look, given me a realistic and beautiful example to find for myself. I've read other versions of the Tam Lin ballad; while I love the story, none of the other tellings of it have ever done for me what Elizabeth Marie Pope's version does.
What are the relationships or love stories that have shaped your idea of marriage or romance? Do any of you have a book that you can pinpoint that was pivotal to your understanding of relationships? What are the foundations of your wonk?