(Not a literal dog, of course).
So once upon a time, I used to do a big corporate training thing for large groups of adults. And since the training involved a lot of motivation and teamwork, which rely heavily on communication, I liked to start off with an exercise called, "Project Dog."
It's a pretty simple assignment (and I have no idea who invented it…I stole it from another trainer, who'd stolen it from somebody else). You tell everybody to take a minute or so and write down, without consulting another, what they see in their mind's eye when they hear the word, "dog." They can add an illustration if they have time/talent. Then everybody gets in groups and shares their mental construct–their baseline–for "dog." The (fairly obvious) point is that you don't have any repeats, no matter how large the group. Everybody has his or her own unique take on the concept of "dog," so if you extrapolate that diversity to more inherently abstract concepts like "teamwork" or "values" or anything like that, just imagine how complicated things can get. The goal is to show the participants how significant communication is, how we have to make sure everybody's proceeding from the same definitions, and how important it is that we don't make assumptions about one another's baselines…and other management-related stuff like that. A Beagle is not a Chihuahua is not a German Shepherd, and it's important to know that when you're embarking on a project with a bunch of Poodles and Golden Retrievers. Ah, "real" jobs. Good times, good times.
It never occurred to me that this would have any bearing on my current career of writing the hot smut, but apparently it does, because the other day I came across a book review that complained about the main characters' unrealistic hotness. And while one of the characters was supposed to be pretty hot (the hero, anomolously hot, and described as such) the other wasn't really described in much detail beyond general shape, hair and eye color, and height relative to the hero. And yeah, full disclosure, I knew the heroine wasn't meant to be particularly smokin' hot…because I wrote the book. So to see this character described as essentially too hot to allow for suspension of disbelief was startling, and got me to thinking [note: I don't normally read reviews of my books, nor do I mean to suggest this review was in any way "wrong" or undeserved. It was one person's assessment, and the way they envision the characters is perfectly valid, a point I'll discuss more in a bit].
Just what is it I see when I'm writing a character? It depends. Usually I don't start out with a specific idea at all. Occasionally something will pop into my head, a general impression about how the main characters' bodies fit together, a vague idea about coloring, that sort of thing. I know I'll be asked to describe these characters at some point for cover art worksheets, so once I feel like the book is going to be an actual thing I'm going to write, I start a new file and title it, "Casting Couch". Then  I go on the internet and look at photos, scour various lists on IMDB, browse tumblr, and "cast" my characters. I save the photos in the file as a shortcut for myself, so I have reference material when the dreaded cover art worksheet comes due. Every once in awhile I'll cast a character so well, I'll keep the actor in mind during edits and maybe add a few details relating to that appearance.
In general, though, I like to keep it vague. I like to give readers the broad strokes and let them fill in the details themselves. But if they make assumptions about the way characters look, and it impacts their reading of the novel in a negative way, then I may not have done enough as a writer to create the character I wanted readers to see. If the characters start out as blank slates to readers, and I want them to have certain characteristics, it's up to me to put those characteristics in. That's been my own assumption in the past, at least, because both as a writer and as a reader my own images of characters are usually nebulous at best. When reading, in fact, I usually don't conjure any specific images of the hero or heroine until very late in a book, if at all.
The danger of thinking you know what "dog" means, of course, is that absent evidence to the contrary, you tend to think everybody else has more or less the same definition of "dog." But, as the exercise points out, that is clearly not the case. I had always assumed "hero" meant a formless, faceless dude who might or might not ever resolve into any particular shape…that everyone started reading with a blank slate and would assume dead-average (or nothing at all) unless told otherwise. That review told me otherwise. I already knew that in the abstract, just as I know that everybody's take on a book is unique and uniquely valid. But I felt it was something I needed to think about more, as a writer particularly. So I decided to ask around about it on Twitter, to do a more salient version of Project Dog, to find out what people's assumptions really were when they started a book. What their baseline was. I asked:
So tell me your #romanceassumptions about characters' looks. If not otherwise described do you assume…average? hot? what?
(This was obviously super scientific).
I received a lot of answers; it prompted some great discussions with readers and writers alike. I won't list every single one, but here is a range of them, sorted along a loose continuum from less specific to more specific (sorta). I'm not naming names, because many of the answers came from other writers but I really don't want to differentiate them from any other reader in this context. I didn't see any particular writerly trend in answers.
My mind says average. I assume the author meant screaming hot, though./ There seems to be a perception that people want to read about gorgeous people. Personally, I like the average ones.
I figure somewhere between the two I guess.  Build a pic in my head. Attractiveness is very subjective.
I think I pictured them more when I was younger. Does that make sense?
I rarely have a good picture of characters in my mind. It's mostly a jumble of parts. But I assume they're averagely beautiful.
I picture them as someone I would be attracted to.
I picture characters as neighbor-hot, or barista-hot…like, attainable attractive? Unless otherwise instructed… // [another person responded] seconded, because the "very very perfect hot" weirds me out. I want there to be some sort of flaw.
Like normal level attractive. Someone I might have seen on a daily basis perhaps. Unless he's described "OMG TEH HOTTEST EVAH".
I tend to picture them as highly attractive for normal people (not movie star hot) but hot neighbor hot.
I prefer to imagine that all the heroes I read are smokin'. Only visualize them as meh if the author tells me to.
Usually at least movie-star levels of attractiveness. Who wants to picture ugly people doing it? ;) #FiftyShadesofHunchback.
I found a few answers particularly interesting because they didn't quite fit in the rubric of "how clearly do you see the characters/how hot do you assume the characters are?"
the only details that stick w/me are hair color/length & height. All attractive in my head no matter how described. (emphasis added)
I assume they're fairly passable on average, but dead hot to their fellow hero/heroine.
I admit that last one's my favorite, because it's pretty close to my own take on the matter (our dogs are similar). However, I know the respondent might look at somebody I find fairly passable and find them unacceptable, or vice versa, so it's still completely subjective. These last responses also suggested to me that there are really two separate issues here–how much relative hotness a reader assumes as a baseline, and how much of any kind of descriptive detail a reader visualizes.
In the general discussion this question prompted, another writer said,
I am SO bad about not actually describing characters. They're in my head and I forget!
I wonder whether that is bad, though. I went into this whole line of questioning thinking that yeah, probably I needed to start specifying my characters' relative hotness more clearly. To control the readers' view more exactly. I didn't like knowing that a reader might have a different take than my own. I felt like maybe I was failing readers because I wasn't conveying this evidently important information clearly enough. But the wide range of responses I got–in particular those last two–suggests to me that maybe less is more. Describing characters too closely might actually interfere with some readers' perceptions, as much or more as not describing them "enough".
Which brings me to the closing question…what is "enough?" Hair, eyes, height and no more? Only more if it's salient to the plot? And since this is romance we're discussing…what level of description is most likely to arouse you without going over the top and killing the mood? What is going on here with our writerly and readerly brains?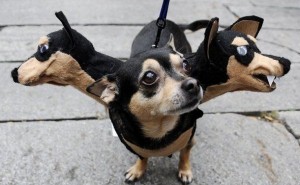 *I lied just a little. While my mental image of "dog" is a beagle of sorts, it is not this specific beagle or even any real-life beagle. And no, it's not Snoopy, either. My "dog" is from the Little Golden Book called "The Polite Puppy," and specifically from the illustration in which the puppy is sitting in his food dish (not being polite at all). But I usually tell people it's a beagle, because that's so much simpler than going into this explanation about a book I last read some forty-plus years ago. Which just goes to show how very, very diverse the idea of "dog" can get.