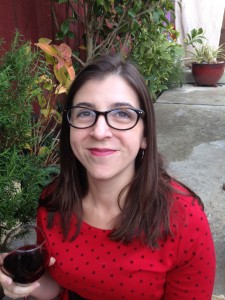 I'm delighted to welcome Amber Belldene to Wonkomance today. Amber, thank you so much for guest-posting!
Amber writes paranormal and contemporary romance and is an Episcopal priest and student of religion. To quote Amber's bio, some people think it's strange for a minister to write romance, but it seems perfectly natural to her because she passionately believes desire is divine.
I love talking to Amber about reading and writing. She's thoughtful, vibrant, and funny, and she inspires me to delve deeper, think harder, and give more. These are the best kind of writer friends! 
The first time I had sex, it was at least partly just to get it over with, and the whole time a significant portion of my brain was imagining that the bed would roll away and I would drop straight into hell. Otherwise, it was pretty good, as first times go (I've only had one, so it's hard to compare. But like most of you, I've read about a bazillion firsts in romance novels and those are my points of reference).
That's pretty much the thesis of this post. What we read shapes our experience of sex. Not by itself, of course. We absorb all kinds of values, expectations, and norms, long before we even realize we are doing so.
Somehow, under these influences, we construct meaning from a crazy intense animal physical encounter that might simply remain a blurry mishmash of grunts, thrusts, and neurological explosion. What we are thinking, feeling, and choose to do during sex is very much constructed and I'm interested in the way the genre of romance is part of this construction for its readers. For example, we all heard about the run on certain sex toys following the Fifty Shades of Grey phenomenon.
Much of what shapes our sexual selves is initially unconscious. But reading romance and erotica is a conscious, active exploration of our values. By entering into the experience of a character—we try on his or her feelings, actions, etc. Personally, I think this is profound, but I've only got my own experience and anecdotal evidence from others to support my thesis. I'm also very curious about your experience too, and I hope you'll share in the comments.
Here's mine: As a young woman, my primary texts were the Bible and romance novels, and they were basically running in my head side by side. It was specifically the letters of Paul which endorse married, straight sex as a stopgap measure for those who can't handle celibacy until the second coming, alongside stories of people whose desire and connection to each other were so strong they could overcome immense internal and external obstacles to love. There was probably a third text too—what I absorbed at large from peers, parents, sex-ed class, etc. That's the set of values and vocabulary I brought to sex and they remained my primary texts for a long, long time.
I'm convinced that, of all of these, romance novels served me the best. They taught me that passion, mutual pleasure, and a kind of ecstasy were things to seek out. They gave me words for sensations, metaphors for previously vague longings, taught me that my desires and the physical expression of affection were good, holy even; that sexy men like sexual women; and they nurtured an inkling that St. Paul was wrong about some things. I am profoundly grateful that I brought all of that to my first fumbling experiences, and to my later deliberate ones.
But this was the second half of the 1990s, and so the (mostly historical) romances I'd read also taught me that true love magically stimulates vaginal orgasms, that all good girls have hymens, and probably taught me to like pushy alpha males more than I might have otherwise developed that taste (oh, who knows, maybe that's nature, not nurture).
Years later, when I got back into reading romance (and first met erotica), the genre had changed so much. The sex was more explicit and gritty and realistic and hot. Things about my sex life that felt like failures or limitations were suddenly cast as erotic, and the power and vocabulary to find paths through them were an unexpected gift. I couldn't get enough.
During both periods of my life, I found romance incredibly sexually empowering, even those old-fashioned ones with the limitations we all know about. I suspect this empowerment is what people subconsciously fear about the genre—whether they are dismissing romance on intellectual grounds or moral ones—the idea that LOTS of women might know what we want and feel entitled to it, that we might expect our partners (and ourselves) to be heroic, if also flawed, and that self-determination and pleasure aren't only for men or certain elite women. Sadly, those ideas are for many people still revolutionary, and they are at the heart of nearly every romance novel. Hurrah!
Yikes. When I put it that way, its starts to feel like an immense responsibility upon the writer. Maybe it's good I never think about that when I start a new story.
Back when I began writing, sex scenes were my favorite. They felt so alive to me with both kinds of power—the fraught, frustrating, sticky, sweaty, AND the self-shattering, self-revealing, transformative, transcendence of sex. I was so excited to write the sort of book that had done so much for me.
Nowadays, writing something feminist or sexually empowering isn't at the forefront in my planning, but I assume those sensibilities will seep into my work because I hold them dear. It isn't until I start revisions that I ask myself (and my critique partners) if my characters' actions and choices point to the values I hold dear—that desire is divine, that we sometimes go astray in our search to fulfill it, and that the story of this journey (desire, wayward search, and fulfillment) is gloriously fun and sexy and good for us as human beings.
I'm a pantser and write from the gut, with a lot of hope and not a lot of planning. So, I don't always nail those values in the first draft. I think if I tried, I might not be able to write a word. And I'm immensely thankful for all the people who read my drafts and help be sure I've written something that actually says what I want it to.
So what about you?
As readers, have books constructed the way you think about yourself as a sexual person and/or engage in the act of sex?
Any books in particular help you find the big O you wanted?
As authors, do you consider this potential influence on readers as a responsibility when you write?
Or would that burden your creativity?
Amber Belldene grew up on the Florida panhandle, swimming with alligators, climbing oak trees and diving for scallops…when she could pull herself away from a book. As a child, she hid her Nancy Drew novels inside the church bulletin and read during sermons—an irony not lost on her when she preaches these days. She lives with her husband and twin kiddos in San Francisco.