It's no secret that I'm a huge fan of Vicki Lewis Thompson's Nerd series, in which a collection of nerdy heroes—programmers, accountants, lawyers, and more—win the affections of a host of glamorous heroines (including a stripper and a movie star).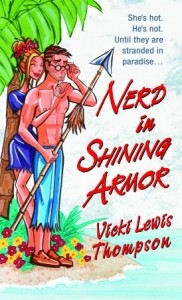 My affection for the series may have something to do with the fact that some of my very favorite people are nerds. (Me? No, I'm glamorous.) Nerds are underrated. They can fix your computer and do amazing things with duct tape, and they make up for any lack of huge pectorals or fashion sense with abundant knowledge about and enthusiasm for sex.
Also, nerdiness is deliciously wonky. Romance heroes are supposed to be big, strong, rich, and alpha, and nerds, for the most part, are none of those things.
I can't overestimate my affection for these books—all seven of them. They are funny, smart, cleverly plotted, and shockingly sexy. Still, I love the first one, Nerd in Shining Armor, oodles more than all the rest put together. And I'm pretty sure the way I feel about that first book is all about just how deeply, and genuinely, wonky it really is.
Nerd in Shining Armor is the story of how Genevieve Terrence and Jackson Farley get stranded together on a desert island, after their evil boss, on whom Gen had designs, deliberately crashes their little plane. The description on the back of my paperback edition captures absolutely none of the wonkiness. It doesn't say, for example that Gen grew up dirt poor in a place known only as "the Hollow" and has forced herself to lose her hills-of-Tennessee accent (which would other wise result in utterances like "Tarnation, Jackson! You're slower than a coon dog with a full belly."). It also doesn't say that Jackson's clothing choices are on the far side of ugly, or that he is so easily sucked into his programming that he loses track of time completely, rendering him unable to successfully carry off a relationship. But all those details are the essence of what makes Nerd in Shining Armor such an amazing book.
What distinguishes Nerd in Shining Armor from the books that follow it is that Jackson is not merely a nerd on the surface but a nerd to the core. His nerdiness is also his wound, the mask he wears, the flaw that prevents him from connecting with women (and by extension, all of humanity). Another book in the series I loved, Nerd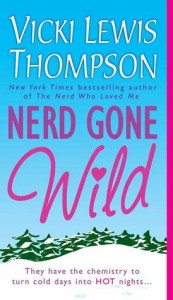 Gone Wild, involves a private investigator and bodyguard who dresses up as a nerd in order to stay close to the woman he's charged with protecting. But he's not really a nerd. He's an alpha hero dressed up as a nerd—a fake nerd, in other words. His nerdiness doesn't penetrate—no, really!—to the core of who he is. The book is still good—it's still funny, cleverly plotted, and sexy. But it's not poignant, because its hero doesn't suffer as a result of who he is. He doesn't have to come to terms with how hiding in his work has separated him from the rest of the world. And for me, that adds up to the difference between an A+/Desert Isle Keeper experience and a solid B+.
The other books in the series all deal in faux nerdiness, to differing degrees. In one, a stockbroker is no longer nerdy once he takes off his hat with ear flaps. In another, a lawyer's nerdiness goes no deeper than his obsession with Bigfoot. There was no true social ineptitude, and more to the point, no real rift between the hero and the rest of humanity. I missed Jackson's real, honest to goodness nerdiness—his lack of attention to appearances, his inability to tune into the nuances of human interaction, his scheduling ineptitude, his self-esteem issues, his loneliness. You can't, in short, fake wonkiness. A hero either is, or isn't, genuinely wounded. Wearing the clothes won't cut it.
What about you? Which is your favorite Nerd book? Do you like 'em nerdy, or nerdier? And does wonky woundedness enter into your calculations?