Today on Wonkomance, we'd like to give a big ol' shout-out to all the RITA and GH finalists. So much awesome, so many choices…and at least one big heaping helping of wonk on the list!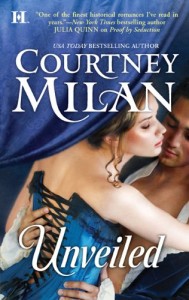 The Wonko favorite I spotted among the Best Historical nominees was one of my own favorites: Unveiled, by Courtney Milan. All of the Turner books are pretty wonky (Unraveled, Smite's book, is probably the wonkiest of them all), and I think that stems from Ms. Milan's tendency to create complex characters then get right inside their often problematic psyches to deliver a rich, layered, personality. In Unveiled, the hero has his own special set of problems, and I adored the way Milan layered on the information about that until the final reveal. Great, great stuff, and a nice balance of the angsty and the smoking hot.
And now, a confession – despite the fact that I read all the time, I confess I have only read about two of the other finaling books this year! How about you, have you noted any other wonky gems on the Rita list? What are you adding to your TBR?
.