Happy Independence Day! And how timely that we have an Americana theme for today's post.
Now gather round, boys and girls, and grab your favorite floor pillow, because it's storytime. Last week I stumbled upon and promptly fell in love with this picture of a couple during the Depression era: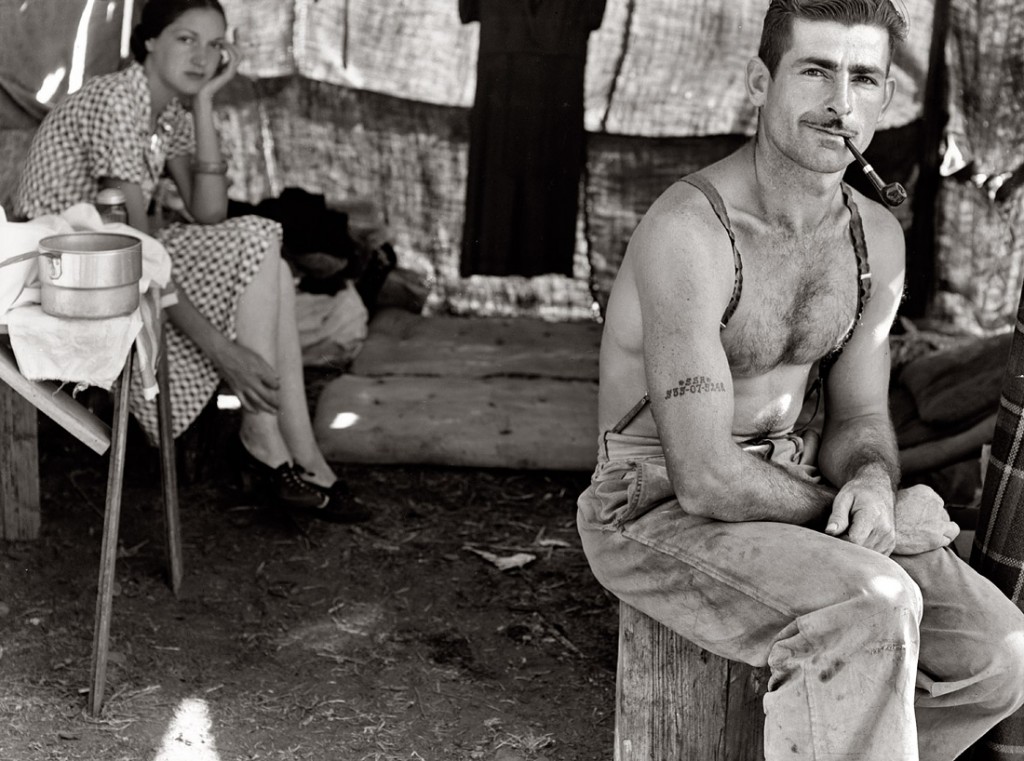 Look at his arms! His smile! I especially like how she wears her dress and shoes and bracelet and hair pulled back neatly, in private, while he has eschewed a shirt in public, unabashed for the camera. I love everything about it.
It turns out you can actually purchase a print of this image. The seller includes the following information:
Oregon, August 1939. "Unemployed lumber worker goes with his wife to the bean harvest. Note Social Security number tattooed on his arm." (And now a bit of Shorpy scholarship/detective work. A public records search shows that 535-07-5248 belonged to one Thomas Cave, born July 1912, died in 1980 in Portland. Which would make him 27 years old when this picture was taken.)
Twenty seven! I died, all over again. I don't know why, but I did. Thomas Cave, in Portland. Plus, he lived a goodly sixty eight years so that satisfies the HEA addict in me.
AND, as if that weren't enough awesomeness already, the lovely, gorgeous Shari Slade wrote me a vignette based on the photograph and she's letting me share it with you…
It isn't any cooler in the shade, but I can't bring myself to sit outside with him. On display. He'd like to wrap his filthy hands around my waist and set me on his knee. I'd rather he drop the flap of our tent and tip me over his knee like a tea kettle. Make me sing for my supper.
Instead I am stroking my own leg, ankle to shin, shin to ankle. Letting my fingertips trail over sweat damp skin and imagining his callused fingers tugging off my shoe, his lips pressing into the arch of my foot, the rough whisker tickle of his mouth. That wicked mouth.
The light is slanting now and–Jesus–will that sun ever go down? Will it ever be dark again? Dark enough to lay back on that bedroll and…not sleep. Wait for him to drop his suspenders, shuck off the ruined dungarees I'll scrub tomorrow, and smile.
"You been waiting for me all day. Haven't you, love?"
He smiles behind my knee, along my thigh, into my navel. All lip twitch and whisker drag. My belly tight with anticipation, waiting for that smile to slide low, for his tongue to flick and slide. To find all my slick edges and polish them smooth.
Did we have supper? I can't remember. I don't care. It's too hot to eat.
"All my life."
I married him for that smile. Hopped into his pick up truck and rode him right out of empty-belly Backwater, where nobody smiled. Not at me anyway. Not on me, either.
His kiss tastes like chicory coffee and salt and copper pennies. Like a promise. Like everything I need.
*happy sigh* Thank you, Shari. As I told her, it really did give me goosebumps. If you are not already, you can follow her on twitter at @ShariSlade.
Happy 4th, everyone! Enjoy your celebrations, whether you are lighting fireworks or making your own :)