I like to skate the edge of romance in my reading. That is true of all of us, seeing as you're at Wonkomance, but how far is too far? The answer is going to be different for every person. That's okay. This isn't a wonkacontest! (Although, interesting idea, right? *files that away*)
Sometimes there is a tendency to say, if something gets just too weird, or just too dark, this is not a romance. Let's call it erotica or horror or even general fiction because it's setting of the romance-formula sensors! But I think that's a disservice to the romance genre.
For example, some people might say that a well-written romance is no longer a romance, but is now a literary novel with romantic elements. No way, I'm keeping them! If it features an emotional and sexual connection between two (or possibly three or more, etc) characters and ends with an HEA, then I'm liable to call it a romance.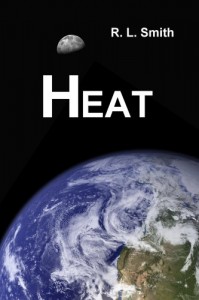 Plus it's not even very accurate. Often something referred to as erotica or dark erotica contains contains less sexual content and less explicit verbiage than tamer romances. Case in point: fan favorite author of "dark erotica", Kitty Thomas.
I'll admit to being a little disillusioned with dark romance myself. The cover and blurb claim it's dark and haunting, but then there's no real danger. There's just hinting, over and over again. But my crank – it is tough one! Hints will not turn it, not if I'm looking for the edge.
So how thrilled was I to find the epically long book Heat by R.L. Smith? In fact, the review that brought it to my attention, although positive, so emphasized the darkness that it turned me away. That's tough to do. Thankfully, the readers in my romance group bit the bullet for me and reported back all good things, so I read it.
Wow, it is both long and amazing! Not for the faint of heart, though, not even for the normal of heart. Just call me an insane-thrill-seeker of the heart.
Here, have an excerpt:
"Well?" he asked, his voice pitched low.

She swept her gaze across the yard. "There's lots of cars," she said. "I only see two that look like they can drive, but they can drive…there's tracks in the dirt." She pointed.

Good eye. Again, Kane found himself thinking that his father would definitely like this human.

"And there's a lot of junk everywhere, but it's not all overgrown. Someone lives here." She sniffed the air, an action that struck Kane as incredibly cute, considering how useless the human olfactory senses were. "And someone's been barbquing tonight." She licked her lips and then stiffened up and looked at him. "Are you…going to kill people?"

"Yes." Kane gave her wrist a squeeze to get her attention as she tried to curl in on herself. "But if you're good, I won't make you help."
This book is the skydiving of romance. No, it's crazier than that. It's the Running with the Bulls of romance. But I liked it. I even found it… romantic? Yes. But of course, it's a romance!
So, what is your 'edge play' when it comes to romance? Any hard limits we should know about? What do you use to screen prospective books (ie. reviews, warning labels, samples) or do you prefer to be surprised?