Charlotte Stein (charlotte_stein) and I had this Twitter conversation one night…
Me: Last night I told the other charlottestein I'd bought DOUBLED, and couldn't wait to read! I bet she was excited, too …
Charlotte: LOL LOL just seen this. I'm guessing she gets a lot of weird tweets meant for me!
Me: Yeah, and poor plain serenabell gets some crazy-ass tweets intended for me. serenabell and charlottestein shld hang out.
Charlotte: They probably do. And they write books about how evol sex is, together. #oppositeland
Me: Or they're not partners. They both write about evolsex and then they tweet each other "Your book SUX!" #oppositeland
Charlotte: HOMG are doppelgangers are evol!
Me: They also have a group blog in which they celebrate the most pedestrian, garden-variety romances they can find. Bland-o-mance.
Charlotte: And they never talk about Armie Hammer's butt. They talk about…Michael York…and his new…blazer.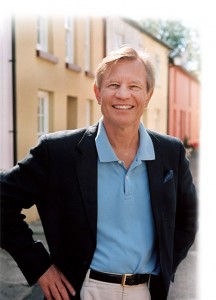 Me: In Bland-o-mance, there is no mention of body parts, definitely. And they refer to fooking as "doing it."
Me: With about as much enthusiasm as they discuss what extermination method they're using for termites.
Charlotte: No, no! They don't even call it doing it. They call it "having relations."
…and Bland-o-mance was born.
 Bland-o-Manifesto
In the Land of Romance, the men are all tall and tanned, the women are thin and plucky, and the sex is always mind-boggling. It's a fine land, indeed. But we prefer the land of Bland-o-Mance.
We are the mythical readers, the undermarketed writers, who like our protagonists more conventional, our conflicts more tidy, our endings wrapped up and tied with a bow, preferably one of those manufactured sticky bows that doesn't require you to get out the scissors to do the whole curling ribbon thang. We want escapism, and we want it sticky sweet. Give us Scarlett and Rhett, yes, yes, but can we also have my mom and dad, who've been married for, like, fifty years and have only fought once? Atticus Finch, mmm-hmm, but also my friends Mike and Mindy, who are SERIOUSLY perfect for each other? Nick and Nora, absolutely, but also really cute couple up the street, the ones who always take their evening walk hand-in-hand? We want that dream you had when you were in seventh grade that the boy in your gym class sat with you at lunch, packaged up for consumption in romance novel form.
Here at Bland-o-Mance, we're lovers, not fighters! We are sooooooooo not anti-convention. Sometimes the market says, "Ooh, too much. This hero you've written, Aspiring Romance Writer– Whoa. He's really . . . strange. You're going to lose readers." And we at Bland-o-Mance say, "Oh, gosh darnit! You're right! I don't know what the heck I was thinking."
Because we believe there's a place in romance fiction for weird-ass heroes and heroines, and it's called the cutting-room floor. We want characters who are pretty, who are sweet, and who have never had a lonely Valentine's Day. We want girl next door, only girlier, the hot guy on the plane next to you, only more polite, alpha males like Christian Grey, only without the kink (oh, wait—that is Christian Grey). In fact, have I mentioned my mom and dad yet? I can give you their phone number if you want to interview them about how they never fight. And as far as I know, they've only had sex twice.
Here at Bland-o-Mance, we want to read stories about how perfect people are. Because they are. Ohhh, they are. There's no where to go from there, but that's okay with us, because we're perfect too.
People are nice. Life is nice. Love is nice. And fooked-up people should read literary novels.