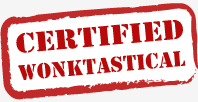 Here are 10 things I loved about the latest Certified Wonkomance…
10. Much of the book is narrated by the heroine's CAT. Her cat, who used to belong to her husband who is now deceased, and is currently her best friend. He also screens her dates, which brings me to number 9….
9. The heroine manages to bring home lame-ass dates for one-night stands without seeming at all sleazy herself. The utter lack of slut shaming was as startling as it was refreshing. Win, win, win!
8. The cat pees on said lame-ass dates clothes. It seemed like the thing to do.
7. The cat then decides to help the heroine by playing matchmaker.
6. The hero the cat finds is a …. okay, I can't give it away, but suffice it to say that he is in a profession that is HEROIC and I love that.
5. The heroine dresses up like Alice in Wonderland.
4. Ellen DeGeneres makes an appearance.
3. The heroine really does get a cat tattoo. And the cat really does look like the cat tattoo on the cover. I know, it sounds weird. You had to be there.
2. There is gratuitous catnip.
1. It's just enough heart-wrenching. Very sweet, emotional, with no melodrama. Okay, there were some intentionally melodramatic parts. But the silly parts were silly and the sweet parts were sweet.
The Girl with the Cat Tattoo by Theresa Weir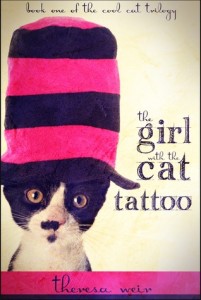 For cat lovers everywhere, this sweet, quirky, and delightful romance is about a young woman and her matchmaking cat.
A little bit of mystery, a whole lot of whimsy.
About the book:
When a matchmaking cat takes it upon himself to find his young mistress a new mate, he accidentally stirs up memories better left forgotten.
Melody's husband was murdered by what seemed a random act of violence. Two years later, the killer hasn't been caught, and Melody is coping in unhealthy ways. During the day she's a mild-mannered children's librarian, but at night she's a party girl, hanging out in bars, drinking with new friends, and often bringing home strange men. Although acquaintances have tried to keep in touch, Melody has cut herself off from most of the people in her old life. Max, her eccentric cat, doesn't approve of her new friends, he's tired of the parade of losers, and he finally takes it upon himself to find Melody a new man.
This book is 30,000 words, which equates to about 150 print pages.
Get The Girl with the Cat Tattoo on Amazon now!