I recently read Carrie Lofty's His Very Own Girl, and it has thrown me into a mental tizzy regarding historical romance and escapism and what on earth it is I want from the historical subgenre. Such a tizzy, in fact, that I kind of just want to tear madly at my hair and say, "I don't know, all right?" and then eat a large chocolate chip cookie. But I'm going to give this a go anyway, because Lofty's book tapped into some questions I've been asking myself for a long time, and I'm interested in throwing them out to my wonk-o-peers and finding out what you guys think.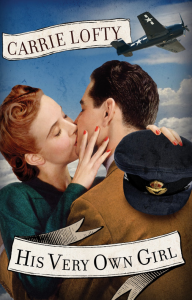 So, first, Lofty. His Very Own Girl is a romance set in the English Midlands during the latter part of World War II. The hero, Joe, is an American medic with a dark past (oh, ex-con heroes, how I love you), and the heroine, Lulu, is an Englishwoman who flies planes for the Air Transport Authority, which was a British civilian unit that ferried military aircraft around England (and to a very limited extent Europe) during World War II. Early in the war, her parents (also pilots) were killed while flying over Egypt. Her English fiancé fought in Europe, came home, and committed suicide shortly thereafter. She survived the Blitz in London, then joined the ATA. She is a supremely dedicated pilot; she deals with grief through action.
Lulu dances with soldiers, dates them, occasionally kisses them, but never sees the same guy more than once. She can't go through what she went through with her fiancé a second time.
Until Joe.
The first half of His Very Own Girl is Joe and Lulu engaged in a courtship dance. She doesn't want to fall in love with him but can't help himself. He's drawn to her but doesn't understand why she would need or want to fly airplanes and put herself in danger. (It doesn't help that when he meets her, she's crash-landing a plane right in front of him.) He objects to what the war has done to gender roles and looks forward to a time when the world can go back to the way it used to be. Lulu finds everything about wartime gender roles liberating and has no intention of ever giving up flying planes. Their clashing views come up repeatedly and are impossible to paper over.
In addition, Joe also has a violent past that he tried to escape by enlisting. Of course, it chases him to Europe and throws a spanner in the works of his budding romance with Lulu.
But they persist. They are in love. D-Day arrives, and Joe goes to France. The rest of the book has Joe and Lulu corresponding, visiting once on a weekend pass, and trying to work out and/or bridge their differences to discover whether they have a future together. (Spoiler: they do.)
While I had a few quibbles here and there, I found His Very Own Girl to be engaging, well written, and very well researched. I love the idea of historical romance set in different periods and genres than the standard ones, and I'd looked forward to reading this one ever since I first heard about it.
And yet.
World War II was total war — much more so in Britain than in the United States. It affected every facet of everyday life in terribly intrusive ways for a terribly, terribly long time. Rationing in Britain began in 1940 and didn't completely end until 1954. One of the things I admire about Carrie Lofty's world-building in His Very Own Girl is that she gets that. The war is everywhere. It infects everything. It is a constant factor in Lulu and Joe's relationship, the catalyst for their meeting, their disagreements, their reunions, their hopes and dreams, their inescapable sorrows. It is hard and mean and horrible.
I loved this about the book. But I hated it, too.
His Very Own Girl made me sad. Not just now and then, or at the dark moment, but frequently, throughout. Sometimes it was happy-sad, the way I get when I think about how beautiful humanity can be in the midst of trauma. Sometimes it was nostalgic-sad, as I thought about my grandparents World War II story and how the war shaped the generations that lived through it. Sometimes it was ordinary sad, i.e., Damn, this is depressing. I am sad. 
When I think about the book now that I've finished it, my enduring mental impression is dark. And I'm not sure that works for me. It isn't what I'm looking for in a romance novel. It doesn't make the book a bad book, by any means, or one I'd discourage someone else from reading — it just makes me wonder, you know, what is it? Is it a romance novel if it makes me feel this hopeless, or is it something else?
Is it even possible to write an escapist love story set in the context of an inescapable war? And is a romance novel that isn't escapist really part of the romance genre?
These are difficult questions for me — perhaps more difficult for me than for others, because I'm a historian by training. When I first started reading romance, I wouldn't read historicals. I read a few bad ones, and they bothered me because they weren't set in the real past. They were set in a fantasy past. Eventually, someone tipped me in the direction of excellent historical romance, and I've been enthralled with it ever since — but simultaneously annoyed, from time to time, by its insistence on skimming the surface of history. Why so many Regencies? Why so many aristocrats with daddy issues? Why so many books that aren't just about aristocrats with daddy issues but aristocrats with daddy issues who aren't even confined by the social mores of their own time?
But perhaps Lofty's His Very Own Girl is a case study in the why. It is not an accident, after all, that the most popular historical romances are about earls with daddy issues who fall in love with heroines who are unfettered by social convention. This is what romance readers want, because it is easy.
Yet I persist in thinking that I don't want that — or certainly I don't always want that. I'm a Wonkomantic. I subscribe to the Wonk-o-Manifesto, which says, "We like our protagonists less conventional, our conflicts less tidy, our endings less certain. We want escapism, but we want it with a nice, stiff shot of human frailty." It also says, "We want the whole messy spectrum of human behavior, packaged up for consumption in romance novel form."
And I really think this is true — that I do want this. But it seems to be the case that I only want it if it satisfies me in particular ways, and not if it makes me feel excessively anxious or unhappy or depressed. I want some anxiety, but not too much. Some tears, but not too many. Some gritty reality in the portrayal of history, but not so much reality that I get all swept up in thinking miserable thoughts about the past.
When it comes to a book like His Very Own Girl – and I don't want to single Lofty out, because I've read other books that similarly troubled me (Kinsale's Flowers from the Storm comes to mind) — my brain and my emotions part company. My brain is pleased at how wonky and different and difficult these novels are. But my emotions say, This is not enough fun. I end up torn and feeling — well, like not much of a wonkomantic.
What do you guys think? I don't have all the answers today, but I'm interested in having the conversation.