Please welcome to Wonkomance author Jill Sorenson, who writes kick-ass romantic suspense and is known for dropping the word "vagina" into Twitter conversation on a more-than-regular basis. Jill's visiting to talk about her latest release, Aftershock. She's not sure if it's wonky, but the reviews at Goodreads for Aftershock are peppered with words like "disturbing," "gritty," "intense," and "original." I can't be the only one who perks right up at that. Disturbing! Romance! Let me at it!
Here's the blurb—
THERE'S A FINE LINE

As an emergency paramedic, Lauren Boyer is dedicated and highly capable. Until an earthquake strikes, trapping her beneath the freeway with a group of strangers-including Iraq war veteran Garrett Wright…

BETWEEN PERIL AND PASSION  

Handsome and take-charge Garrett aids Lauren in her rescue efforts, even as the steely look in his eyes seems to hide dark secrets. When a gang of escaped convicts goes on the attack, Garrett's bravery makes him more than a courageous bystander to Lauren. If they can save the others before time runs out, maybe, just maybe, they can explore the fire igniting between them-if the truth about who he really is doesn't pull them apart forever….
And here's Jilly!
———
Hi Wonkettes! I'm excited to be here among the wonky people!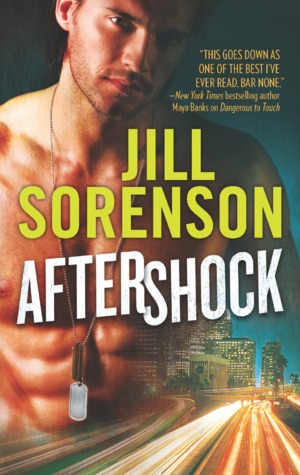 When I invited myself over, Ruthie asked me to list five wonky things about my upcoming release. I struggled with this task. Someone once said that my books are about "messed-up people falling in love." I like that description. Sounds wonky, right? But many romances feature deeply flawed characters. I think of my books as traditional: strong, protective hero meets pretty, independent heroine. They overcome obstacles, have vanilla sex, and fall in love.
I'll just list 5 "unique" details about Aftershock and let you judge the wonk factor.
My characters meet-cute in earthquake rubble after a freeway collapse. The structure they're trapped under, now that's wonky. It could fall and crush them any minute.
The hero and heroine are regular people. He's a former Marine and she's a paramedic.
They're dirty. Not sexy-dirty, but bloodstained and dusty. I won't tell you how they get clean enough to have sex. Just trust.
They bond over Dune, my favorite science fiction novel. What could be more wonky than Dune? The lack of water in the cavern is very Arrakis-like.
My secondary characters are always on the edgy side. In this book, a pregnant teenager and escaped convict become friends.
I don't know if Aftershock is any wonkier than your average romance. I'm wonky. I definitely went wonky writing it. Maybe the fact that I consider my books traditional is wonky, in itself. If romance is based on fantasy, escape, and perfection, where does gritty realism fit in? If the characters can't escape, is it still an escape fantasy?
I'd love to hear what you think! Leave a comment for a chance to win a copy.