I've been thinking about my experience as a person and how that funnels into what I write. I mean, they're definitely related. And by related, I mean wrapped up so tightly that it would take a psychologist and a crowbar to sort it all out. But it's also not a straightforward equation, like PAST EXPERIENCE + SECRET DESIRE = BESTSELLING ROMANCE or something like that. Or is it? Fuck, I don't know.
And then, rather separate from our past life experiences, there's the experience of writing the book, which I think changes us. Minimally we've learned about the characters. Hopefully something about craft. And more than that, we have the little truth quartzes that surfaced during the dig.
This is why I write. It's not because I "can't not write" as I sometimes see bandied about. Or because of some hope for glory. I mean, I wouldn't turn down glory, but my chances are probably better in another field. Writing is the second best way I've found to learn things, reading being number one. As a writer, I get to do a lot of both.
Awhile back I read some writing advice from a bestselling author that said to use what we see in our books. The example was something really simple, like she ate an orange and so her character did. Because of this, she was able to describe them better. It makes me wonder how much this applies to larger plot points. How would this book I've written be different if I wrote it in a year or two years or ten years?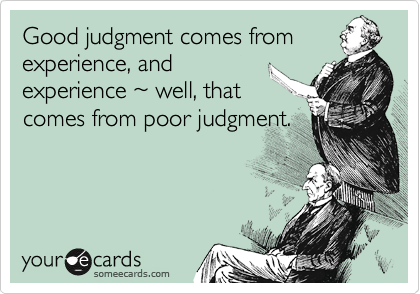 Because books sit on shelves with thick fancy binding, they have a sense of permanence. Digital books are a little different, but the same principles apply. Once you put the book out there, it's done. Which, to me, is a certain acknowledgement against perfection. It's not that my first book won't be perfect or that my second one won't be, it's that they will never be. Cannot be. Because they're not a culmination but a snapshot of where I am at the time. It can't represent what I'll experience or think up tomorrow any more than I can predict next week's lottery numbers.
In addition, there's usually a long lead time between when you finish a manuscript and when it's available for sale. So by the time other people are reading my thoughts, they may have already changed or grown or retracted or become invalidated or become even more true or anything at all. That's not to say that authors should or do dislike their past books. It's about loving something that is by its nature imperfect and incomplete. It must be imperfect and incomplete, because if that's still all I know, then I would not have grown since then.
Yesterday, I read the reddit IAMA from Ethan Hawke and turns out he is a novelist! I did not know this. Anyway, he's talking about famous author Kurt Vonnegut and says, "I remember when we met I told him how much I loved SLAPSTICK and he said it wasn't a very good book." Well, it is and maybe it isn't, but I think the author is perhaps in the worst position to judge his own work.
The characters I'm writing at the moment are possibly my favorite characters ever. I've had them in my head but avoided writing their book because I worried I wouldn't be able to do them justice and then finally just… started writing. And, quite frankly, I'm not doing them justice. I'm not really sure how much of that is perception because of how much I love them. Or if I just need to wait and get more experience, in life and as a writer. Or maybe we are just destined to love our creations that we recognize as imperfect.