Have you ever finished reading a great book and wished you could chat with the author over coffee (or wine or vodka shots)?
That's the plan behind Wonkocasts. Once a month we'll invite a guest to join us for a live google hangout where we'll talk books and life and stuff. Mostly books. We'll encourage our guests to read from their work, ask probing questions, and there will be a fair amount of fan-squee.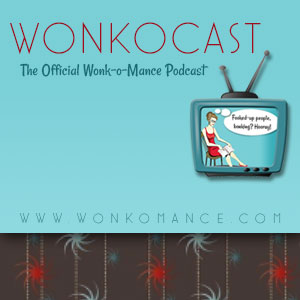 We are so pleased that our very first victimguest is the wonktastic Anne Calhoun. Anne is the author of award-winning erotic romance and erotica. We adore her writing, especially Uncommon Passion, Liberating Lacey, and her duo in the Agony/Ecstasy anthology. "Anne Calhoun is one of the best writers of contemporary erotic fiction." – Sarah Wendell, Kirkus Reviews
We'll be chatting on Wednesday, April 16, 2014 from 7PM – 8PM CDT. And the stream will be LIVE so you can join us and ask questions in real time. If you can't make it, you're welcome to leave your questions in the comments here. We'll share them with Anne on Wednesday. The Wonkocasts will be archived on our site for download after.
Hope to see you there!