I thought I was writing a contemporary romance until the hero pressed the heroine against her office door and fingered her while her administrative assistant worked less than ten feet away. Then I realize it was actually an erotic romance. Not because there was anything particularly kinky about the scene, other than the danger of being caught and the possibility of being observed, but because the heroine's character arc was absolutely and completely tied to her experience of sex. There was no way she could have had the set of realizations she needed to have without engaging in messy, semi-public sex with this particular, complicated hero. And by extension, there is no way I can tell her story, no way I can convince you of what she has learned and how deeply tied in it is to her as a character, without showing you exactly what happened between them.
But then yesterday I wrote the book's dark moment, and I realized that I'm not writing an erotic romance, I'm writing a contemporary romance. Because the messy, semi-public, complicated sex is actually just a metaphor for the messy, semi-public, complicated nature of love. All the sex scenes I'd been writing, they were not about her coming into her own sexually. They were about her coming into her own as a person capable of love.
The point I'm lurching towards here is that there's no clean way to define the different between the two, because there's no way to separate romantic love from sex. By romantic love (or sometimes we even call it erotic love), we definitionally mean something physical. It's how we recognize it, it in fact, how we know the difference between friendship and something much deeper and more life altering. At the moment the body enters into it, the territory changes, and with it, a huge number of our expectations.
I had a conversation the other day with my walking buddy, who is also a romance writer. She's written a lot of erotic romance, and she said that she thought that the kind of erotic romance that has become most marketable, romance where a particular kink or fetish takes center stage, was troublingly inherently unromantic. Because fetish, by definition, means that there is a thing or act that is the focus of sexual need, not a person. And for romance readers, who want to see a connection between people (not between a person and an act), that's not satisfying.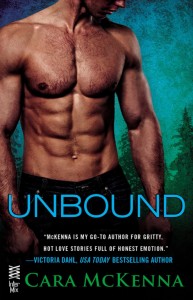 I pointed to Cara McKenna's Unbound, which is one of the best books I've ever read about how this doesn't have to be true. Unbound contains an extremely compelling argument (to borrow language from a discourse recently elevated by Mary Ann Rivers here and Ruthie Knox here and here) that loving someone who needs a physical object or act to get off doesn't have to diminish the intimacy or intensity of the love. And this makes intuitive sense to me, because the kind of love we care about as romance writers and readers already puts an object and an act between us and the beloved—the body, and sex. And it shouldn't matter how much more complicated you make this body or this act, how thoroughly you tattoo it, how you restrain it or bind it, what fantasies you introduce, how you flirt with what is social unacceptable or even (some would argue) legally dubious—what matters is the nature of the love and the way the body becomes a vehicle for its expression.
I didn't spent a lot of time arguing with my walking buddy, because she's written, like, twenty erotic romances, and I have, by most definitions, written exactly zero, but I still think she's wrong—kink and fetish aren't inherently unromantic. They're only unromantic if we let them distract from rather than amplify the emotional argument of the story—just as, in life, they're only unromantic if they distract from, rather than amplify, our growing intimacy with another vulnerable human being.
I started this post disingenuously, in a way, by making as fine a distinction as I could between what it means to write contemporary and what it means to write erotic, but ultimately, what I've decided is that for me, there's no distinction. Because for me, there's no distinction between romantic love and erotic love, no distinction between loving someone romantically (which is to say body and soul) and erotically (which is to say body and soul), no distinction between revelations you have about your physical needs and those you have about your very human craving to find someone to respect and revel in and grant those needs.
Writing romance, for me, is about exploring exactly that place where those things bleed over into each other.
(If you're interested in this topic, and you haven't yet, you should read this "Wonko-Weigh-In" post in which we tried to break down the definitions of erotic romance and erotica.)