Hey, everyone! So, I had written a post for Asian Pacific American Heritage Month (which was the month of May) that, for a variety of reasons, I never posted. But now that I'm thinking clearly, I figured I'd still go ahead and put it up, even though it's a little bit late. Because, in the end, I get to be Asian all the time and not just in May. So it's still relevant!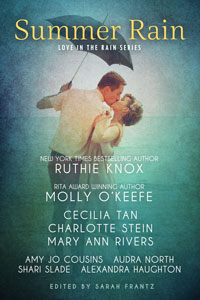 But before I jump into that, I want to shamelessly plug a romance anthology that came out on Monday that myself and a few other Wonksters, plus some friends of Wonk, are in. It's called Summer Rain, it has nine exclusive romance stories in it, and all author proceeds from the sale of the volume go to benefit the Rape Abuse, and Incest National Network (RAINN)!
Here are the buy links, for ease of purchasing.
Amazon * B&N * kobo * iTunes * Amazon UK
And now, on to talking about Asian stuff!
So, for those of you who don't know me, I'm a romance author who happens to be half Asian. My other half is Caucasian. I was born and raised just outside of Austin, Texas, I moved up to the Northeast for college when I was seventeen, and I've been freezing my butt off ever since because I haven't bothered to move back just yet (It's only been eighteen years but…any day now.)
Because of my mixed background, I've had some interesting Asian-related (I'm making that an official Thing) experiences. But talking about those in a blog post…well, I wasn't really sure what one or two things to pick to focus on. Obviously, I can't represent the full spectrum of Asian experience. And I can't even represent the full spectrum of my Asian experience in a single blog post. So, I decided to stick to the things I like best…the first of which is hot guys.
Yep. Hot guys. Can I just say how bummed I get over how the hotness of Asian men isn't usually well-represented on TV and in books? Usually, they take on this kind of asexual nerdy friend role in films, or they're human weapons (read: masters of martial arts) who belong to bordering-on-mystical crime syndicates in the East. And that makes me sad, because they're so much more than that.
I mean…they're hot.
Take Exhibit A: Andy Lau, super mega Chinese hotness:
Or Exhibit B: Yoon Seung-jun, super mega Korean hotness:
Or Exhibit C: Takeshi Kaneshiro, super mega Japanese hotness:
I'm just sayin'.
Also, you're welcome.
Anyway, all of this to say that, all kidding aside, I'd really like to see more Asian heroes in media. Television, novels…especially romance novels. Because they're sexy and wonderful and just as tough-but-caring, gentle-but-rough, and awesomely powerful as men of other races and ethnicities. They're men I know because I grew up around them, and they are men who feel just as deeply as any other man. Romance heroes are, after all, human at their core—and what does it say about us as a people if we have a problem recognizing our common humanity? I'm probably preaching to the choir, here, but I just had to get that out.
Of course, let's not forget about Asian women (*raises hand*). They deserve love, too! But I think that, for Asian ladies, it's the opposite problem—that in media they're too frequently reduced to only sexual beings. And that's a little intense, because I can promise you that, just from personal experience, that kind of message really does get snapped up and internalized by the viewing/reading/information-consuming public, in ways that are so ingrained and accepted that it's hard to recognize them as having a yuck factor. Like, I can't even tell you how many times someone told a boyfriend of mine that he had Yellow Fever just because I happen to have nut-shaped eyes. (People. For real. Almonds? C'mon.)
I think Asian women are awesome. Just like I think all women are awesome. Women do all kinds of cool stuff that makes a positive difference in the world and such a small fraction of that cool stuff has anything to do with sex. Which leads me into my next topic: comic books. Recently, my little kids got into superheroes and comic books, but I couldn't find any comics for young children that featured kickass, non-Caucasian women supers. So I was all, By the power of Grayskull! I'm gonna make my own! (Okay, fine, it wasn't really that dramatic. I basically added a line item to my to-do list that said, "Comic book. Female superhero. Not white.")
So…I created a half Asian female superhero concept, wrote a creation story for her, Alexis Anne hooked me up with an incredibly talented artist, Chris Nawara, and the rest…well, it's not history yet, but I'd be pretty happy if maybe someday it would be.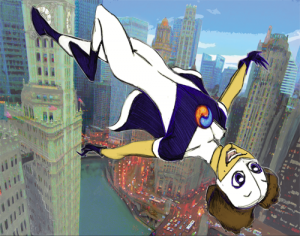 Speaking of Asian Pacific Americans, even though it's not "our month" anymore, here's one last heritage-type thought to round it all out: that is, in all seriousness, I hope folks who might never have actively thought about it will explicitly realize and reinforce that Asian Pacific Americans are Americans, too. I've been on the receiving end of choice comments like, "Are you one of them 'Nam babies?" and "Go back to China!" and "Ching chong chang!" (What does that even mean?) Hopefully, it's obvious why that's kind of crappy. But I will also say that the wide majority of comments on my race and ethnic background that I've gotten have been genuinely curious or even complimentary. And that's one of the very, very cool things about America, and living in a place with such a wide diversity.
In the end, I'm grateful that I live here. I'm grateful that I had the experience of growing up with a Chinese father and a white American mother. And I'm grateful for hot Asian guys, kickass Asian women, and having the luck and privilege to have been born in a country where I am allowed to write romance novels, drive a car to the bookstore to buy romance novels, access any website I want to watch all the romantic comedies I want (featuring hot Asian men), and—above all else—to be the steward of my own life.
Rock on, America.