Recently, I was e-mailing my Colleagues in Wonk, and I happened to mention a hero I had enjoyed. "He's this very crabby writer who lives in a cabin in the north woods and hates people," I told them. "And after he meets the heroine, the only sign that she's getting to him is that he keeps killing the female character in his novel, over and over again. And then the heroine goes home to NYC, and the hero follows her and moves into the apartment above hers but doesn't tell her, though of course she immediately figures it out."
(I wrote this synopsis more than a year after finishing the novel, so it might be less than completely accurate, but it does suggest what aspects of the story stuck with me.)
Of course, immediately I got three or four e-mails back saying, "Oooh, WANT!" and "What's it called?" and "I am so buying that book." Because that's how we roll around here — we hear about a romance novel whose hero is a melancholy hermit writer living in a cabin in the woods, and we must have him, posthaste! Edie, Del, and Serena all immediately bought up the novel in question and read it, with many exclamations of delight.
Which means that It's official. Kathleen O'Reilly's Long Summer Nights (Harlequin Blaze, 2010) is our first Certified Wonktastical pick.*
*Please note: At present, we completely lack criteria for choosing Certified Wonktastical books. Also, the designation carries no benefit aside from the dubious honor of our acclaim. Still, there's that.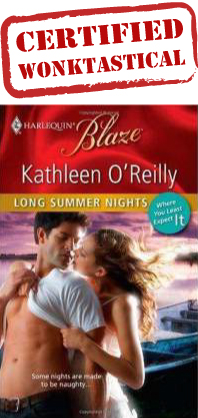 Here's the (understandably less wonky than mine) official blurb:
Journalist Jennifer Dale is on assignment, pretending that miserable isolation in upstate New York is the greatest thing ever. The only bright spot? The wickedly sexy recluse across the lake, who swims in the buff. Now, "there's" some wildlife a gal can enjoy watching over and over and over….
When Jennifer suffers a slight boating mishap, Hot Swimming Guy comes to her rescue. Turns out Aaron Barksdale is hot enough to switch her damsel's distress into a damsel undressed. But Aaron is more than a hot summer night between the sheets — he's also an award-winning author who disappeared from the public eye years ago. Revealing all could be the scoop of the century, but only if Jennifer's willing to risk it all.
We asked Kathleen O'Reilly to comment on the novel, its wonk factor, and its reception, and she graciously agreed to do so. Here's what she said:
When I wrote Aaron, there was a whole blow-up going on about JD Salinger and the publication of his love letters to this woman. The story fascinated me, the idea of an almost Howard Hughes isolationist sort of dude, who achieved this literary fame, but had to pay a hard price for it, and thus, exiled himself from the rest of civilization supposedly because "his art was everything to him" but in reality because he couldn't deal with the pain.

As an author, it's always fun to write writers, but when I wrote Aaron, I didn't want a genre-writer. No pulp-fiction for me, no sir! I wanted a genuine, critically acclaimed novelist who HATED romance, romance fiction, anything remotely sugar-coated, and then, of course, make him fall in love. There's a certain cathartic experience with being able to mock those who mock romance, so there was that completely fun aspect to the character. Yes, call me subversive, or *wonky* if you prefer.

I would like to thank everyone in the Academy…  oops, sorry.  Wrong speech. So, seriously, I think it's awesome that y'all are dedicated to the wonks of romance.  I'm a total wonk, and love being recognized for it, so thank you everybody!  I've been a romance reader since way back, and I've seen so many of the tropes and the rules and the cliches and the Mary Sues and the Mary Bellas and the Mary Heathers and that's not EVEN discussing the heroes. So every time I sit down to write a book, I want to bend the rules *just a little* in order to write something new.  Mainly to see if I can bend the rules and still write a good book that romance readers will love. (See earlier definition of "Kathleen as subversive"). Very passive aggressive, but yes, that's me.  So far, I've been very lucky in my career. Twenty-five books and nary a Mary Bella among them.

As for the reaction I got, it was really, really nice. Every time I turn in a book, I'm thinking that I went too far, that readers will hate the characters, that yes, this is going to be the book to end my career, and then, awesomely enough, people really seem to like it (except for Midnight Resolutions, which almost everybody hated the heroine, but I can live with that one. :)). I will say that I seem to be better at writing wonky heroes than wonky heroines, but I'm working on that, and yes, doing a little horn-tooting here, I'll have a December Blaze release in a fun anthology with Lori Wilde and Candace Havens. I'm not sure how wonky the hero will be (although any suggestions on making a wonky EMT would be fun) but the heroine has amnesia…
So there you have it! A deliberately subversive romance, received with open arms by editors and readers alike, and celebrated as a great story and a delightfully wonktastical read.
If you're dying to scoop up your own copy — as you should be — Long Summer Nights is available directly from Harlequin, at Amazon, and via all the other usual suspects.
—
A question for our readers: Does this make you want to be part of a Wonk-o-mance book club as badly as it makes us want to start one? If so, how would such a club work for you, ideally? Discuss.