A friend recently read the manuscript of one of my not-yet-published books and emailed, "This isn't a romance, it's a manifesto!"
I smiled when I read that — but then paused, wondering why I was smiling. Had she meant me to smile? The email was only one sentence. Praise or critique? Was it a good thing, in fact, to have written a not-a-romance manifesto?
Possibly not, right?
Possibly not.
But what I wrote back a few minutes later was that all my romances are manifestoes — it's just that sometimes, when the books are funny and cute, no one much notices.
What is a manifesto, after all, but a declaration of the author's views? A manifesto presents an argument, marshaling all the author's power of logic and emotion behind it. It's a declaration of her life stance — her global philosophy made manifest, clear, and conspicuous.
Manifestoes have a reputation for stridency. They insist upon themselves. This is the right way, the only way, they shout. Listen to me! Change your life along these lines, or else!
I can't help but feel, at first blush, like this sort of thing has no business in romance. These are pleasure books! That we read for fun! Take your manifesto politicking elsewhere, madam.
Speaking generally, manifesto-making isn't often an activity of women. We're encouraged so often, when we're young, to get along, collaborate, contribute, soothe. This is one way, one option, we learn to suggest. You can take it or leave it. There's some evidence for my view, I think? Here are a few citations. But it's complicated. I'm just saying. Whatever you think.
When I think of manifestoes, I think of men. I think of Luther nailing his theses on the church door. I think of Marx and Stalin — humans so loud, so strident, that they had -isms named after them. I have never wished for an -ism to be named after me, but I do have views. I have opinions, arguments, and as I get older I'm starting to discover, too, that I have a life stance, a global philosophy that is mine-all-mine, and it comes out in my novels.
Is that bad? Is that … a problem?
I don't think so. I think a novel kind of has to be a manifesto, of some kind. It has to create a world, and within that world it has to establish stakes and define the terms of happiness. A happy ending isn't a happy ending in a vacuum, after all. It's a happy ending for these characters because the novelist has told us what these characters need, why their needs matter, and what their happiness looks like.
So it only makes sense, if I am writing books about life and love, that I have to develop not simply convincing characters and situations — credible stakes for those characters, credible problems for them to overcome — but also a credible argument for what love means. What needs it fills. And, implicitly, what life is for.
That's a big project. A big argument to be making in a little love book.
That's a manifesto.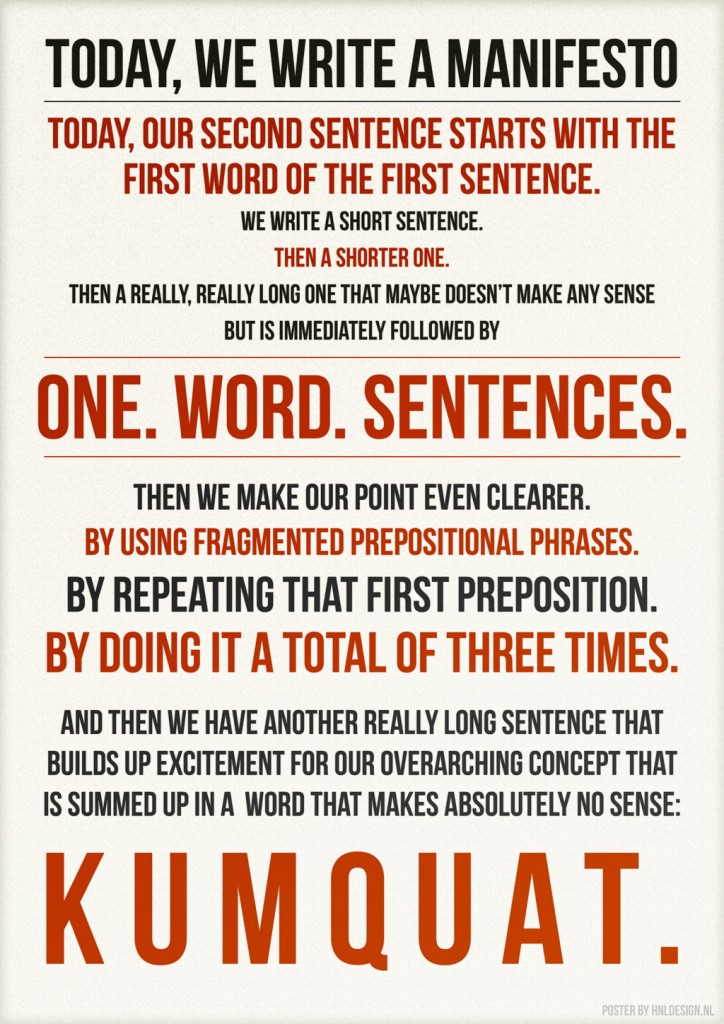 And I've noticed, since I started thinking about this, that the parts of my own novels that I usually like best are the parts that are most obviously manifesto parts — the passages where I am defining happiness, speaking to what love is all about, talking directly to the question of what we should live for.
In the manuscript that prompted the email, my very favorite part is pretty clearly a manifesto:
"Don't get me wrong," he says. "I like this. I want this. But shouldn't we be talking?"

My hands are under his shirt. Sneaking up his back, his smooth tan skin, every bit of him familiar but different, broader, stronger, harder. "We are talking," I say.

Because we are. What he means is that we're not following a script.

Only, there is no script. There are no rules for this.

I don't think we're doing it wrong, because I don't believe there's any way to do it wrong or any way to do it right outside of how I feel, how he feels, how we feel between us.

All the songs are love songs. That's what I'm learning.

All the songs are love songs, and this one is ours.
Here, the heroine is defining for herself what right and wrong mean in the context of her relationship. She's defining the shape of her love, and in the process, her future. Her life.
But of course, she doesn't exist.
I'm defining them. I'm defining them for you.
Which I think opens up some interesting questions, actually. First, the whole question of reader preference, reader desires, reader-to-author "fit." Because we talk often about what readers want. Publishers spend a lot of time forecasting trends, trying to get the right contracts lined up so they'll have the right books at the right times. But none of that activity, those contracts, addresses this deeper meaning, this core argument.
In romance, the author's manifesto is, by and large, understood to be irrelevant to … well, kind of to everything.
My work isn't contracted as manifesto. I don't talk about manifesto in my synopses. Reviews rarely get into the arguments my novels make. But what does happen is that when readers aren't convinced by my arguments, they don't like my books. There is no way, perhaps, to like a book whose argument doesn't work for you. And probably the essence of fit between readers and authors is a sort of receptiveness to argument, a match in love-politics, a compatibility in life-politics, broadly understood.
Second, I wonder about manifesto — about argument — in the context of conversations about romance and feminism, which sometimes get bogged down in questions of whether the genre as a whole can be understood as feminist, or if individual books can be feminist if they depend on an ending in which the heroine's happiness is defined in terms of her being situated in a permanent, monogamous heterosexual relationship, and so on. Might it help to look more closely at how individual romance novels define love, life, happiness, self-worth?
Or possibly I have no idea what I'm talking about.
Anyway.
What do you guys think?