Amber: The Dom Project is a friends-to-lovers story between Robin, a librarian, and John, an A/V guy, who work at the same university. The catalyst for their sexual relationship is a collection of racy photographs from fictional 1930s model Irena Mareau. There's pearl rope bondage and a silver napkin ring used as an O-ring. What was the inspiration for this, and more importantly, where can I actually find such a collection?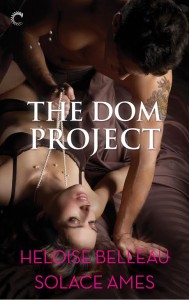 Solace: We made it up entirely! Our main inspiration was Bettie Page. We wanted the same sense of vintage glamor but located in a slightly earlier era. We did end up doing a lot of research at a site called Retro Porn Archive, which has a truly banging search engine. They have quite a bit of material from the 1930s.
Heloise: I've been a fan of vintage pornography since college. I actually wrote a paper on Victorian pornography and erotica and what it tells us about masculinity in Victorian England! I used to follow the awesome (but sadly now defunct) blog Vintage Sex on Livejournal, which had pornography from the 1800s right up to the seventies. Vintage porn was a great escape for me from our current trend for tanned, hairless skinny bodies with big boobs. Not that it doesn't have its own standard of beauty, but when you don't have the same tools to alter the human body, there's naturally more diversity on display. Irina Mareau was made up, but I really drew on that dreamy sepia aesthetic when it came to writing The Dom Project.
Amber: Our heroine Robin has a blog chronicling her kinky dating misadventures which she calls The Picky Submissive. I have to give a shout out to Omega and mouse whose blog I've been reading for years and totally love. Did you read real life BDSM blogs in preparation for this book or did your previous reading of them inspire that aspect of Robin's character? Are there are any blogs you would recommend for readers, especially if they enjoyed the snippets from The Picky Submissive?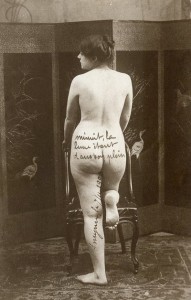 Solace: I enjoy reading really theoretical, wonky blogs about BDSM and sex. I think my favorite sex blog is probably Girl on the Net—she puts out an incredibly entertaining and thought-provoking mix of personal sex stories and political stuff. I've also read through It's Just a Hobby, which is password protected now, but here's an interesting interview with the couple who ran it.
Heloise: I don't really read blogs of any sort, so a lot of my experience I drew from my friends who are real life submissives, and their various terrible tales of encounters on Fetlife. Fetlife, of course, being the real-life version of our fake bondage dating site "Kinklife" (see what we did there?). For those not in the know, it's basically a social media site for people into BDSM and fetish. You can host a profile and a blog, read free fiction, browse photos uploaded by users, and of course, look for love and/or sex. And like any other website used for dating/sex, some men are charming and worth connecting with, and others are . . . well, complete creeps without boundaries or social skills.
Amber: The hero John is Asian, has a full sleeve of colorful tattoos and is a bisexual Dom. I know from Heidi's previous appearance on Wonkomance that you've written other multicultural romances. How do you approach writing characters that are a different race than yourself? Or a different sexual orientation? How do stereotypes figure in to the characterization—do you try to ignore stereotypes or try to subvert them?
Solace: I'm Japanese-American, and I almost always write characters of a different ethnicity and usually of a different race. I just don't have much of a choice—I'd be pigeonholed otherwise (and that's not fun). I think it's important to take stereotypes into account, but reacting against stereotypes in a kneejerk way can be just as bad as accepting them fully. The idea is to create well-rounded characters who develop through the course of the story. When writers get obsessed with fighting stereotypes, the characters suffer. For example, there's a racist stereotype that Asian men have small penises. I'm not going to fight against that by giving all my Asian heroes monster-sized wangs! That would be a counterproductive tactic, as well as horribly irritating to the reader. My ideal is to subvert stereotypes by presenting complicated people living complicated lives and letting readers draw their own conclusions. That's what I like the most as a reader, after all.
I write a lot of characters of different genders and sexual orientations, too, and I try to keep in mind the same balancing act when it comes to stereotypes. There are certain stereotypes attached to bisexual men that all writers need to be aware of, but that doesn't mean we should avoid writing them altogether. There's always going to be risk, reward and responsibility.
Heidi: Right. As a bisexual woman myself, I know all about the stereotypes directed at us: that we're promiscuous, that we're really straight or gay and just pretending otherwise, that we cheat, that we can never be happy in a monogamous relationship, etc. etc. etc. So when it comes to Solace's whole kneejerk anti-stereotype response, it's actually kind of hard, because some of those stereotypes are conflicting! Secretly monosexual vs. never happy in a monogamous relationship, for example. It was never my intention to write a bisexual character who is anti-stereotype, just one who is well-rounded and human and flawed and sensitively portrayed. Because ultimately, that's what stereotypes are: they're FLAT, allowing for no diversity or individuality. That doesn't mean nobody ever resembles them, only that they're not a universal truth, and that ultimately we're all–as groups and as individuals–so much more.
So with John, who's out and bisexual himself, we portrayed him as having several play partners, but being respectful, courteous, and honest with them. Then he ultimately finds a monogamous HEA with Robin, but he's still the same bisexual John, and he's never going to stop being attracted to men (or other people in general!) Robin's the love of his life, though, and he'll never cheat on her, and she'll always be "enough" for him. That doesn't mean she cured him of his "slutty bisexual ways"–he never renounces his former lifestyle or apologizes for it, because why should he?–only that being with her and loving her has changed his priorities. That's his individual journey, though, not the one bisexuals are destined for by their nature or Must Follow to Avoid Stereotypes. There's room for all sorts, just so long as every character's individual humanity is respected.
Amber: One of the things I particularly enjoyed was John's irreverent sense of humor. What's interesting is that he's playful and laid back, which is in contrast to his dominant sexual self. Here's a snippet from The Dom Project:
"He grinned. More satisfaction, and some hunger too. A strange balancing act, as if he were standing on the border of his ordinary slacker self and the dominant man she'd glimpsed at Miss Kitty's."
Can you talk about the juxtaposition of John's "slacker self" and his sexual desires?
Solace: People with a good sense of humor are always attractive. And if you think about why, there are interesting parallels with D/s. Humor, especially wordplay, represents a kind of power over language itself. People with a great sense of humor and strong comic timing have the power to create an explosion of positive emotions! You can also use humor to defend yourself against attack or even go on the attack and rip other people apart.
John has a really high confidence level. He knows he's charming, he knows he's fun to be around. He's not particularly ambitious because he doesn't want what he doesn't have, in terms of status and material possessions (love is another matter). So when other people think, "oh, he could be doing more with his life," he doesn't give a damn about their opinion, and I think that in itself shows his strength of personality.
Heidi: Honestly, when I write romance characters, I try to write them with qualities I admire or am attracted to. Having dabbled in the BDSM world myself, I know all about male Doms who never turn that off, who are domineering and controlling and super serious, (or just downright abusive) and I'm sure some people go for that (well, not the abusive part), but for me I always found it a little threatening emotionally and sexually. So to write a male dom that I was still attracted to, I needed him to be someone safe and approachable, but also dominant when he needed to be. John's definitely a Dom, but he's not going to read Robin's emails or control her relationships or speak down to her in front of her friends. He's funny and kind and has non-sexual hobbies and likes to hang out and watch movies. His sexual proclivities don't form the whole of him. Of course, he doesn't have to be a slacker for that: he could easily be a doctor, or volunteer who puts in 60 hours a week at a shelter for homeless teens, or hell, have two jobs in the service industry. But it is fun to match a slacker up with a very driven A-type personality, isn't it? And it's a fun turnaround on a lot of BDSM novels where the Dom character is dominant in every aspect of his life: big and imposing and an authority figure and rich and powerful. Which of course is a valid fantasy, but it sure is fun to try something a little different!
Amber: You two co-wrote The Dom Project. Is this your first collaborative project and how did you guys get together on it? How did you split up the writing? Were there any areas where your ideas diverged and how did you handle that?
Solace: This is our first m/f erotic romance as cowriters. I think we brought different things to the table, but we're both really into psychological complexity and we were absolutely on the same page when it came to the aesthetics and the journey to the HEA. The next installment in LA Doms is an MMF that I wrote on my own—it's a little angstier than The Dom Project but has some of the same qualities, and we run into John and Robin again at a BDSM play party.
Heidi: We've collaborated on several projects before. This is our first M/F, but also our first straight-up contemporary, so that was a little different too, because conflict is so very different when there's nobody getting stabbed or kidnapped by evil faeries. We both wanted to write an M/F, and I wanted to try my hand at writing maledom M/F in a way that didn't trigger some of my weird anxieties around men, and we both just wanted to write a BDSM erotica that we'd actually want to read, so we started spitballing concepts we liked (and what we preferred to avoid) and eventually the plot and characters started to form!
I can't think of any particular areas where we disagreed about the narrative or characterization, at least not for this project, but in the past when we've had disagreements, we've talked it out, argued our separate points, and ultimately came to a consensus. I find having a cowriter to butt heads with actually really strengthens the narrative, because there's someone built in to poke at your plot holes or ask tough questions about motivation and scene placement and the rest of it. You really don't let each other get away with anything!
So The Dom Project is definitely both of our baby. The Submission Gift is all Solace, but I'll happily give it my seal of approval. It's a fantastic, twisty love story with two very different but very attractive heroes, and a fantastic, sympathetic and strong heroine who faces real challenges. And a sexworker plotline that isn't horribly depressing, but doesn't go skipping into Pretty Woman territory either! I'm not a menage reader, but Solace definitely sells it!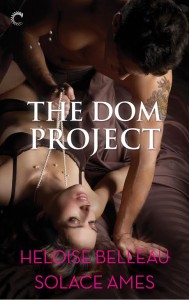 By day, Robin Lessing has a successful career as a university archivist. By night, she blogs about her less-than-successful search for Mr. Tall, Dark and Dominant. Living up to her handle "The Picky Submissive," she's on the verge of giving up and settling for vanilla with a side of fuzzy handcuffs when she discovers her best friend and colleague has a kinky side, too.

Sexy, tattooed techie John Sun is an experienced Dom who never lacks for playmates, male or female. If he can't satisfy Robin's cravings, maybe no one can—after all, he knows her better than anyone. So he offers to help her master the art of submission for one month.

Robin eagerly agrees to John's terms, even the pesky little rule forbidding any friendship-ruining sex. But rules are made to be broken, and once they begin their stimulating sessions, it's not long before she's ready to beg him for more—much more…

Order: [Amazon] [Kobo] [Carina] [AllRomanceEbooks] [B&N]
Author Websites: [Solace Ames] [Heloise Belleau]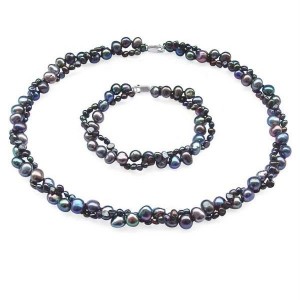 GIVEAWAY
A simple grey pearl necklace plays a large role in the story. Enter the giveaway to win this baroque grey pearl set! The necklace length is 17″ while the bracelet measures 7.5″. Both pieces close with a sterling silver lobster claw and eyelet.