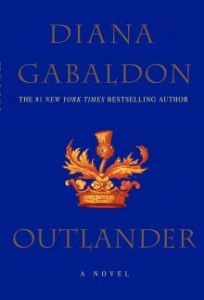 OK, if no one else is going to say it, I am. One of our favorite romances of all time—Diana Gabaldon's Outlander—is a Wonkomance.
Maybe. I'm not sure.
In support of the argument, Outlander has:
A virgin hero
An older heroine
A modern heroine pushing her feminist views on a historical alphahole
A little spousal abuse and a debate about its merits
More than one thwarted M/M love subplot
M/M sadomasochistic rape
Politics up the wazoo (Claire's magic wazoo, that is)
A subsequent series that skips merrily from HEA to disaster and back again with reckless disregard for genre rules.
Or, to put it in Gabaldon's own words (if these look familiar, it might be because you have, as I do, a copy of Outlander from Gabaldon's keynote at RWA 2011), "Within these pages of Outlander you will find it all … 'history, warfare, medicine, sex, violence, spirituality, honor, betrayal, vengeance, hope and despair, relationships, the building and destruction of families and societies, time travel, moral ambiguity, swords, herbs, horses, gambling (with cards, dice, and lives), voyages of daring, journeys of both body and soul … you know, the usual stuff of literature.'"
Wonky.
Or is it? On the flip side, Claire and Jamie are oddly conventional. He's big and strong, entirely capable of dominating Claire physically and more than able to manage the demands of 18th century Scotland and the American colonies. She's bright and cheerful, undaunted by challenges, the sort of woman you'd resent in the same measure you adored her. Neither Claire nor Jamie seem to suffer from attacks of existential angst, at least not ones that outlast the moment. At its darkest moments, Outlander is way too optimistic to be called "dark."
So, yeah, or not so wonky.
What do you think? Can we claim it?