A guest post by Elyan Smith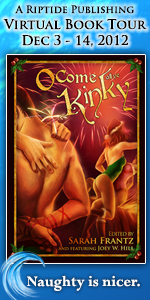 Thank you for joining us on the O Come All Ye Kinky virtual book tour! Leave a comment on the post below by December 16 and you'll be entered to win one heck of a stocking stuffer—a $100 gift card to The Stockroom, where kinky dreams come true!
I discovered kink when I was a kid. I remember the first fantasies I had after watching prison movies when I was about 10ish. I'd lie in bed afterwards and imagine being in prison and having things done to me. As I got older this progressed to using props from around the house like stacks of books to put myself on display for imaginary men. I discovered nifty archive in due time, read all of the authoritarian section (and there's a lot of dirty stuff in there), and only through the years realized that I did, in fact, have a kink for humiliation and D/s, and what that meant compared to one for pain or S/M, and just how slim the line is from the best turn-on to the stronger turn-off when it comes to such emotionally-driven tightrope play.
Since then I've picked up and put down BDSM books because invariably they'll be about slave fantasies (of which I enjoy certain parts), slavery universes, dungeons and paddles and whips and crops and handcuffs and torture, and meanwhile the things I like are always only the small, nearly accidental side effects of other play. Bondage leading to being exposed and having a bit of almost too cruel dirty talk makes it just right, cross-dressing with the make-up smudged just enough to play at being used and being used good, CBT with the dom pressing the guy's legs down to the bed and telling him to keep them there as he taunts him about it, begging puppies, drinking piss, and plain standing in the corner naked. They all share the same underlying current of hot humiliation, but with the grand majority of them the moment of a cuddle afterwards, the end of a scene, or just the progression towards something more on the S/M side of the acronym happens all too quickly.
Humiliation in erotica appears fleeting and occasionally—probably not even intended most of the time. Finding well-written erotica that goes there and stays there and doesn't retreat to the safety of taking it all back (there's nothing worse than reading a humiliation scene, getting into it and then have it end in the dom apologizing) is really really hard.
I'm not sure if I just haven't picked up the right books (recommendations always welcome), or if the aspect of BDSM I'm into just isn't the most popular or most widely practised one. Or if, in fact, humiliation is still the dirty little secret on the heels of a bit of a paddling, sneaking into a hefty dose of dirty talk, and hiding under slivers of glittery make-up.
When I started writing "Open Return" for O Come All Ye Kinky I knew I'd write D/s and I knew I'd try to include at least a little humiliation and show it in the context of the acceptance and the love necessary to play happily and healthily in that kink sandbox. Without having to take it back.
I understand that if it's not a kink you have it's one of the bigger turn-offs in a sex scene. It can be harder to stomach than pain play, because that doesn't challenge the emotional balance of the reader in quite the same way. But I hope that even readers who don't share the kink won't be put off by it in the context of the relationship portrayed in the story.
People talk quite openly about floggers or their slings and bondage gear. In the same way, I'm rather unapologetic about my kinks (even if they're not quite as flashy—or expensive, it's got to be said). Even if, at times, it's a little hard to explain to people who see it as just another shade of abuse. Sex happens in your brain, and turn-ons happen in your brain, and humiliation is just one that's probably far more in your brain and far less connected to physical sensations that some of the other play in the BDSM acronym. That's all.
And I mean it, recommendations for things I should read very welcome.
Here's the blurb for my story, "Open Return."
Fifteen years ago, Zach left the small Midwestern town he grew up in, confused and scared and determined to figure out who he was. Now transformed, he's drawn back by the memory and promise of the dominant couple he left behind. Laura and Scott are still together, and as the year draws to a close, they explore old feelings and new ones as they discover they've all been waiting for Zach to come home.
About Elyan Smith:
Elyan Smith lives in the southwest of England. Friends regularly accuse him of being an antisocial sod who spends too much of his free time looking at porn on the internet, when in truth he spends most of it writing—but the porn's the easier excuse. He works as a researcher in psychology by day, and when he's not writing, he's probably in the theater, watching other people create magic. You can find Elyan at his website and on Twitter.
You can find out more about the anthology and all the stories here. 20% of all proceeds from O Come All Ye Kinky will be donated to the Domestic Violence Project of the National Leather Association–International. (If you buy the book, digital or print, from Riptide's website, more money goes to the charity because we're not paying third-party vendor fees.)