Trigger warning in this post for abusive relationships.
I got an edit letter today from a new editor and it crushed me like a grape.
Squish.
Some of the things in it, I wasn't surprised by. I had a general feeling of not-quite-right when I wrote those parts, but I wasn't sure, so I kept them because, overall, I liked them and I think part of me just wanted them to fit, so badly.
But other things in the letter completely threw me for a loop, and what it all boiled down to was that what she read in the manuscript and what I had been trying to write in the manuscript were two completely different things.
My clear, utter failure made me want to lie down and die.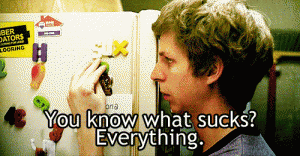 But here's the thing. (You knew there had to be a "but," didn't you?) I didn't actually die. And this won't actually kill me. And, in the end, I embrace these moments of life reaffirmation for the reminder that there is no greater peace than that which is achieved through struggle, there is no greater appreciation than that which is gained through loss, and there is no one I'd rather be than someone who has fought and lived to see another day.
Besides…there are worse things in the world.
I know. I used to hate it when people said that to me, and you might still hate that platitude after you read this. But for me, that reminder, that there is worse, and I have lived it, is usually the most effective way to pull me out of those blue moods, when the world has contracted to the most painful pinprick of a moment, in which I want to lie down and die.
In fact, once upon a time, I lived a life so different from the one I live today that I look at photos of myself from back then—a decade ago, now—and I know that most of my regrets come from that particular period in my life. Because I can still transport myself back there, with just the wrong word or a misplaced thought. It has taken a decade, and will continue to take the decades ahead, for me to accept those experiences as a vital part of me, in spite of how dead they made me feel.
The story is this: I got married at a young age and had a baby within the first year. I supported us financially, but I traveled a lot for work (like, five days a week, every week, except for two weeks at Christmas) and my then-husband had a low-paying nine-to-five job, so he did the bulk of the childcare during weekday evenings.
It was not a good relationship. Over the course of our marriage, I grew increasingly wary of being alone with my husband. I began dreading going home because I didn't want to be called stupid, or overweight, and I didn't want to be blamed and harangued for him oversleeping and being late for work. I hated that I wasn't allowed to tell my child that I loved him. It inevitably triggered an angry protest. What about me? I love him, too! Tell him that we love him, not that you love him.
I used to cry in my hotel rooms at night, away from my baby and away from any tether to myself. I felt like I was constantly flailing, trying to find purchase, and it was so incessant that it became my normal. I withdrew from my family and friends. I stopped sewing. I stopped writing. I stopped creating.
Only now, years out, after I've learned more about relationship violence and how it can manifest in ways other than physical abuse, do I understand how skilfully my now-ex-husband diminished me. I was afraid to say anything lest it be wrong. I was afraid to make decisions lest they be wrong. I was just wrong.
I—the real, fundamental me—had lain down and died.
There were a lot of factors that contributed to my final realization that this was a bad, bad relationship. There were also a lot of factors that contributed to my ex-husband gaining primary custody of our son, and a lot of them came down to how I played the traditional "male provider" role in the marriage. I have my son for weekends, school vacations, and summers. I pay child support. I am a noncustodial mother, and the ridiculous—absolutely ridiculous—stigma attached to that status is a topic for another post, some other time. But suffice it to say that I not only had to find the strength to resurrect myself out of that marriage, but I also spent the year during my separation and divorce, fighting the urge to lie down and die, over and over and over.
It was like getting the shittiest edit letter ever and not being able to do anything about it. The twenty-six-and-some years of my life story had already been written in stone. No deleting huge passages so that the pain would never have to happen, or rearranging blocks of text so that the college degree came easy. Not even any fine tuning, so that words were softened, paths were widened, and friendships strengthened.
I believe there is no greater peace than that which is achieved through struggle, there is no greater appreciation than that which is gained through loss, and there is no one I'd rather be than someone who has fought and lived to see another day.
I truly, truly believe this. With the help of so many beloved friends and family, I came out of that time of my life transformed for the better. I lost, and I live with that loss every day. But I'm alive, and I rejoice in my life, and that it what made the difference in the way that I view things like edit letters.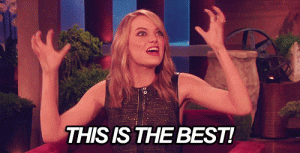 Not failures. Second chances. An opportunity to rewrite someone's life story. And, in doing so, take back pieces of my own.
So…back to this morning, when I read this edit letter that bowled me over with the immense weight of my own shortcomings. I read it, and then I took a few minutes for silent self-loathing and dejection before I let the little know-it-all in my brain wake up and remind me that I had chosen this editor specifically because I knew she would make me grow as a writer. I chose her because I wanted a challenge. I chose her because I wanted to learn from her, and in learning, live. Lying down and dying would defeat the purpose.
All of this to say…for those of you out there struggling with rejection from agents or publishers, for those of you who get harsh feedback from critique partners or depressing edit letters that make you want to lie down and die…
Don't. Please don't. Cry. Rage. Tether yourself to fellow writers, or online classes, to gardening or TV shows or whatever keeps you from drowning. But don't die. Live on, be who you are, and don't let anyone else or even any perception you might have of yourself to diminish who you are. Get up, and write the story you want to live.