One of the first waves of romance books I read was Lord of Scoundrels by Loretta Chase, which is really a staple of the genre. I loved that book and went on to glom Loretta Chase, as well as much of the historical romance canon. I also re-read Lord of Scoundrels several times.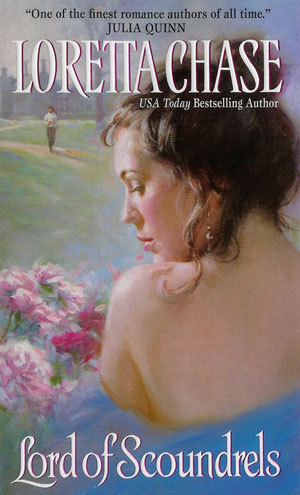 It was only one maybe the fifth re-read that I noticed, I mean *really* noticed, that the heroine SHOOTS the hero. Like, with a gun. And a bullet in his shoulder. And that the narrative, from my interpretation, basically shrugs this off as "he had it coming." I mean, that's weird. It's weird that I didn't fully realize that beforehand, almost as if my brain refused to acknowledge the scariness of that situation in what is an almost humorous book. It's also weird that the book managed to be as popular as it was, considering. I guess that's a kudos to Chase for making it work.
Thinking about the heroine shooting the hero definitely altered my perception of the book, but it didn't make me hate it. I still love the book, and still love Loretta Chase, only now there is a little WTF!? bookmark inserted in that love. I'm okay with that. There are WTF!? bookmarks inserted in my actual real life relationships (though no shootings, thankfully). And I am prepared to be far, far more permissive with fiction than I am with real life.
Which brings me to the inspiration for this post, which is the recent discussions online about dubcon and non con. Actually I believe that was kickstarted by fellow wonkster Alexis's post about m/m having more dubcon than m/f. But the fact remains that having more dubcon in m/m would not, could not be troublesome if dubcon was not inherently troublesome, and it's that trouble that I wanted to explore in this post.
And really, similar arguments are used for antiheroes or even alphaholes. The idea that "it wouldn't be okay if some guy tried to do this exact thing to me, therefore this is not okay in a romance." I mean, that makes a certain kind of sense.
Though I have to admit, that's not how I read.
It's not how I read general fiction or literary fiction or romance. Sometimes I don't know if that kind of restriction is being placed on fiction in general or romance only. Is it the HEA that then makes the requirement for good behavior?
And when I read a book with bad behavior, am I exploring it or am I tacitly absolving it? The subconscious is a pretty mysterious place to me, so I don't know the answer to that. But I also think that restricting characters to behavior I would personally do and/or approve of is not the right direction. I can choose not to read a certain book, of course, but suggesting that it's problematic or that other people shouldn't read it is another thing entirely.
But I'm definitely not okay with all bad behavior either. Sometimes I get pissed as hell and then I rant. I'm not sure there's a specific line I can put on when I'm okay or not okay with it. It depends on the context, and to me, that's a good thing, each book evaluated on its own merits and arguments.
One of the factors that influences my acceptance is the character's self-awareness. For example, I'm far more likely to be interested in a hero who does bad things and knows they're bad but does them anyway. That is interesting to me. Why does he do them? What happens next after he does them? Does he ever regret them? That's a very different scenario than reading about a hero who, in the case of dubcon, doesn't even understand how consent works. That's not interesting as subject matter to explore, to me.
I think that explains why some (most?) of the old dubcon bodice rippers don't work for me. Like when the hero coerces her but then tells her she deserved it and that it's okay because she had an orgasm and he believes that. Because in addition to being an asshole, he's a stupid asshole and there's nothing interesting about that. Then at some point I wonder if the author also doesn't understand consent, and then I get angry at like, all of society.
But with To Have and To Hold by Patricia Gaffney, that book worked for me because my interpretation was that he understood exactly what he was doing. And she understood exactly what he was doing. They were both fully aware, fully intelligent, as they acted against each other. Watching them move closer in spite of themselves was a beautiful thing. I fully believe that it's possible to acknowledge what he did was wrong, and should never be done in real life, and still appreciate that book. In fact, I feel like that's the core story of the book.
And some people may disagree with me, in their interpretation of that book. Still other people may not even care about interpretations, because it's not enjoyable for them to read that kind of thing. My point is *not* to encourage people to read the book or to like the book, but just to say it's important to be able to have that conversation about it, for those of us who want to. Reading about a certain type of behavior doesn't mean we support it.
The truth is I don't know how my subconscious will process everything that I read. I don't know what I'll think about some new situation, some new argument, some new book–but what I love about reading is finding out.