One of the things I asked the father of my son, during the conversation where I told him I was pregnant and he told me, "I'm sure you'll be an excellent mom and I wish you the best," was about his family's medical history. It seemed like a good time to find out if he'd be passing on any genetic tendencies toward cancer or diabetes or what have you, since I was pretty sure this would be the last time I spoke to him.
"Nope. Everyone is pretty long-lived and healthy," he said, and I breathed a sigh of relief.
"Except…"
There's always an except.
"We do have a family history of alcoholism."
Well, shit.
I'm pretty sure I sagged in my seat on the sidewalk bench and groaned. All I could think in the direction of my still-relatively flat stomach was, You poor kid.
Double whammy.
Like my son's father, I have a family tree with a distressing tendency toward addiction. My dad went into rehab when I was seventeen, an experience rather more terrifying than reassuring at first, as he was hospitalized for convulsions from the cherry of Xanax withdrawal on his booze sundae.
Since then, I have called a friend's parents for her when she finally admitted she needed help. I have watched other family members get sober who I didn't even know had drinking problems. I have been unable to do anything other than stand by as other friends spiraled down, never quite getting rock bottom enough to reach for help. I've tried to help friends deal with the gaslighting and manipulation that relationships with addicts often involve.
Experience is a practical instructor, in the end.
Nothing Like Paris came out last week, and in it one of the heroes has an alcoholic parent. Writing about that was strange. Like all of my stories, there is plenty of me in it, while at the same time it's not about me at all. By the time I've written about something so intimate, it doesn't resemble my own experience much, although details belong to my story and Jack's, both. The anger and helplessness. The shame and the front you put on to mask it. The way the awfulness becomes ordinary over time, just part of a routine. The awkwardness of walking into meetings full of people with whom you are supposed to have so much in common but who still mostly feel like strangers ready to judge your story.
Writing is how I figure out what I think, what I feel. But one story, one set of events, is never enough to explore all of the many mirrored shards of a broken experience.
I watched a Russell Brand stand-up show the other night and, as he often does, Brand talked about addiction. He was invited to speak on the subject to Parliament, actually. He tells a hilarious story about get dressed in the kookiest of clothes, expecting one of his friends to stop him, saying, "You can't go talk to Parliament dressed like that!" But no one did, so he showed up in an outfit that had Noel Gallagher of Oasis calling him while he testified, to leave a voicemail asking, "Why are you in the House of Parliament dressed like the WWE wrestler, The Undertaker?"
Brand's point was simple though. "Addiction is a disease, not a crime."
There a countless kinds of addictions. I write a little bit about one of them in Nothing Like Paris. Looking back on that book now, with the distance of some months, I see that I handled the subject with some damn fine kid gloves. It's a key part of the story, but I keep most of the worst of Jack's experiences offstage, focusing on his efforts to work on the person being the child of an alcoholic has made him. Because that's almost always a little warped when it comes to how our brains work. The behavior and thinking patterns of alcoholics don't go away when an alcoholic stops drinking, not without a helluva lot of work. And those same patterns are very easy to pass on to those closest to the alcoholic, spouses, kids, parents.
I can see that I wanted to write about alcoholism. And that I made a decent start with NOTHING LIKE PARIS. I can also see that I'm not remotely done with the subject. But I'm a little scared of the book that will take me deeper into a story I think I'm not yet ready to tell.
In the meantime, I'll talk about addiction with my kid. I'll prepare him for the fact that his brain and his body's chemistry will likely not react to drink or drugs the same way as others he will know. I'll share my own stories late at night with friends or people I've just met, often over drinks, ironically enough. And I'll write about addiction again. And again, probably. And eventually, I'll find enough words to be done with it. Maybe.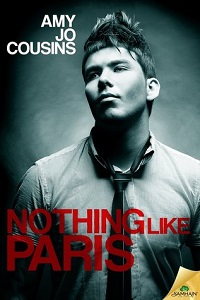 For buy links and excerpts and people saying really lovely things about it, check out NOTHING LIKE PARIS on my website.