"Music is love in search of a word."
—Sidney Lanier
Nothing compares to the cool slide of faux-ivory keys beneath the pads of my fingertips. My hands settle into position of their own accord—my favorite is E major, which goes white-black-white, one-three-five. I love the stretch of the octave, E4 to E5, while my left hand drifts ever lower. Brushing, stroking: It knows exactly where it's going, but hell if it won't take the most leisurely, teasing route into that strident bass-clef chord, the one that knows my soul so very well. There's a slow, minute pattern of vibration that radiates from temple to temple, but it's happy. Warm. It curves around my skull until the rhythm finds the little divot above my nape, and then it circles there until endorphins streak through my limbs to tingle in my nerve endings, like sinking quickly into a hot bath.
And this is just in the first five seconds I'm at my piano. I feel thusly every. Single. Time.
Is it any wonder that musicians often come across as slightly crazy? There must be something essentially unbalanced within their psyche in order for music to balance them back out again. I imagine visual artists are the same way, and I know writers who experience withdrawal in between novels (which is why some are so prolific).
Musicians need the outlet of music the way— Well, actually, I can't make a truly educated comparison, because I am a musician first and foremost. My fingers itch if I go a week without sitting at the piano. My lungs constrict if I don't sing. My head throbs and my heart squeezes and my stomach clenches if I can't hum along with what's on the radio, or the background tune in a car commercial, or, heck, whatever's floating through my head at the moment. I'd miss music as much as I'd miss a lover, were I denied it.
I can't escape the music as an author, either: I wrote my first full-length novel in which the protagonists were both musicians, one a singer, one a flautist. My erotic short story featured in the Agony/Ecstasy anthology was set in an opera house. And one of the best compliments I've ever received from a reader was this:
"I loved the fact that the author obviously knew music—as a classical musician myself, there is nothing that irritates me quite as much as non-musicians trying to write about music[.]"
I am exactly the same way, and when an author can pull off sounding knowledgeable on the subject of music, I want to stand up and cheer. And while I didn't torture my hero and heroine with the need to produce music, many authors use music as a means of adding angst to character conflict. While the books featuring musician protagonists are not necessarily wonky, those specific characters, inherently, are.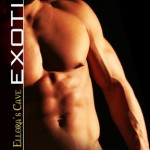 The point is, when I read a small detail about a musical hero or heroine that strikes me as both extremely correct and extremely subtle, I remember it. Like Cara McKenna's short erotica, Brazen, in which Sean is a violinist:
Below his stubbly chin, just to one side of his neck, there's a mark—a reddish bruise like a hickey. I catch his eyes and I shuffle to the headboard and reach for his hands. I don't release them, but I feel his rough fingertips, the calluses on his left hand. I sit back down on the covers and study his face.

"You're a violinist."

"Would you like me to play for you?" he asks, and his voice is as deep and haunting and melancholy as his chosen instrument.
Those physical markers—the neck bruise, the calluses—are often overlooked in literary description, especially the "fiddler's hickey" that results from rubbing against the chinrest. I read this over a year ago, and I still have this passage practically memorized.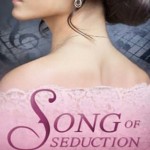 Another example is from Carrie Lofty's historical, Song of Seduction, featuring a composer hero struggling to regain his proverbial muse and a prodigy heroine, who can hear any melody and play it instantaneously on nearly any instrument. While the prose is a bit purple—and I'll admit, music practically writes itself into romance clichés (see: the first paragraph of this post)—this moment struck me as very true, because I've seen violinist friends do so:
She turned from the gallery railing, pressed by a restlessness she could neither explain nor deny. At her waist, as if roaming the tight confines of a violin's fingerboard, her left hand danced. She squeezed the agitated limb into a fist. When the impulse refused to abate, she pulled the Fraiskette from her bodice and stroked its warm amber cabochon in a panicky rhythm.
A musician heroine I'm greatly looking forward to reading about is pianist Kate, of Tessa Dare's upcoming August release, A Lady by Midnight—specifically because, a while back, she asked a music theory-related question on Twitter that I was able to answer for her; and it was concerning something for which most readers wouldn't have cared whether she used the technical term or not. But I have absolutely the greatest respect for Ms. Dare because she bothered to ask that small question, because the small, specific, musical details mattered to her. And as many of us already know, her Spindle Cove series is full of wonky women who don't quite fit in Regency society…so a musician heroine will be doubly wonky!
There's a lovely, weirdly apropos quote that I often think of, in reference to both my life and work as a musician and voice instructor and when reading novels containing musical protagonists. Victorian-era critic John Ruskin was credited as saying, "Music when healthy, is the teacher of perfect order, and when depraved, the teacher of perfect disorder." Depraved or no, those of us who find completion and balance in music, be we real or fictional, accept that there is something about us that is…not quite right.
And in doing so, we embrace what we are: absolutely, totally wonked.
What are some of your favorite musical heroes and heroines of romance? Share in the comments!