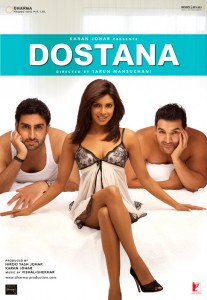 At the urging of my dance teacher, who is a Bollywood devotee, I watched the movie Dostana. I'm not experienced enough to know whether this movie is particularly wonked by Bollywood standards, but I know it's wonked by American movie standards, deliciously so.
The movie is about serial womanizers, Sam and Kunal, who team up in order to get a plum apartment. The "auntie" who lives there has prohibited men to protect the virtue of the gorgeous young woman, Neha, who lives there, so Sam and Kunal decide to pretend to be gay. Here's the scene where Sam tells "auntie" the story of how they met.
Sam, Kunal, and Neha become inseparable friends, and antics ensue involving Kunal's attempt to expedite his U.S. citizenship by claiming officially to be gay, Sam's mom's discovery that he's "gay," and Neha's flaming boss's interest in Sam. But it's all fun and games until Neha begins to fall in love with her new colleague, and Sam and Kunal realize they've fallen in love with Neha.
Yes, count 'em, there are three different men madly in love with Neha, and yet somehow this movie is going to have a happy ending, and it probably won't involve a steaming hot foursome. Wonked!
As if that's not wonky enough, there's (classic Bollywood) singing and dancing. The best dance number is "Desi Girl," in which both Sam and Kunal go all-out to illustrate to Neha how they feel about her (see clip below). The whole thing reminded me of Grease—Dostana has the same feeling of explicit sexuality warring with innocence. And bad-ass guys moving their pelvises. (Also, I love the music. I'm a pop slut.)
The whole subtitle and language situation just intensifies the overwhelming wonkiness. The movie is in a mix of Hindi and English (it takes place in Miami), so you can't understand it without subtitles, but half the time the subtitles are incorrectly rendering the English you're already hearing. Wonked!
The movie has its issues – MissFlickChick Maitland McDonagh says it best:
Make no mistake: Dostana trades in stereotypes about swishy queers, shallow horndogs, frustrated career girls, guilt-wielding (s)mothers and overbearing aunties who need to chill out and get laid. And you know what? It's pretty damned funny and oddly subversive. Yes, everyone learns a lesson about tolerance without actually embracing an alternative lifestyle, but any movie that can finagle two macho movie studs into a full-on smooch that doesn't devolve into slapstick gay panic is venturing into risky territory.
If you're still undecided, you might want to watch this next video clip from the opening sequence of the movie, which McDonagh says is just one instance of the movie being "chockablock with lingering shots of scrumptious flesh." I won't disagree. Sexy, and did I mention? Wonked!

Shilpa Shetty – Shut Up & Bounce (Dostana 2008) by shilpavideos