As most of you probably already know, the Romantic Times Booklovers'  Convention is almost upon us. Hundreds of writers, multiple book signing events, panel discussions, craft seminars, parties. Pitching and networking and bears, oh my! And most of it with people you have never met before.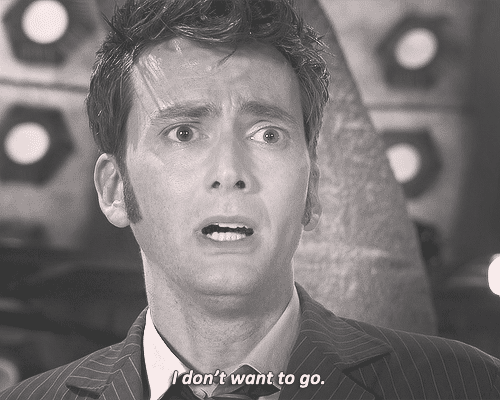 I'm sure there are writers out there who adore social interaction, have vast circles of friends in real life with whom they talk in person regularly, and…I don't know, whatever else it is that socially active people do. I wouldn't know, because I'm not one of them. For me, the above description of a typical convention might as well be subtitled "A Visit to Hell". At least when I first started going to them, that was the case.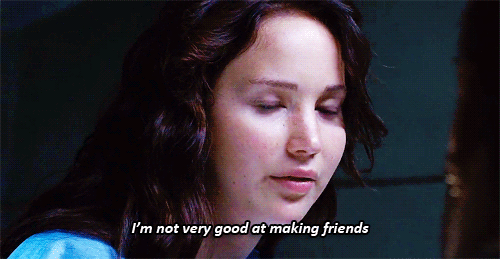 These days I look forward all year to events like RT, because I've learned to love the Con. I'm a con-vert (sorry, sorry), but I know a lot of people express trepidation or outright horror at the very notion of attending one – sometimes even after they've already been. So if you're happiest in your cave, or are perhaps waffling over whether to attend RT or Nationals, here are some thoughts on how to enjoy yourself and get the most out of your time and money. While these are geared towards writers, I think a lot of this stuff applies regardless of your profession. And there will also be gifs and things! Yay!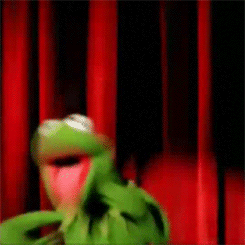 Things that help: 
– Buddy up. Seriously. Even if you normally wouldn't dream of it, consider finding a roommate. I have three (my RT gang includes Christine d'Abo, and fellow Wonkos Ruthie Knox and Cara McKenna).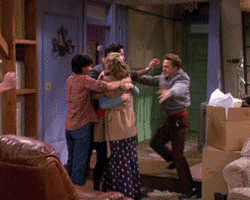 – Know what you're there for. Yes, it's a professional event; but you're unlikely to see specific return on investment from attending a convention, no matter who you meet or how many workshops you attend. What you will see is professional improvement that's hard to quantify. Tips on social media that you picked up from a random conversation about Twitter. A new book idea that you and a few other writers tossed around in the bar. Putting faces to names. These are all "soft" results that might not impact your sales directly; but they're all things that can make you better at your job, which will hopefully redound to your benefit down the line.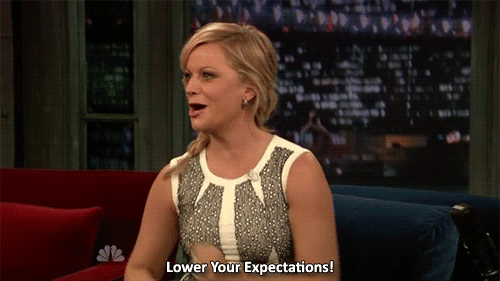 – Buddy up. Can't stress this enough. It is perfectly okay to feel like clinging to a few safe people when you are in a hotel full of strangers. It is okay to make sure you know somebody in every workshop you plan to attend. Having roommates helps with this, obviously.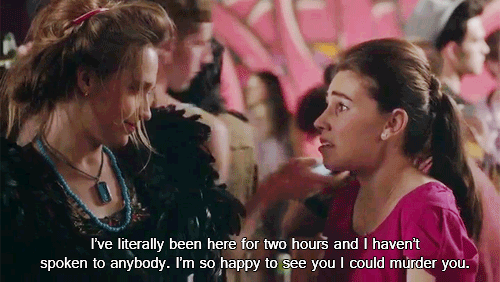 – Take breaks if you need to. Many of us are introverts and are easily exhausted by social interaction. Set aside time (put it in your schedule, even, if that helps you) to be alone; take a quiet break in your room, take a bath, nap, do some writing, etc. Even if you have roommates they'll likely respect your need to have a few hours of down time. Sometimes even a ten or fifteen-minute break from the social whirl can help you catch your breath, emotionally speaking. Do whatever works for you.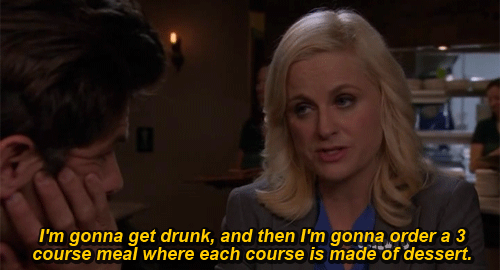 – Buddy up. You need somebody to eat with and hang out at the bar with. While I'm not a fan of cliques in some settings, Cons are a setting where having a "core group" is absolutely necessary. You don't have to exclude anyone else – but make sure you have that foundation of a few people as a baseline.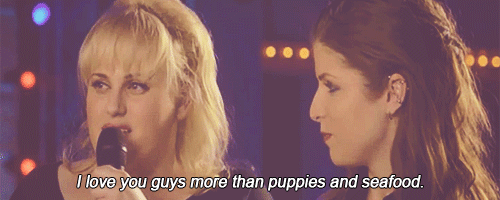 – Did I mention buddy up?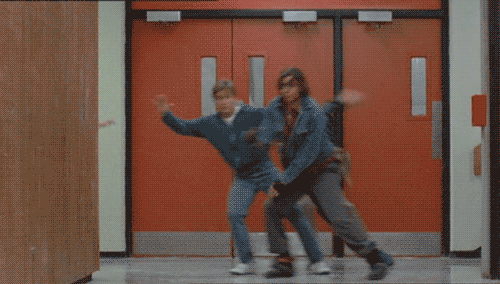 Pros about Cons:
– Introverts! Introverts everywhere! We rarely gather in groups (that's sort of the point of us, isn't it?) but when a lot of writers get together they can actually behave like a pack of rowdy extroverts. Don't be frightened – they're still just as shy and retiring as ever, really. But meeting an entire hotel full of people who feel just like you can be an exciting and validating experience.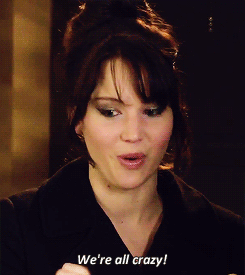 – Most of the people around you probably feel the same way and have the same insecurities. When you were told this by adults when you were in middle or high school, it was bullshit advice. None of us believed it, nor should we have, because it didn't matter; what mattered was that some kids were able to fake it better than others and if you couldn't do that you were screwed.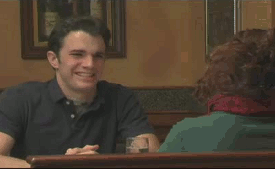 As a grownup writer at a writing convention, however, it's actually true: most of the people around you probably have the same insecurities. That's because it is a hotel full of writers. They've all had to get out of their pajamas and go out in the sun for the first time in months, just like you. They're all experiencing computer withdrawals, and they're all worried they're going to make somebody's eyes glaze over when they forget themselves and start talking about their main character's emotional development. Just like you.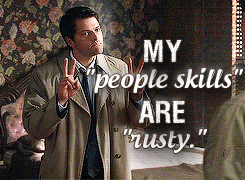 – At a writing convention, though, nobody's eyes glaze over when you talk about your character's emotional development. That's the beauty part. Everyone is there to talk about all the stuff you never get to talk about. Suddenly, having a lot to say about craft makes you an interesting person.
– You get to invent yourself. Some people might see this as a negative, but I think it's fun (and stress-reducing, for me) to spend a few days being the best version of me I can. We're all different when we're around different people, and we all have many "selves". Work self, home self, self around the family. At a convention, you may want to be that person you are when you're online; when you're jumping onto twitter canoes and commenting on blogs (and, for some of us, asking when cocktail hour starts). Don't be afraid to be that version of yourself, out loud and in person. Because that is you, even if you're not that way all the time. Remember, you're also meeting every one else's "conference self."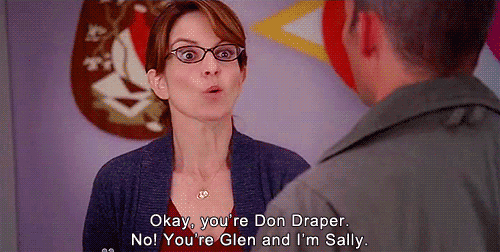 – While there may not be a direct, quantifiable impact on sales from attending a conference, I've found them enormously valuable in terms of professional development. Not just the workshops, but the time spent soaking in a solution of concentrated writer-brain. I've picked up more useful information and gotten more great ideas from chance conversations while "networking" in the bar at conferences than I have from most writing-craft books I've read. Articulating thought processes that you don't normally discuss makes your brain handle them differently, and can jog a new level of understanding. Sometimes having to talk through a craft concept or the application of that to your book just turns that light bulb on. Even if you think of yourself as working best alone (I do), it's good for you to mix it up once in awhile and approach things from a different modality.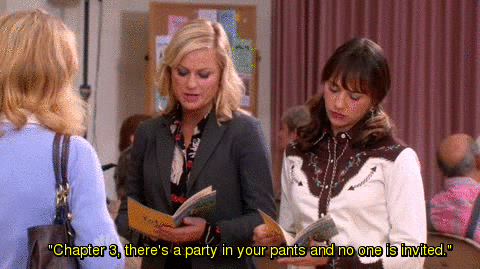 – It's only for a few days. You can do almost anything if it's for a few days and you know the time frame in advance.
Cons about Cons:
– Cons can be overwhelming even for people who don't have issues with going out and doing things with people. There are so MANY things to do, so MANY strangers, and it's all in an unfamiliar setting. It can feel a bit surreal at times. Especially when people are in super funky costumes.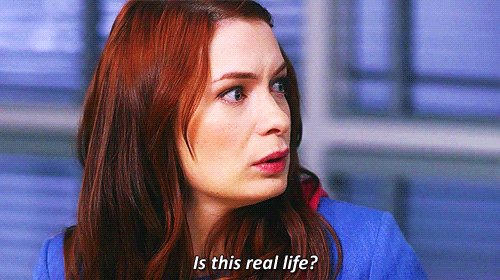 – It is SO FREAKING SOCIAL. Conventions are excruciatingly social events, no way around it, and you have to be "on" all the time. Even a "fun" convention like RT is a professional occasion and an opportunity to meet people in your field, so you must be aware of that the whole time. The mix of party and business can get exhausting pretty quickly.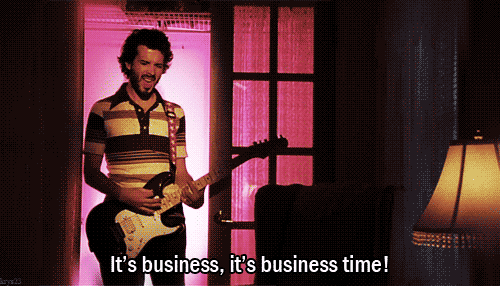 – If you're already anxious about social situations, a Con is likely to make you quantum times more anxious. While there are benefits also, only you can decide how they weigh against the cost of that anxiety.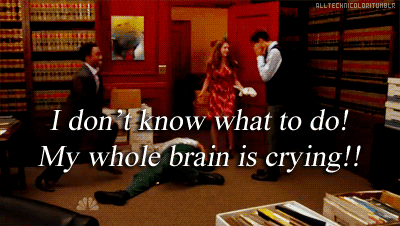 – You have to be ready to make last-minute changes in plan, and go with the flow (a phrase that strikes fear in the heart of many of us, I'm sure). Many of those changes will involve choosing to do things you normally wouldn't choose to do.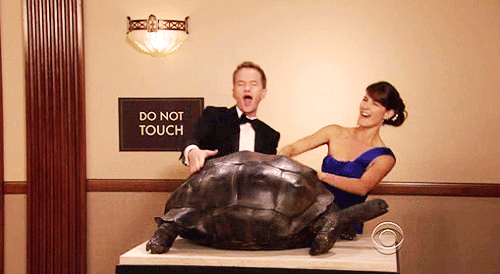 Do you really want to go to that workshop you're not that excited about, or should you go with your friend who is about to hang out with one of her editors in the bar? Hint: probably go hang out with the editor, even though it isn't on your schedule and you're not a "hanging in the bar" kinda person. Lunch in the hotel restaurant like you planned, or venture forth into the city with a group of authors, some of whom you don't yet know, to try this fabulous Thai place one of them heard about? Unless you're violently allergic to peanut sauce, I'd suggest the Thai, even if you're not a "spontaneous going out to a new restaurant" person. One of those writers could become your new critique partner, or maybe explain a craft concept in a way that suddenly makes it clear to you…or even become a good friend.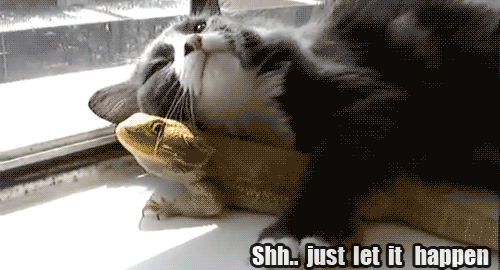 It's All About the Shoes:
– Don't worry. It really is not all about the shoes, or the wardrobe, although some people (myself included) spend an inordinate amount of time on that aspect of things. I've seen some pretty awesome writers at conventions wearing normal work clothes or casual wear, perfectly sensible shoes, and party dresses that aren't themed. All of that is absolutely fine. It's a long few days, and you need to be comfortable in order to enjoy yourself. Wear what makes you feel good and don't worry about the theme parties if you're not so inclined. You will not be the only one.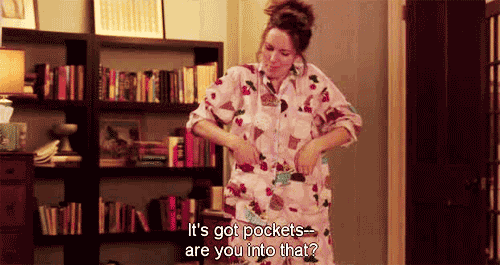 – At every costume event, there will be people who are not in costume. It is okay to be one of them.
- At every super-fancy event, there will be people who are not all that fancy. It is also okay to be one of them.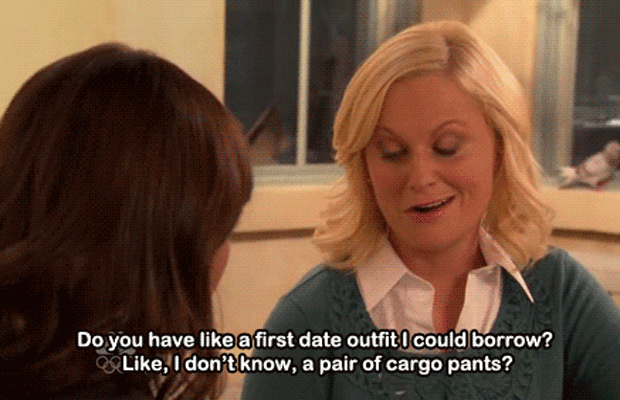 – On the other hand, if you want to dress up, a conference is certainly your opportunity! And if you don't already know about renttherunway.com, now you do. You're welcome. There is a UPS drop box across the street from the conference hotel.

What does she know about all this anyway?
As some of you know, I suffer from major depressive disorder and social anxiety. I'm always very frank about that, and about the fact that I take medication for those conditions and see my psychiatrist regularly, because I think mental health is just as important as physical health – and the more we learn, the more we know that to a great extent mental health is a facet of physical health. Also, if I weren't on those medications, you wouldn't want to know me (you'll just have to trust me on that). My point is, when I talk about the difficulty of emerging from the writing cave, switching my pajamas for real clothes, and facing the anxiety of being in a crowd full of strangers, I really, really know whereof I speak.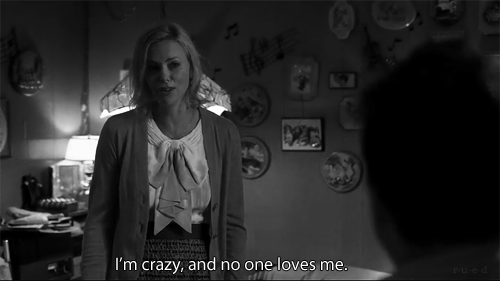 If I hadn't gotten lucky and happened to share a room with Christine d'Abo at my very first convention, I might have never gone back. But Christine turned out to be not just a roommate, but a friend. I buddied up. I followed her around because she seemed to know the drill, and she was cool with that because she'd been a conference newbie at one point, too. She paid it forward, big time (and has since become, by the way, one of my best friends in the world).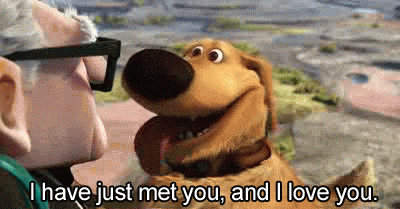 One of the reasons I look forward to conventions is that while doing so, I also get to indulge my little over-preparation obsession. Yes, I do have spreadsheets detailing what I'll wear and when. Yes, I do start thinking about those things months in advance. But those are stress-reducing techniques for me. Knowing what I need to pack and having a checklist makes me calmer. Knowing my roommate(s) helps me feel at ease. Taking quiet alone-time breaks allows me to maintain apparent sanity. And I remind myself often that it's only for a few days.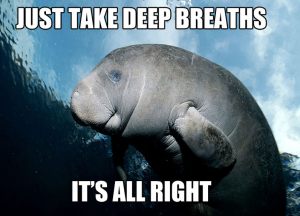 Even so, the anxiety can get the better of me at times. I thought I had the whole conference/anxiety thing stuffed firmly in a box, but during one of the book signings at RT 2012, I experienced a panic attack. It started near the end of the event (during cleanup, actually, when everyone started to get up and clear their spaces…but then they announced that the authors needed to stay at their tables until their stuff was picked up). I don't think anybody noticed – that certainly wasn't my first rodeo, I know how to get through one, and I knew I had meds waiting in my room, which helped a lot. Inside I was a hot mess, however.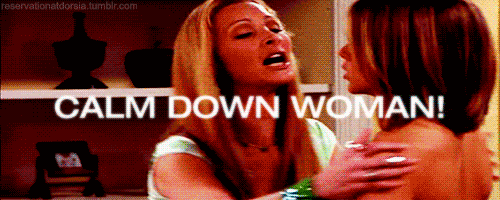 I barely remember gathering my stuff from the table when it was time to go. Eventually I made I up to the room, downed my Klonopin, and was back in shape by that evening. And that was all that happened. Had the attack, then dealt with it. And everything turned out okay. It was all okay!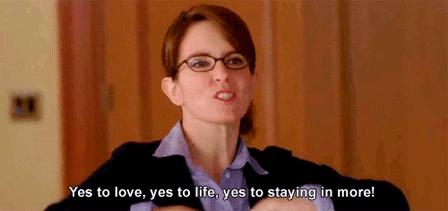 It was a huge moment for me, because that had always been my worst fear about conferences – what if I have a panic attack when I'm supposed to have my professional author face on? It happened…and the world didn't end. The rest of the conference, even the rest of the day (and the next, much longer, book signing a day or so later) were fine and panic-free. This year I am even adding Club RT to my schedule. Unstructured chat with whoever walks in! I am fearless! And I'll have my Klonopin in my pocket, just in case.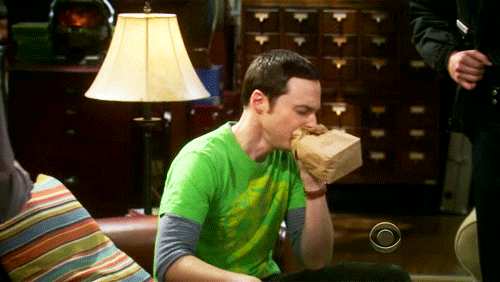 So…
The upshot is, if you're on the fence, you should try it. If you have always said "Nope, never in a million years," you should try it. Grit your teeth, make a plan, suck it up, and know that even if your worst fears come true, it might not be so bad after all. It's a risk, sure, but the rewards are totally worth it. Even if you opt out of the fabulous shoes.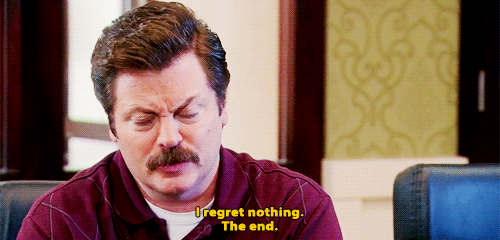 ETA: I got all these gifs from google image searches – if any of these belong to you and you don't care to see them here, please just let me know and I'll be happy to take them down and/or credit :-)