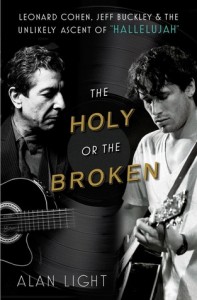 The first time I heard Jeff Buckley's "Hallelujah" was in my now-brother-in-law, Nick's, apartment, where at the time, my husband and I hung out frequently, drinking wine, listening to music, and shooting the breeze. Nick had just bought kick-ass new speakers and a high-end amp and preamp, and he wanted to show them off. He played us some classical music and jazz, demonstrating for us how the system was so faithful it could locate one musician relative to another in space. We were duly impressed, and begged for more.
He thought for a moment, then said, "Oh, you'd like this song." He took out Buckley's Grace CD (yes, those days) and cued up "Hallelujah."
If you have never heard Jeff Buckley perform "Hallelujah," it is time. Your best bet would be a really expensive stereo system, but if Nick isn't in your neighborhood, you can listen to the original studio version on YouTube.
The song starts with Jeff Buckley exhaling—a half-desperate almost-sigh of release and relief. I think my heart stopped. Then the single haunting guitar notes floated out, wrapped themselves around some previously unknown part of my anatomy, and tugged out emotions I didn't have names for. I didn't weep or speak, just felt this expansive lightness in my chest, a sensation as new and brilliant as the first time I had an orgasm.
This is apparently not a unique experience, because "Hallelujah" has become a strange anthem, almost a hymn in our culture. I bring this up because I've been reading a book called The Holy or The Broken, by Alan Light. Light talks about how Leonard Cohen wrote "Hallelujah" and nothing much happened, and then Jeff Buckley produced his version, and all of a sudden crazy-amazing things happened, and the song broke out and became not just a mainstream hit but something embedded deep in the American consciousness.
The thing I found most interesting was that even if you separate out the vast differences in the ways they're performed, the Cohen version and the Buckley version are not the same song. The lyrics are different.
Cohen's verses, the ones he has performed, are quite spiritual. The Cohen version might be a hymn, the sort of thing you would rationally choose to play in the wake of 9/11 or after the Newtown school shooting, both times when "Hallelujah" was performed in the public eye. Light writes about how Cohen composed about ten million different verses, only a few of which he ever performed. The way Alan Light describes it, Cohen was almost plagued by this song, and he kept scribbling down versions of it, desperately trying to get it right. It was like he was channeling something but couldn't quite hear it.
And then Buckley latched on and somehow all the pent-up meaning Cohen couldn't quite grok came roaring down the pipe. Buckley's verses are overtly sensual, a paean to sex and orgasm, a sad human love song. And yet despite having taken a much less lofty path, somehow Buckley managed to channel whatever Cohen was having so much trouble with. He managed to get across something transcendent and universal, something that was trying to speak through Cohen and having trouble. And it's only since Buckley translated Cohen's struggle (Light tells us) that the song has caught on and become such a universal expression of angst and loss and hope. It's Buckley's expression that became the hymn, not Cohen's.
Transcendence is a strange thing, and even something as earthy as physical love can be the conduit for it. You can listen to the Leonard Cohen version of "Hallelujah" ten million times without getting half the buzz off it that the first ten seconds of the Jeff Buckley version gave me. And of course my opinion is not universally held. There are plenty of people who think that Leonard Cohen did it right and Jeff Buckley messed it up. But when I read about the song's history, what had happened to it over time, I couldn't help but think that somehow even though he was writing about orgasms, Jeff Buckley got at something more emotional and more fundamental than Cohen had been able to.
In fact, the way I choose to look at it is that "Hallelujah" was such a big thing trying to break through into the world and be born, that one man couldn't do it on his own—Cohen tried, and he paved the way for Buckley, but it's absolutely a collaboration. And it's not just Cohen and Buckley who've done the work. It's all the musicians who —despite the song's overexposure—have been driven to express the sense it gives them of having access to something larger than themselves. And it's all the people who have chosen at moments of great duress to make the song be a hymn. They're all midwives of sorts, trying to guide the ineffable into this much more dark and concrete plane of existence.
Anyway, you should read Alan Light's amazing book. You should listen to both the Leonard Cohen and the Jeff Buckley versions of "Hallelujah." And all the other versions, too, the ones that reflect so many musicians' deep need to use the song to shout their own grief and pain and joy.
Then when you've done that, you should look at the Leonard Cohen and Jeff Buckley lyrics, and you should think about why we as a culture publicly deride sex as small and dirty even as we admit at certain moments that earthy, broken, human, physical love stands in for shattering and reconstituting the soul in a way that nothing else can.