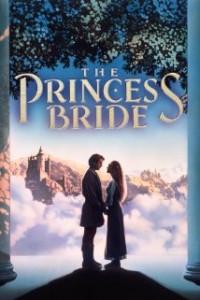 Everyone knows that The Princess Bride is a love story. But when I revisited it,  I found that the love story between Westley and Buttercup is only one among many. The first love story, introduced even before the romance, is between Fred Savage's character and his grandfather, who reads him the story while he's sick. There is something utterly touching and beautiful about an older man reading a story about love to a little boy; so often our culture seems determined to chase all thoughts of affection out of boys' minds as early as possible instead of embracing and nurturing their ability to love and be loved. Notice, for instance, the grandson's opposition to "kissing scenes." The grandfather tells him that "some day he might not mind them so much" instead of skipping over them or agreeing with him. In all my years of working with children and books and literature, I have very seldom seen an adult acknowledge a boy's future potential for romantic longing.
Familial love is evident in Inigo Montoya's story as well. When he shares his need for vengeance atop the Cliffs of Insanity, the story is about a boy with a deep and abiding love for his father. And when he asks for his father's help finding The Man in Black, once again, love saves the day, guiding him to the dungeon's secret entrance.
The relationship between Fezzik and Inigo Montoya is a love story, too. Not only do they share an obvious easy companionship while in service to Vizzini, the look on Inigo's face when he realizes that Fezzik has arrived to save him in the Thieves' Forest is pure joy.
My personal favorite of the love stories, though, has to be between Miracle Max and Valerie, his wife. When Max nearly refuses to perform the miracle required to raise Westley from mostly dead, Valerie berates him in the way only a spouse of long-standing can. "I'm not a witch, I'm your wife! But after what you just said, I'm not sure I even want to be that anymore. True love, Max, he said true love!"
And of course, there is the love story that gives the movie its title: that of Westley and Buttercup. Before my recent re-watch, I hadn't watched the movie in years. What lived loudest and most distinctive in my memory was the dynamic between Buttercup and Westley. I recalled her tormenting him as the farm boy, and his acquiescence to her demands with only an "As you wish." I remembered him falling in love with her precisely because she tormented him. I remembered him insulting her, and her insulting him back, and Buttercup shoving him off a cliff leading to his "as you wish" declaration of love after he returned as the Dread Pirate Roberts. I remembered him suffering in a dungeon for her, and dying, and waiting for her in her bed.
 In short, I remembered a sort of fem-dom fantasy that gave me permission to like the idea of a man who liked being under a woman's control. There was a reason I liked the farm boy better than the pirate.
So, with this memory living so vividly in my mind, I was disappointed to see that Buttercup becomes a nearly silent character through most of the movie. I wondered why, exactly, Westley loved her.
But the more I thought about it, the more I realized that maybe that was precisely the point. In the world of The Princess Bride, love has no "why." It merely is. And love is the most important, powerful force in the world, according to this movie. Love allows Westley to survive the Dread Pirate Roberts and return to Buttercup. Love allows Fezzik to find Inigo when he needs him most. Love allows one man to bring another back from the dead. Love solves impossible problems.
And the movie ends with the love between a boy and his grandfather, a grandfather who believes in love strongly enough to read this story to his grandson, to pass that legacy of love down to a child, to teach him that love makes even kissing scenes worthwhile.
[Extra bonus love story: My husband's and my first date was to a Halloween party. I went as Buttercup. He went as Westley. Shut up. We were only 18.]